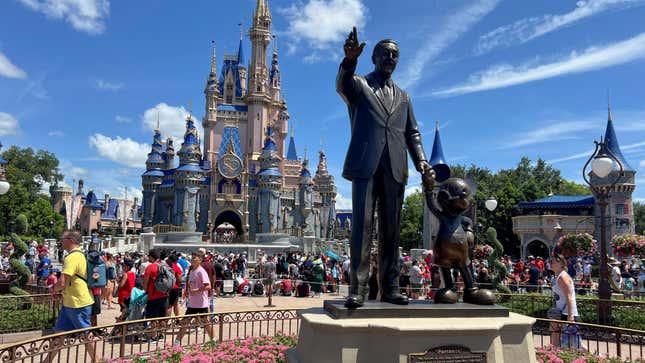 Disney has left a world of unwelcome surprises for the new Florida board overseeing its district.
Eric Beiley Part II: Where rates are heading
Republican governor Ron DeSantis's new appointees, already irked by a multi-year development agreement that left them with little oversight beyond basic roads and infrastructure, have discovered another damning piece of paperwork: A Disney subsidiary that provides utility services to the central Florida district—including the Walt Disney World Resort—signed a last-minute contract that allows the Mouse House to set its own utility rates at its Orlando theme parks through 2032, board Martin Garcia said at a public meeting yesterday (Apr. 19).
Garcia "learnt for the first time about one of these new 11th-hour agreements entered into between Disney and the district" last Friday (Apr. 14), Reuters quoted him as saying. Like with the other agreements, the board will "have to evaluate the legality of that agreement," he said, adding that, "I've never heard of such a thing."

DeSantis established the new board in March to end Disney's self-governing status over the company taking a stand against his so-called Don't Say Gay bill, which restricts classroom discussions around gender identity and sexual orientation from kindergarten through third grade. DeSantis is now proposing to extend the rule to all grades. 

A quick summary of Disney's earlier 11th hour agreement
On Feb. 8—the same day as the Florida House votes to put the governor in charge of Disney's special district—the outgoing Disney-controlled Reedy Creek Improvement District board quietly signed a development agreement that lets it retain most of its power, effectively in perpetuity. The contract thwarts DeSantis's administrative coup, preserving the company's option to build a fifth theme park, more retail space, and more hotel rooms at the resort.
The new board, re-named Central Florida Tourism Oversight District, only discovered it towards the tail-end of March, when it sought legal representation to nix the agreement and DeSantis called for a criminal investigation. And a legislative bill to revoke Disney's rights is in the works. Meanwhile, Disney maintains all its dealings were public and legal.
DeSantis's board is seeking a resolution
Yesterday's meeting was held to discuss Resolution No. 639, which would allow the new board to exert "superior authority" over planning, zoning and other land use in the cities of Bay Lake and Lake Buena Vista—the property in and around Walt Disney's major theme parks like The Magic Kingdom, EPCOT, Hollywood Studios and the Animal Kingdom, as well as the Disney Springs retail area. The five-member board unanimously approved the resolution to take back power from the old Disneyboard. A second reading and public hearing is scheduled for April 26.
"Regardless of your politics, nobody should favor outdated legislation that elevates a corporation above the public good," Garcia said. "In seeking to improve the functioning of this district, nothing is off the table with this board."
Quotable: DeSantis admitted attacking Disney for its politics
"Under no circumstances should the state of Florida be subsidizing woke activism by allowing them to have their own government. So we took it away." —Ron DeSantis during an appearance at Hillsdale College in Michigan days after Disney CEO Bob Iger called out his administration for being anti-business and anti-Florida
A non-exhaustive list of ways Florida could make life hard for Disney
🏨 Hiking taxes on Disney's hotels
🛣️ Imposing tolls on roads used by guests visiting its theme parks
️👮 Build property—perhaps a state prison—next door
🔎 Take amusement ride and metro inspection rights away from Disney and give them to the state
⚡ Sell off the district's utility in order to pay down the $1 billion debt
😷 Make sure Disney never has a mask mandate again
A brief timeline of Disney's evolving LGBTQ history on and off screen
1984: Disney lost a legal battle filed by Orange County local Andrew Exler, who was escorted out of one of Disney's date nights for dancing with a male friend in September 1980. "Our crime was disco dancing," Exler recalled, according to QNotes Carolinas. "We didn't touch, we didn't kiss, we didn't bump and grind. We simply danced to the sounds of some horrible disco band."
1985: Disney spokesperson Al Flores tells the Los Angeles Times that the company sees "a lot of situations where two girls come together and want to dance and ask to. We have always said no, but we changed our minds."
1991: Disney's unofficial Gay Days date back to the early 1990s, according to the Tampa Bay Times. On the first weekend of June, hundreds of thousands of visitors don red in a show of solidarity. Disney makes charity donations and launches special Pride-themed food and merchandise during these days.
1996: Disney becomes one of the first major corporations in the US to offer health coverage to the live-in partners of gay and lesbian employees. Thousands of its staff now take part in LGBTQ business employee resource groups every year and it donates profits from its pride-themed clothing and merchandise collection to organizations that support LGBTQ youth and families.
2007-2022: Disney received a perfect score on the Human Rights Campaign's Corporate Equality Index for 16 years straight. The index assesses worker protection, inclusive benefits and culture, and more.
2014-2021: GLAAD (Gay & Lesbian Alliance Against Defamation) has consistently given Disney a "poor," "failing," or "insufficient" rating for its representation of queer characters in media.
2019: Disney holds its first official pride parade in Disneyland Paris.
2022: Then Disney CEO Bob Chapek, after facing backlash for his silence, called out Florida's Don't Say Gay bill. Since then, the company has gotten more vocal about its pro-LGBTQ stance.
2023: After years of hosting Gay Days, Disney will host its first official Pride Nite this June in California. In September, the company will also host a massive "Out & Equal" summit to promote LGBTQ+ rights in the workplace.
Disney's future Florida plans, by the digits
$17 billion: How much Disney intends to invest in Disney World over the next decade, including building a fifth park
13,000: The direct jobs Disney will create with its investment, along with thousands of indirect jobs
Related stories
👮 DeSantis is threatening to build a state prison next to Walt Disney World
🎡 Disney lost control of its Florida kingdom for opposing the "Don't Say Gay" bill