Hi, Quartz Africa readers!
Africa after Covid-19
There has been a lot of emphasis on the potential impact of a health crisis across Africa in the wake of the global coronavirus pandemic. But as we found, from speaking with dozens of corporate leaders, policymakers, economists, innovators and public health experts across four in-depth reported stories published this week in our Africa after Covid-19 package, the economic crisis is more urgent and potentially devastating.
For Quartz membership, I dived into how we got here with so many African countries vulnerable to economic shocks. Admittedly, this crisis is unprecedented in every sense but the path from years of stellar economic growth to near collapse in several key economies was important for us to dig into. In this "State of Play" piece we looked at everything from re-building Africa's manufacturing base and the role of the continental free trade act in enabling it to examining the difficult economic choices of lockdowns.
But perhaps the most controversial topic around Africa's economies has been the mounting debt levels we've seen over the last decade. But when it comes to debt the elephant in the room is, of course, China. With Kwasi Gyamfi Asiedu we looked at how the much debated China-Africa relationship will change in our post-Covid world. Our piece explores how the recent images and videos of discrimination meted out on Africans in Guangzhou has had an impact that goes beyond social media and tempered the impact of Chinese aid efforts on the continent.
Ultimately, much of the recovery we'll see across Africa will be driven by entrepreneurs, innovators and the investors who back them. Yomi Kazeem spoke to several leaders to examine how this mutually beneficial relationship gets tested in markets which are often dependent on funding from outside the continent. He found some sectors are going to benefit more than others and more difficult funding questions are going to get asked.
Sarah Wild looked into how scientists and public health officials overseeing the overwhelmed health systems in Africa see an opportunity to come out of this severe test much stronger than we went in. Some African scientists she spoke with felt vindication that in the face of a devastating global epidemic, Africa has, so far, in some respects, been more prepared than other slow-moving developed countries. As Catherine Kyobutungi, executive director of the African Population and Health Research Centre in Kenya says: "Africa will surprise you."
Quartz Africa is 5!
Dear readers,
Five years ago today (June 1) we started Quartz Africa with a view to play a small role in improving the coverage of Africa's economies and businesses by building on the digital media strengths of Quartz (started just three years earlier) as a place for boundless creativity and sharp analysis.
We're always grateful to you as readers, both for challenging and supporting us at all times. There is no one African story but we've always been determined to tell as many of the most interesting ones we can through our lens of innovation and new ideas.
On a personal note I'm always grateful to all my colleagues at Quartz, who've helped the Africa edition punch well above its weight in this space. In particular, I want to shout out the talent we've been fortunate to work with from more than 40 countries on the continent. These reporters, writers, photographers, analysts and more have been indispensable in helping Quartz Africa tell a more rounded story.  Thank you.
As the digital journalism business model evolves we're building up our membership model at Quartz and offering more in-depth packages like this week's Africa after Covid-19 and much more to understand how the new global economy is evolving through these challenging times. There's a special 50% membership discount code here for Quartz Africa readers when you sign up.
— Yinka Adegoke, Quartz Africa editor
Five stories from this week
Modern African literature is taking a journey through the diaspora back to the continent. Much of the early popular works of modern African literature such as Chinua Achebe and Ngũgĩ wa Thiong'o were told purely from the perspective of the continent. But as author Rudolf Ogoo Okonkwo explains about a university course he taught this year, the African perspective told through the diaspora experience, such as Chimamanda Adichie's Americanah, is just as valid.
The legendary hip hop label Def Jam opens in Africa. Universal Music Group, the world's largest music company, has launched its storied hip hop label Def Jam in Lagos and Johannesburg with artists including South Africa's Cassper Nyovest and Nasty C plus Nigerian Afrobeats act Larry Gaaga. Def Jam Africa is also on the search for its first label boss.
Ethiopia and Egypt are pushing each other to the brink for control of the river Nile. Ethiopia sees its Grand Renaissance Dam project as a source of national pride and future development but for Egypt, the dam represents a serious threat to its water supply particularly in a time of drought. From Addis Ababa, Zecharias Zelaeam examines how each side is testing the other's resolve so much so the US White House seems to have given up on a mediating role.
A post-Covid-19 economic reality can kickstart Africa's free trade area. The Covid-19 crisis has brought many of Africa's economic weaknesses into sharp relief but also provides an opportunity to address these challenges and accelerate intra-regional trade by focusing on the products of greatest need during the health crisis. There's also an opportunity for countries to start building regional value chains to advance industrialization, improve infrastructure and strengthen good governance and ethical leadership.
The maltreatment of Nigerians in China isn't likely to end anytime soon. 
It's been a torrid time for Africans in China in recent months as the country was slammed for its mistreatment of migrants in its bid to clamp down on coronavirus. When it comes to Nigeria, where some politicians have been loud in their criticism,
it's unlikely to make much difference
given how entrenched the government is with Beijing in economic terms.
Dealmaker
Ghana's mPharma has raised another $17 million and appointed an ex-CVS boss to its board. Pharmaceutical software startup mPharma raised $17 million in its latest funding round from CDC Group, the UK's development finance arm as well as previous investors including Dr. Daniel Vasella, ex-chief executive of Novartis, Silicon Valley investor Jim Breyer and the family office of Italy's Dompe Holdings. The seven-year old startup has also appointed Helena Foulkes, former president of CVS, the largest pharmacy retail chain in the United States, to its board.
•Tunis and Paris-based bio-fertilizer firm NextProtein raised $11.2 million in a Series A round coordinated by Blue Oceans Partners with participation from Telos Impact, RAISE Impact, Mirova, Kepple Africa Ventures, and Aucfan Incubate Inc.
•Carry1st, the South African mobile gaming startup, raised $2.5 million in a seed funding round led by CRE Venture Capital with participation from Perivoli Innovations, Chandaria Capital, Lateral Capital, Transsion's Future Hub, and Kam Kronenberg III.
Chart of the Week
Africa imports up to 94% of its pharmaceuticals. Individual countries have had to rely on the generosity and goodwill of nations around the world for everything from basic personal protective equipment to hand sanitizer. As much as 94% of pharmaceuticals are imported from outside the continent, according to UNECA. "We see AfCFTA addressing this pharmaceutical challenge and believe [it] will help play a role in securing our health systems," says Stephen Karingi, UNECA's director of the regional integration.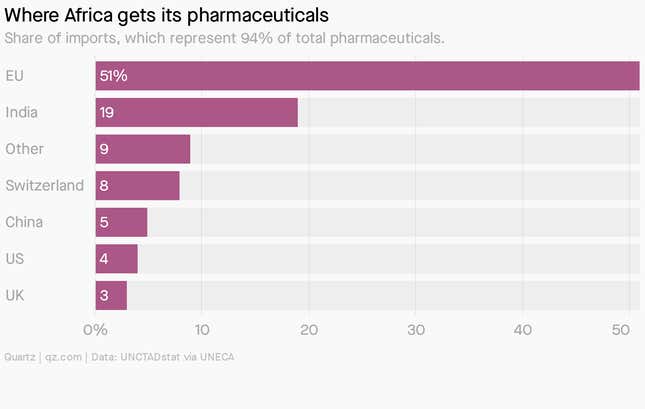 Other things we liked
Cameras roll again in Nollywood but Nigeria's cinemas still dark. Cinemas in Nigeria have been shut indefinitely as part of the lockdown and hit its Nollywood industry which gets about half its revenue from the theaters. It's left up to 250,000 jobs at risk, report Abraham Achirga and Alexis Akwagyiram. But things are starting to creep back to life with new productions being made.
Health woes, outrage, and toxins near Ethiopia gold mine. Residents who live near Ethiopia's largest gold mine, Lega Dembi, say locals have been hit with life-threatening illnesses, disabilities, and mysterious ailments over the last 15 years and are blaming toxins near the mine, which is owned by an Ethiopia-born Saudi tycoon. For New Humanitarian, Tom Gardner got access to government studies which show environmental concerns have been raised in the past.
Getting beyond the African gaze. The "Africa needs help" vs. "No! Africa can teach you lessons!" is tiring, writes George Kibala Bauer for Africa is a Country. While some Western reporting uses language around Covid-19 in Africa which erases the agency and ingenuity of African governments and communities, the Africa is doing well narrative lacks nuance, downplays the complexity of the situation, and most importantly still operates within the Western gaze.
Inside South Africa's plan to regulate cryptocurrencies. Like many governments South Africa is trying to figure out how it will allow cryptocurrencies like bitcoin to operate in the country. It appears the government is keen to end anonymous and secretive transactions, which Adriaan Kruger believes will defeat the purpose of having crypto in the first place.
*This brief was produced while listening to Dibik Fikir by Hailu Mergia (Ethiopia).
Our best wishes for a productive and ideas-filled year ahead. Please send any news, comments, suggestions, ideas, classic Def Jam vinyl and African diaspora novels to africa@qz.com. You can follow us on Twitter at @qzafrica for updates throughout the day.
If you received this email from a friend or colleague, you can sign up here to receive the Quartz Africa Weekly Brief in your inbox every week. You can also follow Quartz Africa on Facebook.