Hello Quartz readers,
Thank you to everyone who participated in last week's coronavirus pop quiz. An overwhelming majority of you (94%!) said you'd like more quizzes in the future, which is a request we're happy to oblige. Plus, it seems you could use them: Just 17% of participants scored an A last week, while 37% received a B, 37% a C, and 9% a D. At this rate we'll never get into virtual college.
Keep your eyes peeled for more email experiments in the weeks to come, and don't hesitate to tell us what you think at reply@qz.com.
Let's get started.
---
Christmas in June
Just one day after Amazon CEO Jeff Bezos was grilled by members of the US House antitrust subcommittee over the company's monopolistic practices, Amazon reported a blowout quarter.
In the three months ending June 30, during which large parts of the US were in lockdown, Amazon said it sold more than $50 billion in products, a 40% increase over the same period a year ago. Total sales, which include money from channels such as its cloud-computing service and fees charged to its vast marketplace of third-party sellers, rose to $88.9 billion, far above the $81.6 billion analysts had forecast.
That means Amazon outdid the $87.4 billion in sales it recorded last year during the holidays, when demand typically peaks. On the company's earnings call, CFO Brian Olsavsky said it was "unheard of" to surpass those sales at this time of year, noting that next quarter is also on track to top holiday sales levels.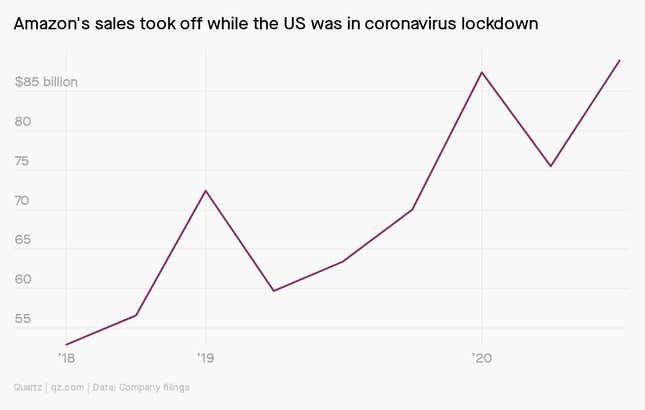 Amazon has had to stretch to keep up with demand, and must now also contend with growing scrutiny from lawmakers. Experts are calling for the company to be regulated like railroads were a century ago, and for antitrust enforcers to take harder stances against it and other tech giants.
In the meantime, Amazon is only getting bigger. Once notorious for stressing market share over profit, the company doubled its quarterly net income from last year to $5.2 billion. That was despite $4 billion in coronavirus-related costs, including buying protective equipment, increasing cleaning of its facilities, and collectively paying its warehouse employees and delivery partners a one-time bonus of $500 million.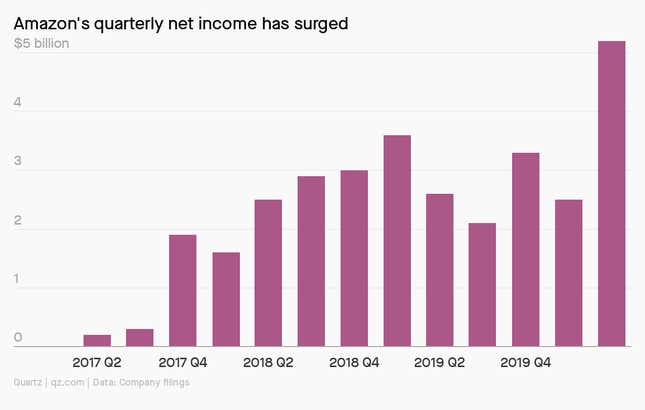 Olsavsky said that online grocery sales tripled compared to last year, while hours of content streamed doubled. Amazon's Prime subscription service, which incentivizes buying from Amazon versus competitors, drove the increases: Prime members shopped more often and bought larger quantities of products than non-members.
---
🛍️🛍️🛍️
It's no surprise that Amazon is thriving as other retailers struggle. For over a decade, the company's obsession with fast, frictionless commerce has been transforming how goods are sold. We examined Amazon's ambitions—and the changes it's forcing industry-wide—in our field guide to retail vs. Amazon. Here's some of what we unpack:
You can read the full guide by becoming a Quartz member, which is also an excellent way to support our journalism. Go ahead and take 40% off the first year, then prime yourself (heh) for all the articles, guides, presentations, and virtual events that membership has to offer.
---
Who wants to know? 
You pondered, we put it to the experts. Here are some answers to your can-I-get-back-to-my-life-yet questions.
🏨 Are hotels safe? After months of lockdown life, hotels are once again trying to attract paying guests. That means drawing from the lessons of the initial Covid-19 wave to keep patrons safe. Because operating a hotel during a pandemic hinges on the ability to persuade guests it is safe, David Sherwyn, associate professor at the Cornell School of Hotel Administration, tells Quartz that having a trusted brand is a big advantage right now.
💼 Should my office be open? To prevent workers from getting sick on the job, companies can follow science-backed steps: 1) Figure out what office layouts or policies need to change by assessing which activities present the highest risk. 2) Start implementing policies to address those activities, whether that means reducing the number of people in the office or changing the kind of contact employees have with each other. 3) Follow up! Quality assurance checks are key.
🤓 What's a "learning pod"? Worried that remote learning isn't cutting it academically or socially, some parents who can afford it are considering private tutoring, whether at home or in groups. The model has been around for years, primarily within charter schools and private schools, but also, more recently, with micro-schools popularized by Silicon Valley entrepreneurs.
⏲️ Why are US coronavirus results taking so long? The Food and Drug Administration has granted emergency use authorization to about 150 tests that can detect genetic material from SARS-CoV-2. Four come from two massive companies in the US—Quest Diagnostics and LabCorp—each of which can handle more than 100,000 tests per day. Hospital labs, though, have purchased more tests from smaller companies, and because there are so many tests in use, labs are struggling to confront shortages for the more specialized ones.
📜 How is the US deciding on vaccine contracts? Most are awarded through the Biomedical Advanced Research and Development Authority, a division of the Department of Health and Human Services (HHS), and many of the vaccine-related contracts are part of Operation Warp Speed (OWS), which, according to the HHS, "aims to deliver 300 million doses of a safe, effective vaccine for Covid-19 by January 2021." But which, or even how many, of the contracts are awarded under OWS is shrouded in secrecy. Does this mean we have no way to find out what makes the US-supported vaccines worth the amount of funding they received, and what makes others not worth it? Yes, it does.
---
One fun thing
In the US, where the only cinemas open for business are drive-ins and a smattering of independently-owned theaters, three of the four highest-grossing films this past weekend were re-releases of classics: The Goonies, Jurassic Park, and Back to the Future. Grease placed sixth. None of the films made more than $150,000.
Chinese audiences, meanwhile, were treated with the pandemic equivalent of a blockbuster summer movie event. Interstellar, which was first released in 2014, re-entered the country's theaters on Aug. 2 and made $2.6 million. That's the biggest single-day box-office total for any movie anywhere since theaters reopened.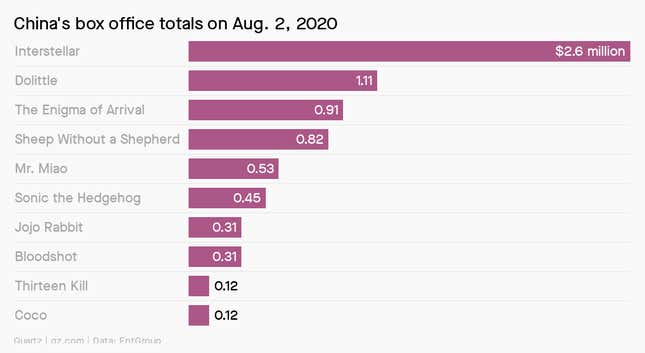 Christopher Nolan's sci-fi thriller was popular in China during its original 2014 run, raking in $111 million at the box office there (plus $590 million everywhere else). That the film is still drawing an audience in 2020 is a positive sign for Nolan's next film, Tenet, which after several delays will finally come out Aug. 26—wherever theaters are open.
Until then, Hollywood studios desperate for theatrical revenue will continue re-releasing old movies, and the global box office for the second half of 2020 will consist of several films that came out many years ago. On Aug. 14, theaters in China will begin showing a 4K restoration of Harry Potter and the Sorcerer's Stone—the biggest hit of 2001.
---
Essential reading
---
Our best wishes for a healthy day. Get in touch with us at reply@qz.com, and live your best Quartz life by downloading our app and becoming a member. Today's newsletter was brought to you by Marc Bain, Anne Quito, Alex Ossola, Michelle Cheng, Katherine Foley, Annalisa Merelli, Adam Epstein, and Kira Bindrim.