Hello Quartz readers,
As businesses enter the post-pandemic future of hybrid work, Apple is preparing for the future of hybrid… friendship. The company's latest FaceTime update lets users schedule calls, send out meeting links, screen-share, and view all callers in one grid. It also includes spatial audio, which makes it sound like people's voices are coming from different directions depending on where they are on the screen.
Although the update replicates features familiar to users of Zoom and Google Meets, Apple is positioning FaceTime as mainly a social tool. Clips at the company's annual developers conference showed friends using FaceTime to listen to an album together, stage a virtual movie night, share tips on how to beat a video game, or browse apartment listings with future roommates. "FaceTime is how we catch up with friends around the world," Apple's software engineering VP said at the event, "and how we stay close to family members when we're apart."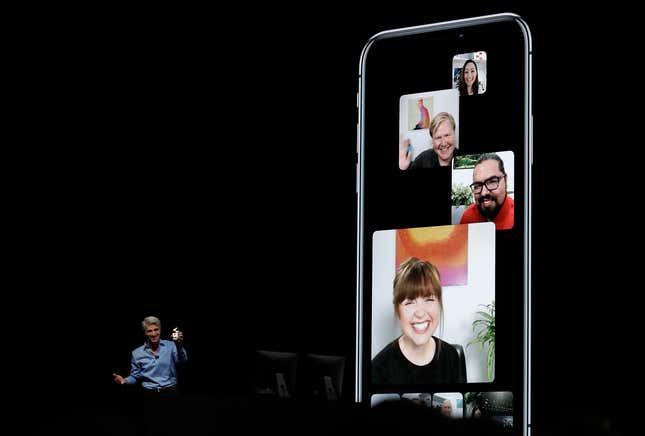 June 2021 might seem like an odd moment for Apple to focus on the potential of virtual hangouts. The pandemic has been raging for a year and a half, and the company's largest market, the US, is close to fully reopening. Friends are finally seeing each other in person.
Apple seems to be betting on forever-changed norms around how we communicate, and a world where virtual tools are used more often to stay in touch with friends and family in far-flung places. While Zoom and its rivals are scrambling to meet hybrid video-conferencing needs in a business setting, the social arena is arguably up for grabs.
Of course, Apple is mostly happy to give its users one less reason to leave the Apple ecosystem. That's a core (heh) part of its business strategy—made clear in a recent antitrust trial—and a key piece of Apple's appeal to shareholders. —Nicolás Rivero
---
Making the rounds
What do the frontlines of India's Covid crisis look like? Just ask the Asha "warriors," young Indians who since March 2020 have been volunteering with the non-governmental organization to patrol neighborhoods in New Delhi.
In late May, Quartz India's Ananya Bhattacharya tagged along virtually with a nine-member team of Asha volunteers, all local college students, as they covered 28 homes in the Kalkaji slum. Making their way through cramped one- and two-room houses, where five to six family members live together, the volunteers do temperature and oxygen checks, distribute groceries and masks, catalog symptoms, and help with vaccine registration.
"Even I live in a slum home with five other family members, but we have no fear in going out and doing this work," one 20-year-old volunteer told Ananya. "Our families even encourage us."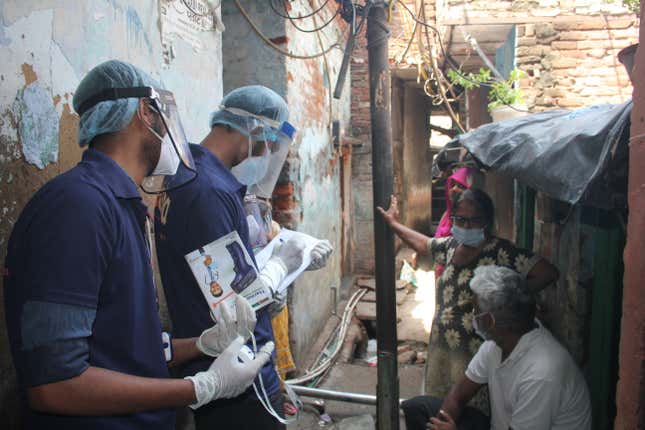 ---
Betting on the spread
As India dealt with one of the world's deadliest Covid-19 waves, a host of its neighbors in south Asia suffered a similar plight; in some regions, the outbreak was directly linked to India. (That's worth remembering 200 words from now, when we talk about vaccine inequality.)
🇳🇵  Nepal went from reporting 100 new cases daily in early March to over 9,000 by late May, when its positivity rate reached a staggering 47%. On a per-person basis, Nepal's Covid surge exceeded India's, though case counts have since declined.
🇱🇰  Sri Lanka witnessed a surge in cases in May—the month after two major festivals—and by the end of the month 90% of hospital beds were in use. As recently as June 9, Sri Lanka reported 66 deaths due to Covid-19, its highest single-day tally.
🇲🇻  Maldives at first seemed to be a safe haven, but in April the popular vacation spot for affluent Indians imposed a strict curfew in a bid to stop its healthcare workforce from getting overwhelmed. In June so far, the country has seen a steady decline in cases.
🇵🇰  Pakistan saw its number of critically ill coronavirus patients on oxygen reach 5,360 in April, 57% more than the peak last June. Cases have since dropped.
🇧🇩  Bangladesh went into lockdown for over a month starting in April, and its healthcare infrastructure was at full capacity by May. As in Pakistan, cases have declined from their peak, but experts warn that both countries may be easing restrictions too soon.
🇦🇫  Afghanistan is seeing infection and death rates surge. The government has neither restricted mass gatherings in most cases nor put a stop to travel from India.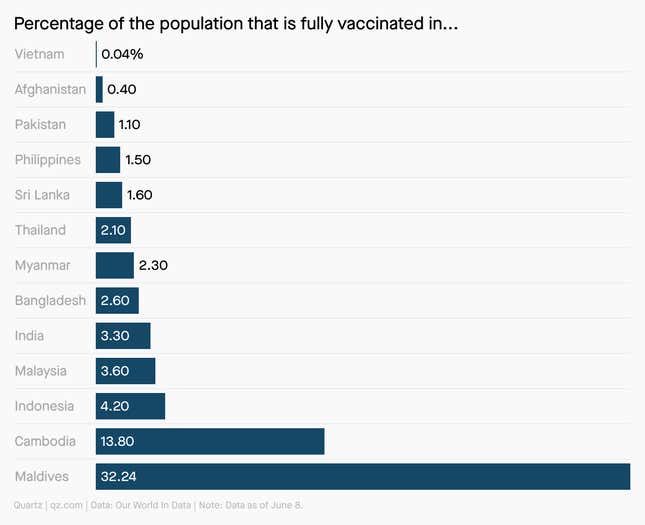 ---
Four dinner-table convos
📅  We are now in the vaccine inequality stage of the pandemic. India is still battling a deadly second wave that killed hundreds of thousands, while just 13% of its population has received a vaccine. In most African nations, less than 2% of the population has received even one dose. Meanwhile, most rich countries are moving steadily toward full vaccination. As it stands, Canada, Australia, the US, and members of the EU have ordered enough doses of Covid-19 vaccines to inoculate their populations four times over, while poor countries will have to wait until 2023 for vaccine leftovers.
💉  Many vaccinated Indians are in a travel bind. Out of the three vaccines approved for use in India, only one—Covishield—features on the WHO's emergency use listing, which many countries are now using as a benchmark for allowing vaccinated foreign nationals to travel. "Vaccine passports are not a reality right now," New Delhi resident Shama Gupta told Quartz India. "But if they were to be implemented and Covaxin doesn't make it to the WHO list, I will not be able to visit my daughter in the UK." Students are also worried: On-campus classes at some US universities require students to be vaccinated with a WHO-sanctioned shot.
📝  Apple employees don't want to return to the spaceship. When Apple unveiled its 175-acre Ring building campus in 2017, the project was lauded for its minimalist architecture and eco-friendly features—even if it didn't seem particularly human-friendly. Four years and one pandemic later, Apple employees are staging a revolt against a new policy recalling them to the office part-time come September. "We have succeeded not despite working from home, but in large part because of being able to work outside the office," employees wrote in a letter to CEO Tim Cook.
👋  Quitting your job—so hot right now. Recovery from the pandemic has been weird, a collision of public health measures, government and central bank relief, and social changes inspired by the experience of enduring coronavirus. That's resulted in a labor market that appears at once too hot and too cold: The high number of long-term unemployed, for example, suggests a very loose labor market, while the number of firms who say they can't fill jobs suggests a tight one. Also on the hot side: The US economy is currently experiencing the highest rate of workers quitting their jobs in decades.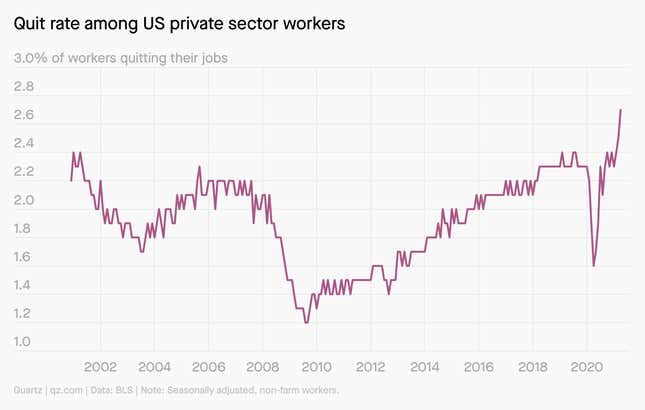 ---
Time out
Are the Olympics still on?
As of this writing, Tokyo is a go. That's why the Need to Know team is chugging Gatorade and running warm-up laps ahead of Need to Know: Tokyo Olympics, your pop-up guide to the Games. Sign up now to get watch lists, highlight reels, interesting histories, and surprising discoveries, directly in your inbox. We vow to stick the landing.
---
Waisting time
If you've recently bought pants in a new size, you are definitely not alone. In a June interview, Levi's CEO Chip Bergh said more than 25% of consumers are wearing a different size today than they were before Covid-19. "The number of people who are in a new size is pretty staggering," Bergh said. "Some people gained weight during the pandemic, and many people lost weight."
---
Essential reading
---
Our best wishes for a healthy day. Get in touch with us at needtoknow@qz.com, and live your best Quartz life by downloading our iOS app and becoming a member. Today's newsletter was brought to you by Nicolás Rivero, Ananya Bhattacharya, Annalisa Merelli, Manavi Kapur, Lila MacLellan, Tim Fernholz, Marc Bain, and Kira Bindrim.