Good morning, Quartz readers!

---
Here's what you need to know
China accused the US of flying balloons over its airspace. Beijing said US balloons have entered Chinese airspace at least 10 times in the past year without permission. Meanwhile, the US has shot down three more unidentified flying objects in as many days.
Earthquake damage could cost Turkey $84 billion. The figure, estimated by the Turkish Enterprise and Business Confederation, diverges from Ankara's estimate of $50 billion.
Crypto firm Paxos was ordered to stop minting Binance USD. New York state regulators have stepped up their crypto crackdown as Paxos faces an SEC lawsuit over the stablecoin.
Alibaba sold its remaining stake in India's Paytm. The Chinese e-commerce giant exited the digital payments platform with a $166 million sale amid a reported change in its India investment strategy.
In India, Nissan and Renault plan to make six new cars... Following a partnership reboot, the carmakers are investing $600 million to develop two EV and four SUV models.
…while Boeing plans to build a new logistics center. The world's largest aerospace company is investing $24 million in the site as it expands its presence in India's aviation market.
Brexit may have cost the UK economy £29 billion ($35.2 billion). Instead of flourishing like Brexit proponents had hoped, each household has actually lost £1,000 ($1,214) due to drop-offs in productivity and investment, according to a Bank of England policymaker.
---
What to watch for
Apple executives will meet with EU regulators today (Feb. 14) behind closed doors, to discuss antitrust charges involving Apple Pay, the iOS mobile wallet feature. If found guilty, the company could face a fine of up to 10% of its global turnover, or approximately $39.4 billion.
This isn't Apple's first antitrust rodeo—it's not even the only antitrust rodeo it's currently involved with. Here are a few additional investigations from the past year:
December 2021: The Netherlands Competition Authority accuses Apple of breaking competition laws by charging competitors fees for listing products on the Apple App Store.
April 2022: EU antitrust investigators announce an investigation into Apple after Spotify submits a complaint that the iOS platform is favoring Apple's own music-streaming service.
November 2022: The UK's antitrust authority announces an investigation into the dominance of Apple's mobile browser Safari.
January 2023: Brazilian lawmakers accuse Apple of abusing its dominant market position in the App Store.
---
How much does an energy crisis cost?
The governments of the EU, Norway, and UK have collectively spent $800 billion (€792 billion) trying to protect its citizens from soaring energy prices that went from sky high to stratospheric high when Russia invaded Ukraine in February 2022.
Germany and Denmark have led the charge in spending the largest shares of domestic GDP to shield their citizens from the ongoing crisis. Support policies have taken various forms, including baseline household and business support, and bail-outs for failing energy providers. Spring may be on the horizon for much of the region, but the war in Ukraine continues, and we could see countries' budgets skewed towards energy-shielding for some time.

📈 We've got two more charts for you that shed some additional light on the subject.
👀 Meanwhile, a new study projects that Africa will supply 11% of the world's natural gas by 2050, but demand on the continent will grow alongside it.
---
Don't bother scanning this code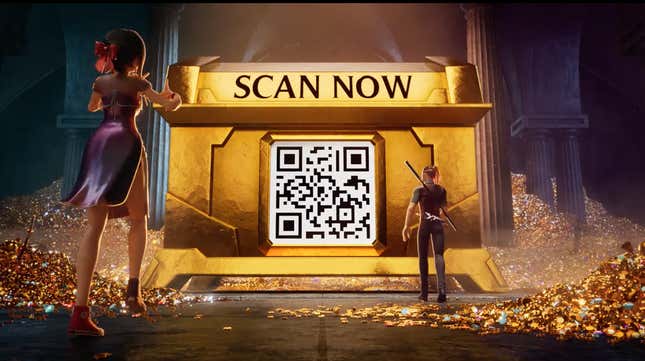 In 2022, a legion of cryptocurrency companies paid millions of dollars apiece to bombard every American sports-watcher with bunk investment advice. This year, the Super Bowl's famed ad lineup included only one crypto commercial, which didn't disappoint with its scamminess. The QR code, which promised to grant an NFT, only linked to the Twitter account of the company's CEO.
Quartz's Scott Nover looks at what the advertising slow-down indicates about the crypto industry, which may just be on a time out.
✦ We scan the codes so you don't have to. Help keep Quartz content free and accessible by supporting the work we do with an annual membership—50% off for Daily Brief readers.
---
Quartz's most popular
🍩 Dunkin' Donuts made its ad debut at the Super Bowl thanks to Ben Affleck
📉 Hit by fraud charges, India's Adani Group halved its growth projection
⛽ Africa's share of global gas supply will almost double by 2050
🏃 If US workers want to switch jobs, they'd better do it now
⛏️ India has found a major deposit of lithium, suddenly making it a major EV player
🤑 How LVMH helped make Rihanna a billionaire
---
Surprising discoveries
Croatia is selling a piece of its heart-shaped island. Valentines don't want roses, Valentines want Adriatic islets frequented by Beyoncé.
Ants wander with intention. Their zigzagging paths could be a more efficient way to forage.
Guys with sports cars may actually truly be compensating for something. Some diabolical psychologists set out to test the theory. You know the one.
AI was asked why fingers have them stumped. ChatGPT got a bit touchy around the subject but Chatsonic handed over a frank response.
New York is the most expensive place to be single in the US. Scrap the Croatian island, Valentines just want help splitting rent on Manhattan island.
---
Our best wishes for a productive day. Send any news, comments, heart-shaped islands, and AI that can write a good signoff joke to hi@qz.com. Reader support makes Quartz available to all—become a member. Today's Daily Brief was brought to you by Diego Lasarte, Julia Malleck, and Susan Howson.