Good morning, Quartz readers!

---
Here's what you need to know
Air India ordered 470 planes from Boeing and Airbus. Totaling an estimated $85 billion, it's the biggest deal in commercial aviation history.
The EU approved a ban on selling new fossil fuel cars by 2035. The bloc aims to speed up the adoption of EVs and contribute to its goal of becoming a net-zero economy by 2050.
Ford is laying off 3,800 employees in Europe. The majority of cuts will affect staff in Germany and the UK, whose own auto industry has already been struggling post-Brexit.
New Zealand declared a national emergency following Cyclone Gabrielle. Prime minister Chris Hipkins called it the most severe storm to hit the country this century.
UK pay rose faster than expected… Average wage growth was up 6.7% in the last three months of 2022 compared to a year earlier, indicating the Bank of England may further increase interest rates. Meanwhile, US inflation cooled slightly (see more below).
…and UK strikes hit a 30-year high. New data shows about 2.5 million working days were lost between June and December last year due to walkouts as living costs have skyrocketed.

---
What to watch for
JD.com is calling it quits in Thailand and Indonesia.
Starting today (Feb. 15), the Chinese e-commerce giant won't be processing any more orders in those markets. This is the first step in an exit strategy unfolding in stages to give customers time to use up their balance and pay off any loans.
The online retailer made a key mistake in its approach to the southeast Asian markets. JD tried to build something from the ground up, in joint ventures with Provident Capital in Indonesia in 2015 and Central Group in Thailand in 2018, while its Chinese competitors Alibaba and Tencent took the safer route of backing existing firms.
JD's focus is now returning to China, where it remains a large fish in a big pond, and where a renewed consumer appetite for shopping puts the company in a prime position to claw some more market share.
---
Nikki Haley has entered the presidential ring
Nikki Haley announced Tuesday (Feb. 14) that she will run for US president in 2024. The former South Carolina governor and US ambassador to the UN has become the first challenger to pit themselves against Donald Trump in the Republican presidential primary.
The 51-year-old is scheduled to deliver remarks today (Feb. 15) in Charleston at a campaign launch event. The early start to her bid could be an advantage over other rumored GOP contenders-to-be, including South Carolina senator Tim Scott and Florida governor Ron DeSantis.
Haley, whose full name is Nimrata "Nikki" Randhawa Haley, described herself as the "proud daughter of Indian immigrants" in her campaign announcement, no doubt seeking to tap into the Indian-American vote. At 2.7 million strong, Indians are the second largest US immigrant group, and could be a boon to Haley's presidential bid.
---
US inflation is still too hot
Inflation in the US is much like a batch of cookies fresh from the oven: cooling, but still too hot to enjoy.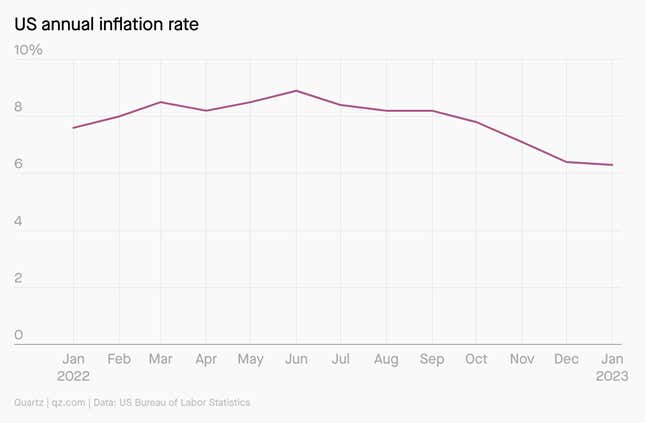 The US Federal Reserve said consumer prices rose 0.5% from December to January, faster than the agency is comfortable with. But if you hear whispers that wages are to blame for persistent inflation, think again.
✦ Like your chocolate chip bakes with a side of Quartz coverage? Help keep our content free and accessible by picking up an annual membership. Daily Brief readers get 50% off.
Quartz's most popular
😵 Electrification and Brexit are killing the British car industry
🧑‍💻 Walmart is closing three US tech hubs but still expects all employees to report to the office
💬 T-Mobile went down across the US
🎞️ Indian tax officials are investigating the BBC after it aired a Modi documentary
🌾 As wheat prices rise, a food staple in the DRC is being reimagined
🍼 Pregnant Russian women are flying to Argentina to seek citizenship
---
Surprising discoveries
Pablo Neruda may have been poisoned. Fifty years after his death, forensic experts could have evidence of a murderous plot against the poet.
Spoons are the most romantic utensil. The Welsh tradition of carving "love spoons" will scoop you off your feet.
The most wanted car plate in Hong Kong features a single "R." The lucky letter sold at auction for just over $3 million.
Hardboiled detectives scrambled a heist... Someone in Shropshire, England tried to eggscape with 200,000 Cadbury Creme Eggs.
…while fake eggs are now the same price as real ones. Maybe it's a sunny upside to the otherwise cracked egg market.
---
Our best wishes for a productive day. Send any news, comments, eggs, and more eggs to hi@qz.com. Reader support makes Quartz available to all—become a member. Today's Daily Brief was brought to you by Ananya Bhattacharya, Sofia Lotto Persio, Julia Malleck, and Morgan Haefner.