Good morning, Quartz readers!

---
Here's what you need to know
Ant Group partnered with the NBA. The fintech affiliate of Alibaba will promote the North American basketball league's content online to China's massive fanbase.
Russia suspended its participation in the New START arms control treaty. Hours after president Vladimir Putin made the announcement, the foreign ministry said it would still abide by the pact's cap on nuclear weapons.

Toyota will make EVs in the US. An existing factory in Kentucky, set to be refitted, aims to produce 10,000 units per month by the end of 2025.
US president Joe Biden spoke in Poland. Following a surprise visit to Kyiv, his speech reaffirmed support for Ukraine as the one-year anniversary of Russia's invasion nears.
A South Korean court recognized same-sex couples' rights for the first time. Seoul's high court ruled same-sex partners are entitled to the same health insurance coverage as heterosexual partners.
The EU's carbon market hit a record €100 ($106) per metric ton. It's a milestone for one of the bloc's key mechanisms to incentivize green investment and meet its net-zero goals.
Chinese provinces are offering 30-day paid leave to boost fertility rates. Provinces including Gansu and Shanxi are seeking to give newlyweds a nudge amid flagging birth rates. 
Amazon's cloud unit partnered with AI firm Hugging Face. The startup is developing its own competitor to ChatGPT that will be available to Amazon Web Services customers.
---
What to watch for
US semiconductor manufacturer Nvidia reports earnings today (Feb. 22), and it's not likely to be good news. Chipmakers all over are still feeling the pain of inflation-cautious consumers, rising interest rates, and China's erstwhile zero-covid policies.
But honestly—what with ChatGPT being all the rage, and Nvidia being tapped by Microsoft to amplify AI of all sorts—who cares about the chips being down! The more people use ChatGPT, the more computing power OpenAI (ChatGPT's creator) will require. Even if "robots chatting to you in an uncannily astute way" itself turns out to be more fad and fluff than gamechanger, the fundamentals hold the potential for huge changes in the computing industry.
And that, fellow humble non-computers, is what Wall Street is betting on.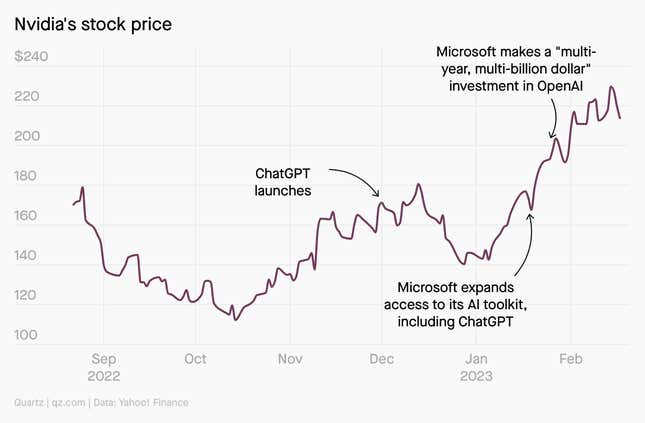 ---
UK companies are loving the four-day work week
In a recent pilot, 61 UK companies gave their employees a paid day off each week, and the results are in: It's bloody brilliant.
The experiment is the world's largest of its kind to date. Running from June to December 2022, it involved firms ranging from small, local restaurants to larger financial and tech firms. The model sought to keep productivity at the same, pre-trial level or higher for the 2,900 employees taking part, and pay was also kept the same. Two big results:

71%: Drop in feelings of burnout
65%: Reduction in sick days taken
But the model didn't suit all participants. Nearly 10% of companies in the trial decided the five-day grind works, with smaller size being one of the factors that may make fewer work days more of a challenge for firms.
---
The Mormon Church hid $$$ in shell companies
Failing to disclose billions of dollars in investments isn't too saintly, but that's exactly what the US Securities and Exchange Commission said the Church of Jesus Christ of Latter-day Saints did.
The Mormon Church and its investment manager were fined for not disclosing some $32 billion in assets. The Church has said that the money is used to support its extensive missionary and philanthropy work during troubled economic times, but whistleblower allegations have cast doubt on that claim.
✦ Love stories that follow the money? Help keep our content free and accessible by picking up an annual membership. We're offering 50% off—nothing to hide here.
---
Quartz's most popular
😔 A fresh 6.4 magnitude quake hit Turkey and Syria

💰 The EPA has ordered Norfolk Southern to pay for all clean up costs at the Ohio derailment site
🚢 Maersk got closer to ending its Russian operations by selling two logistics sites

⚽️ A Qatari bid for Manchester United raises issues for European soccer
📎 What can you do when your company reverses on remote work?
✅ Why Meta is betting on subscriptions 
---
Surprising discoveries
The Empire State Building has an interstellar double... Skyscraper-shaped asteroid 2011 AG5 just made an Earth flyby.
…but a New York minute can't keep up with the Earth's rotation. A negative leap second may be the fix.
A squadron of samurai could be yours to command. They come with a Japanese castle for just $8,400 per night.
Ancient Sumerians were getting zooted with booze straws. They even had built-in strainers to filter out the beer sediment.
Your spice rack may be getting a little too zesty. It could have more germs than your cutting board or trash can lid.
---
Our best wishes for a productive day. Send any news, comments, $770 sake, and cardamom to hi@qz.com. Reader support makes Quartz available to all—become a member. Today's Daily Brief was brought to you by Cassie Werber, Tim Fernholz, Julia Malleck, Susan Howson, and Morgan Haefner.