Good morning, Quartz readers!

---
Here's what you need to know
Silvergate is shutting down. The crypto bank's operations became increasingly unsustainable in the wake of FTX's collapse.
JP Morgan is suing a former executive over his ties to Jeffrey Epstein. Former private banking head Jes Staley's actions have brought lawsuits against the bank.
Spotify is pivoting to video. The audio streaming app is adding an endless scroll feed to take on the likes of TikTok and YouTube Shorts.
Senate staffers are forming a union. Senator Ed Markey's team is set to form the first unionized Senate office, after congressional employees won the right to unionize last year.
---
What to watch for
Vermont senator Bernie Sanders is finally getting a chance to grill Starbucks CEO Howard Schultz on union-busting.
The coffee chain founder would have preferred to put this sticky situation on ice. He initially declined an invitation to appear before the US Senate Health, Education, Labor, and Pensions Committee at a hearing scheduled for today (March 9). Sanders didn't accept no for an answer, and threatened to subpoenaed Schultz, whose attendance is now confirmed for March 29.
Before then, another union-related battle is brewing on Schultz's horizon. There will be a shareholders' proposal to conduct an independent workers rights assessment, set for Starbucks' annual meeting on March 23.
---
More women are joining boards, but not everywhere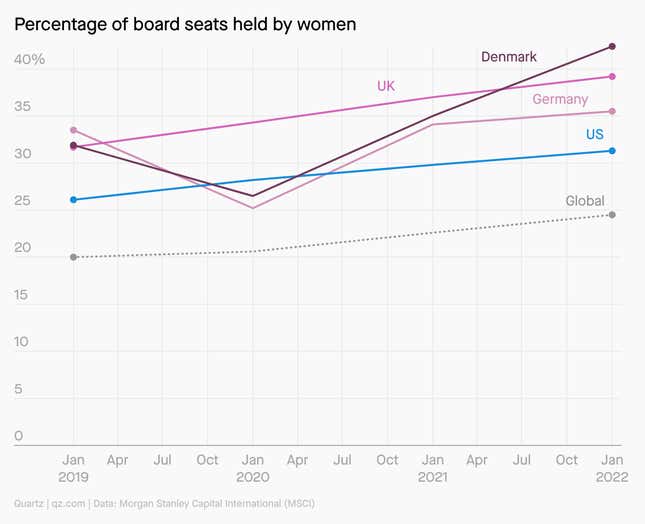 The pandemic had a deep impact on women in the workforce around the world. But as Clarisa Diaz reports for Quartz, the number of women serving on boards is recovering globally—just not in the world's largest economy.

✦ Love stories like this? Support our newsroom by becoming a Quartz member. Daily Brief readers get 50% off.

---
Quartz's most popular
🤖 3 things ChatGPT can now do in Slack
💪🏾 India's woman entrepreneurs are more likely to get loans than men
🧐 Arkansas is set to roll back child labor protections
🪧 What are the origins of International Women's Day?
🪖 South Korea broke its own rules about military aid
✈️ Airlines operating in India have a security problem: uncouth flyers
---
Surprising discoveries
Chinese censorship is driving up male lingerie modeling. Ladies in the trade are getting flagged as too provocative.
One woman ranked 244 scones from across the UK. Her favorite of the lot came with a side of brandy butter.
Bees can teach other bees how to solve puzzles. The passing on of knowledge could be evidence of animal culture.
AI can see what we're thinking. Stable Diffusion just needs a brain scan to produce a picture.
US Civil War cemeteries have an arsenic problem. Embalming practices at the time were highly toxic. Now, there are better interment options. Find out more about green burials in the latest episode of the Quartz Obsession podcast.
🎧 Listen on: Apple Podcasts | Spotify | Google | Stitcher
---
Our best wishes for a productive day. Send any news, comments, savory scones, and bees to hi@qz.com. Reader support makes Quartz available to all—become a member. Today's Daily Brief was brought to you by Sofia Lotto Persio, Julia Malleck, and Morgan Haefner.

Correction: This email was updated to reflect that Sanders threatened to subpoena Schulz.