Good morning, Quartz readers!

---
Here's what you need to know
Silicon Valley Bank's demise changed the outlook on interest rates. The expectation is that the Federal Reserve will now keep rates unchanged on Mar. 22.

Pfizer made one of the biggest pharma deals in history. The US drugmaker agreed to pay $43 billion in cash for cancer biotech firm Seagen.
Joe Biden broke a campaign promise. Despite pledging no more drilling on federal land, the US president approved ConocoPhillips' Willow project in Alaska.

A California judge upheld Proposition 22. The ruling scores a win for the likes of Uber, Lyft, and Doordash, who spent millions promoting the 2020 ballot initiative that allows them to treat gig workers as contractors.
What to watch for
Japanese workers are awaiting the outcome of the annual "shunto" wage negotiations between the government, top businesses, and union leaders on Wednesday (March 15), with economists predicting one of the most significant wage hikes in decades. But will the average pay increase be enough to meet the central bank's goals of a wage growth that matches inflation?

Diego Lasarte looks at the negotiations' stakes, as well as how shunto, loosely translated as "spring offensive," came to be.
---
The oceans' plastic problem isn't even close to cresting
The oceans are teeming with plastic—upwards of 170 trillion particles of it—and that figure is exponentially growing.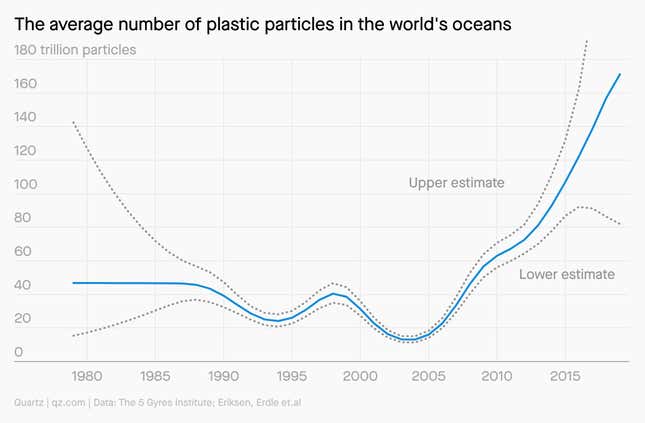 By 2040, the rate of plastic entering the world's waters is expected to increase to approximately 2.6 times what it was in 2016. As Clarisa Diaz reports for Quartz, drastic policy changes are needed to shift the responsibility from consumers to producers.

✦ Do stories like this help you navigate the waves of global business? Support our newsroom by becoming a member. We've got 50% off for you.

---
Quartz's most popular
🏆 The 2023 Oscar winners in one chart
📈 Why Adani Group stocks are on an upswing
👯‍♂️ Are work friendships a good idea?
🫣 Are Indian crypto firms at risk after Signature Bank's collapse?
📺 How the BBC got ensnarled in its own culture war over the UK's refugee policy
🗺️ Silicon Valley Bank's collapse is hitting financial hubs around the globe
Surprising discoveries
Africa is splitting in two. Six land-locked countries could one day have a coastline.
Flicking someone off is a god-given right in Canada. A judge's ruling is in: niceness be damned.

The Scream franchise just had its best opening. The sixth installment in the slasher series was a favorite among younger audiences.

Growing versus showing can be explained by science. We'll let the urologists that studied hundreds of penises take it from here.

Much of the equipment we use to fight megafires are retrofitted World War II planes. It's probably time for an upgrade. On the latest episode of the Quartz Obsession, visual journalist Clarisa Diaz and host Annalisa Merelli discuss firetech—Silicon Valley's name for the technology it's developing to tackle our growing wildfire problem.
🎧 Listen on: Apple Podcasts | Spotify | Google | Stitcher
---
Our best wishes for a productive day. Send any news, comments, Canadian meanness, and Neve Campbell posters to hi@qz.com. Reader support makes Quartz available to all—become a member. Today's Daily Brief was brought to you by Clarisa Diaz, Sofia Lotto Persio, and Morgan Haefner.