Good morning, Quartz readers!

---
Here's what you need to know
Europe's good and bad cops flew to Beijing. French president Emmanuel Macron and European Commission chief Ursula von der Leyen will meet Chinese president Xi Jinping today, where Macron's softer tone is likely to contrast with van der Leyen's outspoken support of the US.
Foxconn's founder threw his hat into Taiwan's presidential race. It's billionaire Terry Gou's second attempt to win the post since stepping down as chairman of the iPhone maker in 2019.

Private jets could be banned at Amsterdam's Schiphol airport by 2025. The proposal is one of several aimed at reducing carbon emissions and noise pollution at one of Europe's busiest aviation hubs.
Markets are still betting big against a shaky banking sector. Canada's TD Bank Group is the target of major short seller interest, with at least $4.2 billion of its stock borrowed by hedge funds betting its share price will fall.
---
Where China's rare earth grip is loosening
As Western nations and their allies try to rely less on China for purified rare earths that go into everything from EV batteries to iPhones, there's a lot of trade realignment, aka friendshoring, going on (which we're obsessed with).

One example is the ever-growing rare earth supply chain between Australia and Japan, which is weakening China's grip over the island nation.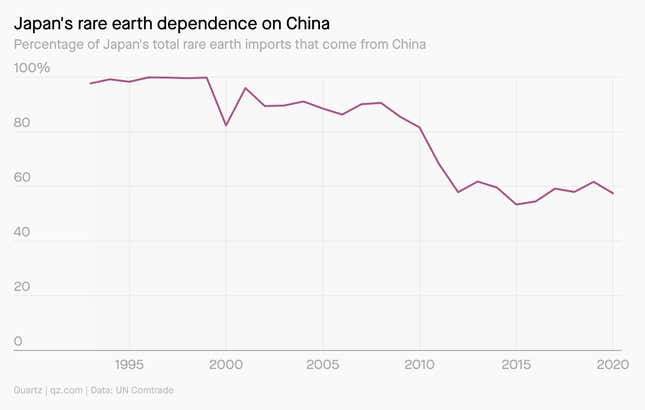 Still, China continues to enjoy significant advantages given the breadth of its industry, as Quartz reporter Mary Hui explains in the final story in a three-part series covering the nuances of this dominance. Catch up with the first two installments before digging into the final one.

Part I: China's rare earths industry has a raw materials problem

Part II: China is on a global hunt for rare earths
---
One not-so-big number from JPMorgan's Frank deal
300,000: Customers Frank had at the time of sale, a fraction of the 4.25 million customers founder Charlie Javice claimed. Javice stands accused of defrauding JPMorgan Chase, which paid $175 million for her infamous student loan startup in 2021.
---
Air travelers, get ready for lines at these airports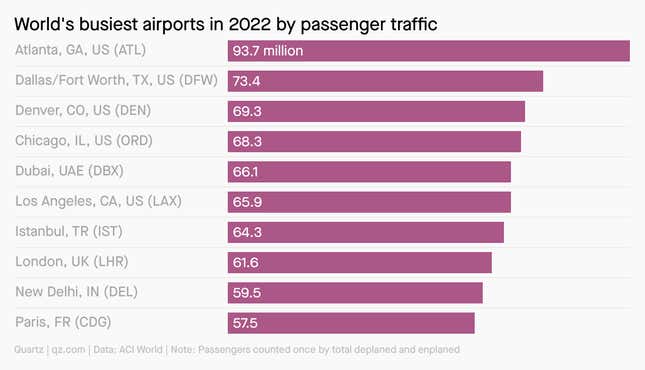 While airports in the US are among the busiest in the world, there are five aviation hubs outside of that country that make the top 10.
✦ Love our charts? Help keep our content free and accessible to all by becoming a member. Daily Brief readers get 50% off.
---
Quartz's most popular
🤐 The Italian government wants to ban foreign words
🇮🇳🇨🇳 How China has been nibbling away at Indian territory
👀 GM got 5,000 workers to leave their jobs without a single layoff
⚖️ What are the criminal charges against Donald Trump?
🥵 Europe led the world in heat pump sales growth in 2022
📉 The US economy's demand for workers is finally waning
---
Surprising discoveries
Children at one school in Nigeria don't need money to attend. Plastic bottles can cover tuition.
The "Lord God Bird" hasn't been officially documented in the US for eight decades. But ornithologists and avian enthusiasts are convinced the ivory-billed woodpecker is still there.
Inflation can't touch the Masters. For $66, you can get everything on the 2023 golf tournament's concession menu.
Getting three astronauts in a room is harder than you think. Each of the US astronauts selected to fly around the Moon next year was late to the surprise meeting where they got the news.
Siberian tigers are all majestic or steady, or somewhere in between. The personality traits are comparable to our humanly extrovert and introvert tendencies.
---
Our best wishes for a productive day. Send any news, comments, Lord God Bird sightings, and a $1.50 egg salad sandwich to talk@qz.com. Reader support makes Quartz available to all—become a member. Today's Daily Brief was brought to you by Morgan Haefner, Susan Howson, and Tim Fernholz.