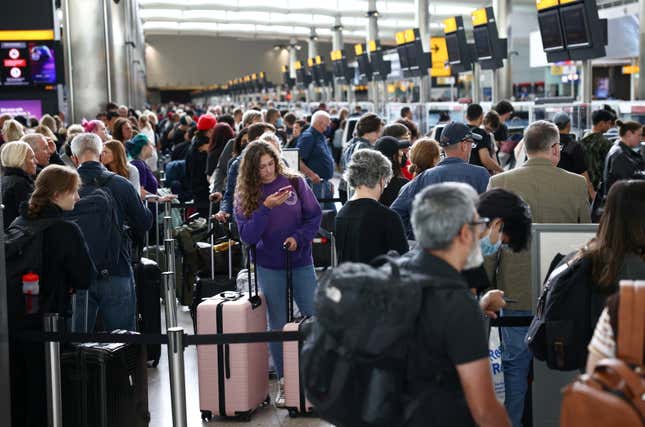 The world's busiest airport is still doing peachy.

Atlanta's Hartsfield-Jackson airport retained its spot as the planet's busiest airport in 2022, according to new data from ACI World. The Georgia hub transported nearly 93.7 million passengers last year, though its traffic is still about 15% lower than pre-pandemic levels.
The second, third, and fourth-busiest airports in 2022 were also located in the US: Dallas/Fort Worth, Denver, and Chicago O'Hare. Overall, half of the world's top 10 busiest airports were in the states, with Los Angeles coming in sixth.
London Heathrow climbed the most in the ranks compared to 2021, jumping from 54th to 8th place as the UK reopened its borders following nearly two years of pandemic restrictions. New Delhi and Istanbul also entered the top 10 ranking, rising from 13th and 14th place, respectively, in 2021.
Global travel volume recovered last year as the world eased covid curbs. Aircraft movements were up over 20% in 2022 compared to the year prior, totaling around 89 million. Preliminary numbers show that international passenger traffic rose by over 50% last year to nearly 7 billion passengers, approaching three-quarters of 2019 levels.
Dubai, a global aviation hub, ranked fourth on the list and saw a 217% jump in passenger volume compared to 2021—another sign that travel is recovering from pandemic lows. Notably, no Chinese airports made the top 10 list in 2022, a first in many years for the world's second largest aviation market, amid the country's strict zero-covid policy.
The world's top 10 busiest airports in 2022 by passenger traffic
Keep an eye on Delhi and Istanbul as global aviation hubs
Both New Delhi and Istanbul have been rising in prominence as international aviation hubs, thanks in part to billions of dollars in government investment.
Turkey's new Istanbul Airport opened in October 2018, replacing Ataturk Airport as the city's main travel center. The megaproject cost $12 billion and is set to be completed in 2027. As AFAR has reported, the finished project will be bigger than Manhattan island, covering 29.5 square miles of land. It will also be one of the biggest airports in the world by passenger capacity, able to accommodate 200 million travelers annually.
India has also been ramping up investment in its aviation industry. This year, Modi's administration announced a plan to invest ₹980 billion ($11.88 billion) by 2025 in the country's aviation infrastructure to improve domestic connectivity, build new airports, and update existing structures. Demand in the aviation sector has surged post-covid, with Air India recently making the largest plane order in the history of commercial aviation with Boeing.
Related stories
🤔 What does Air India's historic aircraft deal mean for the company—and for India?
📈 International air travel to Africa is rebounding
✈️ Amsterdam's Schiphol airport wants cleaner, quieter skies