Good morning, Quartz readers!
Linda Yaccarino is officially X/Twitter's new CEO, but we wanted to share a few names that Quartz readers had expected to be drawn out of the hat: Marissa Mayer, Sarah Palin, Melania Trump, and a cute cat in an office chair named Huckleberry (thank you for the picture, Patrick!).
---
Here's what you need to know
The European Commission approved Microsoft's Activision Blizzard deal. The decision comes less than a month after the $68.7 billion acquisition was blocked by UK regulators, leaving its fate still up in the air.
The UK's energy bill was $1.4 billion higher last year, thanks to Brexit. One big problem lies in how much the country pays for electricity brought in from other countries through undersea cables.

A major J-pop agency apologized over sexual abuse allegations. The late founder of Johnny & Associates, Johnny Kitagawa, has been accused of predatory behavior, and J-pop fans want more action from the talent agency.

India's top bank cut its oil and gas lending. Last year, the State Bank of India's funding to the fossil fuel sector stood at a five-year low—a little over $1 billion.
Can China incentivize its way out of population collapse?
Housing subsidies, free schooling, and cash are just some of the incentives Chinese regulators are throwing to young adults in hopes they'll be encouraged to wed and have kids. This "new era" of marriage and childbearing culture has one purpose: reverse the country's first population decline, recorded in 2022.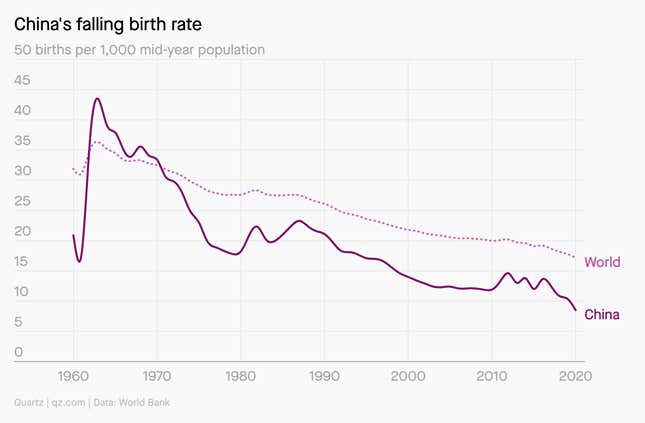 Read more about the pilots being rolled out by the world's second-largest economy to stop its working age population from continuing its unsustainable decline.
---
The other battle brewing over Disney and the "Don't Say Gay" bill
"I have a lot of fifth-grade students who have come to me this year, long before showing this movie, talking about how they're part of [the LGBTQ] community. It's not a big deal to me. So I just said, OK, awesome, I'm not pushing anything, just being accepting. That's what I do."
—Jenna Barbee, a fifth-grade teacher in Florida, who says she's being investigated for indoctrination for showing her class the Disney movie Strange World, which features a gay character.
---
Car engines in the US are getting dusty
12.5 years: The age of the average car on US roads, a record high

In 2022, the US's light vehicles—all 284 million of them—grew older on average for the sixth straight year. Quartz's Niharika Sharma explains why Americans are driving older cars.
---
Quartz most popular
🌏 Foreigners settle in India more easily than Indians do abroad
⛽ Europe's new energy problem: it now has too much gas
🌊 Wall Street is paying more attention to the business risks posed by water
👀 Spot a US-issued diplomatic license plate? Decode it here.
🧠 Your anxiety brings 4 distinct superpowers
👟 Adidas has finally decided what to do with its Yeezy stock
Surprising discoveries
The world's oldest dog turned 31—in human years. Bobi enjoyed a party in Portugal with 100 friends and plates of local meats and fish.
Hammerhead sharks hold their breath. The deeper they go, the colder it gets, and keeping that chilly water out of their gills helps them regulate body temperature.
Baby talk can change infants' brain structures. The amount of adult speech babies encounter is linked to their concentration of myelin, which makes brain signals more efficient.
Saturn and Jupiter are in a moon war. In February, astronomers said the big red planet had 92 orbiters, but that was before 62 more were discovered around Saturn (bringing its total to 145).

ChatGPT is all about assistance right now, not truth. Expecting accurate information from these systems shouldn't be our default, Quartz reporter Michelle Cheng explained to host Scott Nover in the latest episode of the Quartz Obsession podcast. Listen now!

✅ Or find it wherever you get your podcasts: Apple Podcasts | Spotify | Google | Stitcher | YouTube 

---
Our best wishes for a productive day. Send any news, comments, Bobi pics, and undiscovered moons to talk@qz.com. Reader support makes Quartz available to all—become a member. Today's Daily Brief was brought to you by Morgan Haefner.