Good morning, Quartz readers!

---
Here's what you need to know
Section 230 survived the US Supreme Court—for now. A ruling on whether Twitter and Google should be liable for user-generated content side-stepped a judgment on whether the pivotal internet law is constitutional.
Amazon announced its largest-ever investment in India. The tech giant committed $13 billion to build cloud infrastructure in the country.

Deutsche Bank is settling a Jeffrey Epstein lawsuit. The bank offered $75 million to the women who accused Epstein of sexual abuse—half the sum it paid New York regulators to settle a similar case in 2020.

More AI is in Tencent's future. The Chinese video game and social media giant is back to solid revenue growth, and there are rumors a ChatGPT competitor may be in the works.
---
One big number: 10 million
Number of units of The Legend of Zelda: Tears of the Kingdom sold in the first three days of the Nintendo Switch game's release

It's the fastest-selling game in Nintendo's Zelda series, and gives the Japanese gaming company some much-needed XPs, especially as its Switch device passes its peak.
---
A "special forces" travel fad is sweeping across China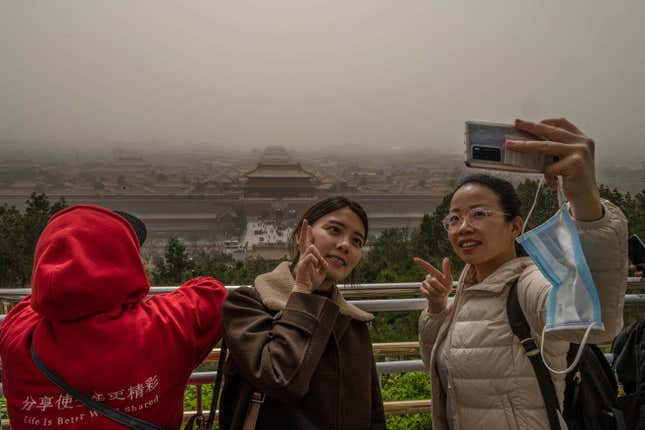 Speed, thrift, and fun: That's the motto of young Chinese travelers as they hit the road after three years of strict covid restrictions.

But this isn't leisure. "Special forces-style travel" (特种兵式旅游) is militant, with jam-packed schedules on a shoe-string budget with the end goal of exploring and eating one's way through cities across China (guess we know what some of the record one in five young people without jobs in China are doing).

Read how one student traveled to 10 different sites in Changsha in just 24 hours and 40,000 steps.

---
Are we on the cusp of a ventilation revolution?
Air is frequently so full of germs and particles that some call it "the new poop."
Indoors, it's hard to quickly assess whether the air you're breathing is clean or not. But as Quartz's Mary Hui explains, the ability to do so could have caused less sickness during the pandemic. Read more about why, and what's being done to fix it.
---
Quartz most popular
🤳 Montana's TikTok ban is unconstitutional and makes no sense
📽️ Netflix revealed how many subscribers are paying for its ad-supported plan
💊 Why is the US in a drug shortage emergency?
🚿 Wall Street is paying more attention to the business risks posed by water
🇮🇳 It takes $175,000 to join the league of India's richest 1%
🔨 The pandemic-era mania for home improvements is over
---
Surprising discoveries
EVs are killing AM radio. US lawmakers don't like it.
ExxonMobil's "god pod" will be no more. Executives will have to say goodbye to their Anigre wood-paneled and Lyon-limestoned space.

Investors are quite intrigued by eDNA. The genetic material found in hair, skin, and mucus that then float on water or air—excuse us, "the new poop"—could grow the global gene sequencing market to $16.8 billion by 2023.
We won't have to look up for another 1,000 years. It's unlikely a killer asteroid will strike in that time frame, although smaller ones sure might.

Plastics aren't made from oil itself, but the byproducts of natural gas production. Because natural gas will likely be one of the longest-lasting fossil fuels as we transition to renewables, plastics are going to be a stubborn problem. Host Scott Nover and Quartz editor Sofia Lotto Persio talk about solutions in the latest episode of the Quartz Obsession podcast.
🎧 Listen right now, and subscribe wherever you get your podcasts: Apple Podcasts | Spotify | Google | Stitcher | YouTube 

---
Our best wishes for a productive day. Send any news, comments, radio star-killing videos, and god pods to talk@qz.com. Reader support makes Quartz available to all—become a member. Today's Daily Brief was brought to you by Morgan Haefner.