Good morning, Quartz readers!

---
Here's what you need to know
The global tea industry has a human rights problem. Several of the world's largest tea retailers, including Starbucks and Unilever, are sourcing tea from plantations linked to abuse allegations.

Malaysian authorities raided 11 Swatch stores. Rainbow watches from the company's Pride collection were seized amid the country's growing crackdown on LGBTQ expression.

Music icon Tina Turner died. The American-born and Swiss-nationalized singer—who won eight Grammys—was 83 years old.
A rapper known as BigRigBaby was accused of running a $60 million weed scam. The US Securities and Exchange Commision smoked out the Ponzi-like scheme.
One big number: At least $23.2 trillion
That's how much the global fossil fuel industry owes in reparations for climate change
Environmental research group One Earth estimates the world's top fossil fuel companies (shown below) have emitted around 36% of all global emissions since 1988—to the tune of trillions of dollars in economic damages.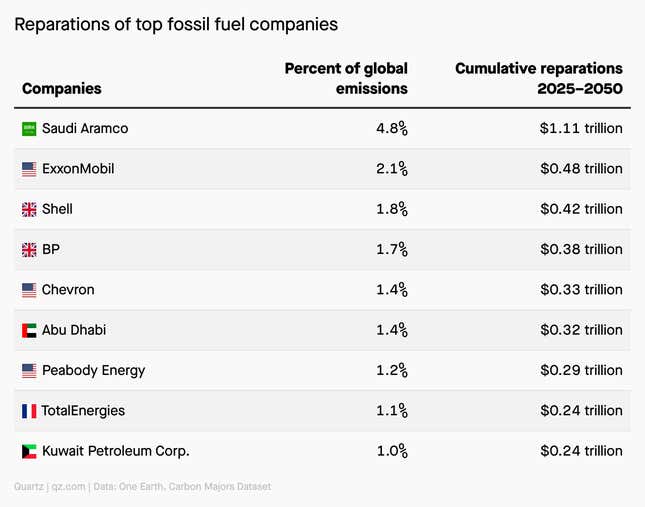 This isn't the whole list—see how eight of world's other top fossil fuel companies stack up.
---
Pop quiz: What's Mother Nature wearing?
Some of Europe's biggest companies, including Nestlé and AB-InBeV, are setting the first-ever science-based nature targets. The pilot's ultimate goal is to halt and reverse the impact of industrialization on biodiversity and the natural environment.

Which luxury fashion brand has decided to participate?

A. Burberry
B. LVMH
C. Chanel
D. Rolex
---
The great social media debate rages on
"The most common question parents ask me is, 'is social media safe for my kids'. The answer is that we don't have enough evidence to say it's safe, and in fact, there is growing evidence that social media use is associated with harm to young people's mental health."
—US surgeon general Vivek Murthy, introducing the litany of risk factors for teenagers using social media. Read the full story here.
---
Quartz most popular
🤖 With AI, Bill Gates sees the end of Google Search and Amazon
🤑 The countries with the most and least expensive work visas
🏳️‍🌈 Target's Pride collection is the latest casualty of increasing intolerance
🌕 NASA found the Japanese Moon lander that crashed into the Moon
🔥 Ron DeSantis is playing with fire launching a presidential bid alongside Elon Musk
🏠 The biggest office-to-residential conversion project in the US is underway
Surprising discoveries
The world's richest man lost $11 billion in a day. LVMH's Bernard Arnault is still richer than Elon Musk, though.
The big, ruddy, eye-catching star you've been noticing in the sky has been acting weird lately. It's not just you—Betelgeuse has at times been 50% brighter in recent weeks.
If OpenAI had to pick a regulator, it'd go for one like the International Atomic Energy Agency. That's… a choice.

New Zealand's sheep-to-human ratio is the lowest it's been for 170 years. But the count may have been baadly done.
Public tech banks could help us address climate change. That's not the only solution such an institution could offer. Hear what other inefficiencies public tech banks could solve in the latest episode of the Quartz obsession podcast.
✅ Subscribe wherever you get your podcasts: Apple Podcasts | Spotify | Google | Stitcher | YouTube  
---
Our best wishes for a productive day. Send any news, comments, cow-to-human ratios, and Betelgeuse pics to talk@qz.com. Reader support makes Quartz available to all—become a member. Today's Daily Brief was brought to you by Morgan Haefner.