Good morning, Quartz readers!

---
Here's what you need to know
Twitter quit an EU deal to combat disinformation. The voluntary agreement has support from others in Big Tech like Google, Meta, and TikTok, but Elon Musk's Twitter never cared much about it.

Recep Tayyip Erdoğan was re-elected as Turkey's president. In his third victory, he'll be tasked with getting the country's economy in shape and tackling sky-high inflation.
The US is closer to reaching a debt ceiling agreement. President Joe Biden and Republicans have a deal, and it now moves to the country's Congress for a vote.
ChatGPT got a US lawyer in trouble. The bot fed the lawyer bogus information about fake cases that he then cited in his own proceedings.
---
India can thank Adani for its recent stock market rally
$3.3 trillion: Value of India's stock market as of May 26, the fifth largest in the world.
India lost its fifth position to France after the US-based Hindenburg Research in January accused the Adani Group of fraud and stock market manipulation. Read more about why investors are going back to Adani.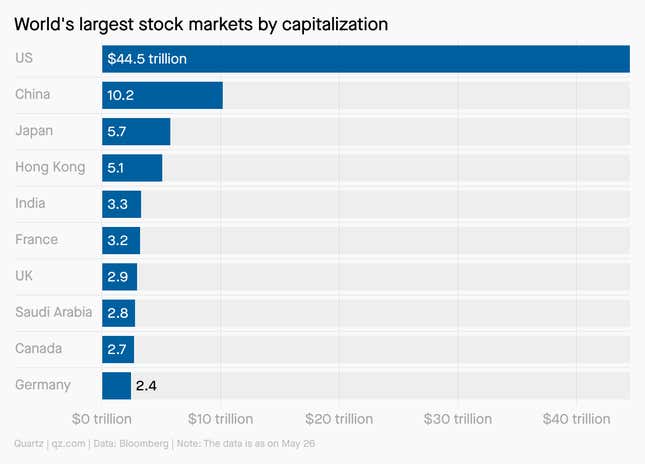 ---
Real-life CEOs on what succession means to them
"I definitely have no plans to go out like Logan Roy."
—Morgan Stanley CEO James Gorman, who has picked three potential successors to his 13-year run at the Wall Street bank.

HBO's Succession's tribulations add dramatic flair and intrigue to a delicate process that most corporate giants eventually have to face. The question of CEO succession has hounded business leaders like Tesla's Elon Musk, JPMorgan Chase's Jamie Dimon, and Pepsico's Indra Nooyi. Here's how they've tackled it.
---
Pop quiz: One nation, under the influence of a few states
The US is made up of 50 states, but only 17 of them have been home to presidents.
Which US state has produced the most presidents?
A. Florida
B. Virginia
C. Ohio
D. Pennsylvania
Find the answer here, as well as which two states have transcended time by producing some of the first presidents and some of the most recent.

---
Quartz most popular
🧓 Good riddance to the lost generations
💀 With AI, Bill Gates sees the end of Google Search and Amazon
🖼️ Adobe is adding AI to Photoshop just as Wall Street goes on high alert over fake images
🌝 NASA found the Japanese Moon lander that crashed into the Moon…
🌚 …and here's how that $90 million robot got fooled by the Moon.
⛽ India's petrol pumps are seeing 90% sales in withdrawn 2,000-rupee notes
---
Surprising discoveries
Danish painters have breweries to thank for their supplies. Evidence of yeast and grains on works from the 19th century point to artists prepping their canvases with beer byproducts.

The cost of Finland's daytime electricity fell under $0. Spring flooding has supercharged the country's hydroelectric production.

Demand for bison meat in the US is soaring. So much so that by 2024, ranchers fear there will be a shortage of animals.

Glaciers are teaming with life. Microscopic "seasonal zombies" awake every year.
Algorithmic hiring tools aren't that good at eliminating bias. In fact, they can perpetuate it. Host Scott Nover and Quartz at Work editor Gabriela Riccardi have some examples of just how bad AI hiring can be in the final episode of the Quartz Obsession podcast, season five.
✅ Subscribe wherever you get your podcasts: Apple Podcasts | Spotify | Google | Stitcher | YouTube 
👀 Or, read the transcript, and more about Gabriela's findings
---
Our best wishes for a productive day. Send any news, comments, Danish beer, and $0 electricity to talk@qz.com. Reader support makes Quartz available to all—become a member. Today's Daily Brief was brought to you by Morgan Haefner.