Good morning, Quartz readers!

---
Here's what you need to know
The public can now test Alibaba's answer to ChatGPT. The Chinese e-commerce giant started rolling out its bot, called Tongyi Qianwen, as president Xi Jinping calls for greater state control of AI.

Meta shareholders voted to not assess political bias and hate speech in India. The proposal was motivated by concerns about the Facebook parent's role in spreading anti-Muslim hatred in its largest global market.

US trade regulators slapped two fines on Amazon. The company has to pay $30 million for privacy violations via its Ring and Alexa devices. But are smart homes even the way of the future?

India removed the periodic table and evolution from school textbooks. The national organization overseeing syllabi for around 134 million students made the changes.
---
Where LGBTQ+ workers in the US lack legal protections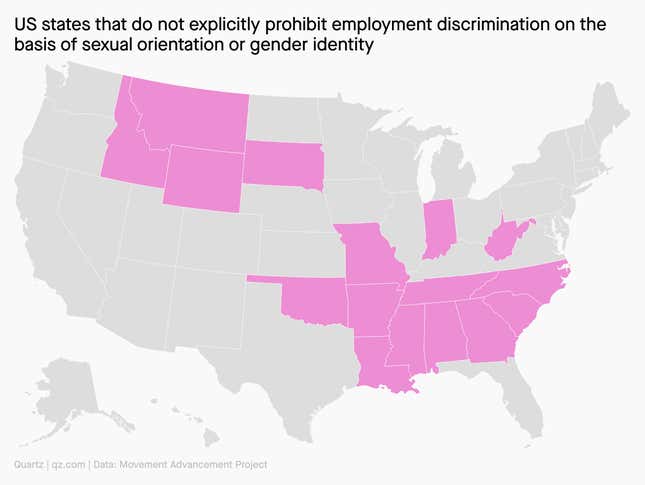 Despite an increasing focus on diversity, equity, and inclusion initiatives, many LGBTQ+ employees don't feel comfortable being "out" at work. Read the full story here.

---
Every boss and their briefcase is going to China
China is back on global leaders' map, and it's not so much a question of who is taking advantage of the nation's wider, post-zero-covid doors as who isn't.
These CEOs have paid China a visit in the past two months—or are planning to this month:

🚘🚀✖️Tesla-SpaceX-X CEO Elon Musk
🏦 JPMorgan's Jamie Dimon
☕ Starbucks' Laxman Narasimhan
🚗 GM's Mary Barra
🍎 Tim Cook of Apple
💊 Pfizer's Albert Bourla
💄 LVMH's Bernard Arnault
Read more about Bernard Arnault's upcoming visit in particular, and why he's trying to boost sales in the already-luxury-obsessed Chinese market.
---
Adidas is selling its last Yeezys to loyalists
Shoppers! Get your hands on (and feet into) the remaining Yeezy inventory! The shoes, which are a result of the brand's now abandoned collab with the rapper Ye, formerly known as Kanye, can be yours—but only if you're willing to have your loyalty to the German sportswear brand tested.

Adidas kicked off sales of its remaining Yeezy inventory yesterday on its Confirmed app. The shoes are available to customers that sign up for the adiClub membership and enter a drawing to make a purchase. Read more about Adidas's strategy to offload the footwear and how it plans to use some of the earnings from its last Yeezy stock.
---
Quartz most popular
🧜🏿‍♀️ IMDb sensed something fishy in The Little Mermaid reviews
🤯 Tesla's $37,000 Model Y is outselling EVs that are seven times cheaper in China
💉 Insurance coverage for Ozempic shows the complexity of obesity treatment
🛬 Delta is being sued for claiming to be a carbon-neutral airline
🎂 California is taking the red out of red velvet cake
✨ What makes Nvidia's chips so special during this AI boom?
---
Surprising discoveries
London, you're getting a new gala… Vogue's Anna Wintour is hoping to counteract budget cuts for the UK's art scene with a fashion blowout.
… and it may not even rain! The UK capital's famously wet weather is a lot less wet than it used to be, and the water network isn't built for it.

But coconut water is expanding its own network. Vita Coco hopes so anyway, as it pushes bars and clubs to mix its coconut products into cocktails.
A DC homeowner's giant Transformer statues aren't going over well with his Georgetown neighbors. Tourists, however, are thrilled.

Some companies are experimenting with ketamine retreats to help employees find balance. Surely there are easier ways to make work less stressful.
---
Our best wishes for a productive day. Send any news, comments, surplus Mackintoshes, and Bumblebee figurines to talk@qz.com. Reader support makes Quartz available to all—become a member. Today's Daily Brief was brought to you by Morgan Haefner and Susan Howson.