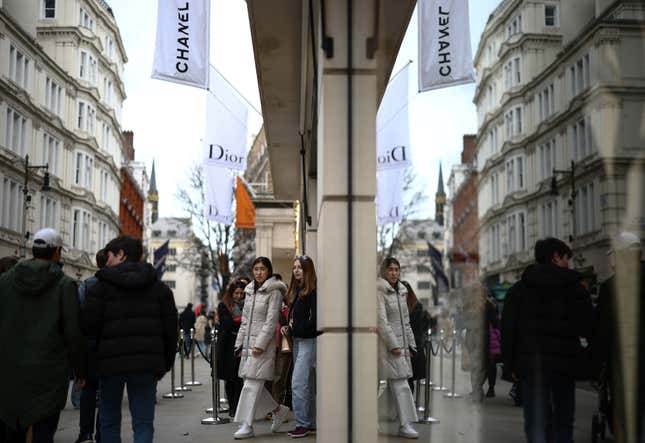 Good morning, Quartz readers!

---
Here's what you need to know
Gen Zers and Millennials feel wealthier than their elders. Only 40% of Baby Boomers feel wealthy, compared to 46% of Gen Z.
Should you keep investing in Big Tech?
The US Department of Energy was affected by the global CLOP ransomware attack. Two entities, including a radioactive waste storage facility, were among those breached.
Ticketmaster's parent company Live Nation will display all-in prices. The company's commitment follows a White House campaign to end hidden fees.  

Spotify ended its deal with Prince Harry and Meghan Markle. The couple are expected to find a new home for their podcasting efforts.

---
Origin story: The Body Mass Index
The Body Mass Index, used since the 1970s as the main metric to measure healthy weight, was developed by Belgian mathematician Adolphe Quetelet in the 1830s using data from—you guessed it—European white men.
Unsurprisingly, that has made the BMI inherently racist and sexist. But it wasn't until this week that the American Medical Association finally acknowledged these issues, officially warning doctors to use the BMI with caution. Read more about the AMA's decision.
---
Quotable: The Fed now predicts a soft landing
"We have been seeing the effects of our policy tightening on demand in the most interest rate sensitive sectors of the economy, especially housing and investment. It will take time, however, for the full effects of monetary restraint to be realized, especially on inflation."
—Fed chair Jerome Powell in a press conference on Wednesday. The Federal Reserve has changed its mind about the US hitting a recession this year.

---
One big plunge: 36%
That's how much the naira fell against the US dollar on June 14, when the Central Bank of Nigeria decided to change its policy and allow the currency to float freely.
It's not the only change at the bank: Nigerian president Bola Tinubu suspended its embattled governor Godwin Emefiele, during whose term the black market for foreign exchange thrived.
Quartz's Faustine Ngila discusses the opportunities and perils now facing the Nigerian currency.
---
Quartz most popular
🧐 Google minted more than $10 million from ads for fake abortion clinics
🍻 America's new best selling beer is also an LGBTQ champion
🔌 Nasdaq is officially dropping Rivian for an auto industry chip maker
🏠 Google has officially changed its mind about remote work
✊🏽 Could instituting a four-day workweek be a feminist act?
⛪ The Southern Baptist Convention expelled two churches who have female pastors
---
Surprising discoveries
There's a new Rubik's Cube solution record. We'll just need 3.13 seconds of your time.

Beer conglomerates aren't as interested in craft beers as they once were. They're just not making enough money.

Check fraud is a thing again. We're surprised people are still using enough checks to fuel such a dramatic increase in this kind of organized crime.

Beyoncé's concert in Stockholm put Sweden's economy in a tizzy. You know you that Bey when you cause all this inflation.
Diablo IV sales are really hot and slightly satanic. The new game broke $666 million in sales in five days.

---
Our best wishes for a productive day. Send any news, comments, easy puzzles, and the confidence of Gen Zer to talk@qz.com. Reader support makes Quartz available to all—become a member. Today's Daily Brief was brought to you by Sofia Lotto Persio and Morgan Haefner.