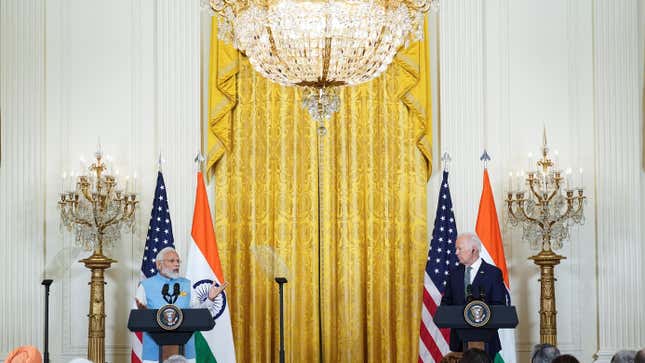 Good morning, Quartz readers!

---
Here's what you need to know
Narendra Modi dines with Joe Biden. The state dinner wraps up a busy US visit by the Indian PM, who refuted critics at a rare press conference; struck deals on tech and supply chains to diminish China's economic influence; and met Elon Musk.
V. Pappas left TikTok. The influential COO (and the most prominent non-binary person in business) is stepping down; former Disney executive Zenia Mucha will help fill their shoes.
Ford won a massive government EV loan. The US will loan $9.2 billion to fund battery plants in Tennessee and Kentucky as the Biden administration pushes to dominate renewable energy.
The OceanGate submariners are lost. Officials say the five passengers who attempted to visit the sunken Titanic are dead after their vessel suffered a "catastrophic implosion."
---
A simple change could dramatically improve H1-B visas
Indian citizens are awarded nearly three-quarters of the temporary visas the US reserves for skilled workers, but renewing them requires leaving the country, which drives up wait times and expense. During Modi's visit this week, the US is expected to announce that some holders can renew their visas without traveling overseas.
By the numbers:
65,000: Number of H-1B visas the US makes available to companies seeking skilled foreign workers each year, plus 20,000 more for holders of advanced degrees.
500,000: Indian visa holders that could be helped if the program is rolled out in full.
198 calendar days: The average waiting time for an "Interview Waiver Petition-Based Temporary Workers (H, L, O, P, Q)" in Hyderabad, where most Indian techies are based and apply for work visas, in February.
150 years: Wait to obtain permanent US residency for Indians because of the country's annual caps on skills-based green cards.
---
What if the next missing billionaire is lost in space?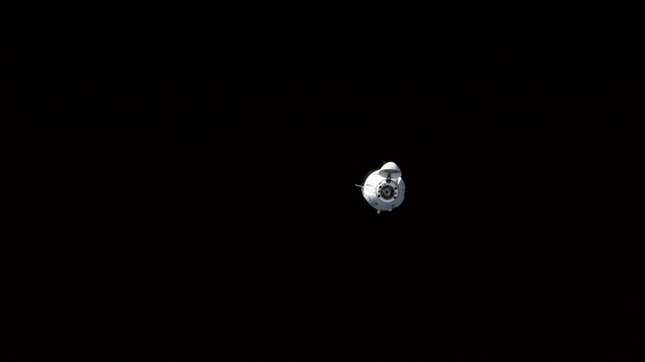 From a passenger's perspective, a spacecraft disabled in orbit would be similar to the situation that was facing the OceanGate submarine in the north Atlantic: A trapped crew with limited resources, enduring a race against time to be rescued.

But while governments dispatched aircraft and ships to aid in the search for the missing submarine, the response to a disabled spacecraft in orbit would be very different: ​​There are no plans in place at NASA or at SpaceX, the only company that can currently fly humans off-planet, for how to mount a rescue in space.
Read about what it would take to rescue astronauts (or a billionaire space tourist) in our latest Space Business newsletter.
---
Quartz's most popular
🚢 The Panama Canal is restricting large ships because of drought
⚔️ The FTC thinks canceling Amazon Prime should feel easier than fighting a 10-year war
♻️ Where the EPA's new renewable fuel standards fall short
🧫 Meat cultivated in a lab is finally on the menu in the US
🏳️‍🌈 More than a dozen state attorneys general give Target reasons to restock pride merch
🙄 What the best companies are doing to win over quiet quitters
---
Surprising discoveries
Modi's single status gives him power. Indian politicians win plaudits for a lack of work-life balance.
Americans gave less to charity in 2022 than the year before. It's only the fourth time that donations didn't grow in the last forty years.
The American Cornhole League has $8 million in prize money. And that is bean bags.
George Santos wasn't lying about who paid his bail. A pair of family members really did keep the serial fabulist out of jail.
IBM will deliver AI commentary at Wimbledon. Why listen to a tennis expert when you can listen to software that has listened to tennis experts?
---
Our best wishes for a productive day. Send any news, comments, marriage-based political analysis, and cornhole prize money to talk@qz.com. Reader support makes Quartz available to all—become a member. Today's Daily Brief was brought to you by Tim Fernholz and Heather Landy.