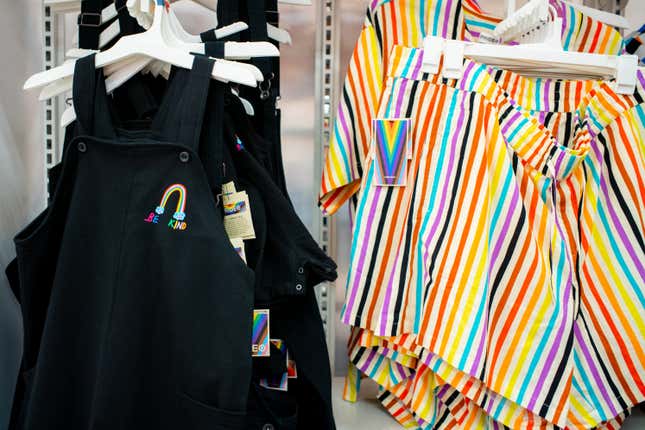 Democratic attorney generals (AGs) say they understand Target's reasons for pulling pride merch off shelves—but they do not endorse the move. A bunch of them together penned an open letter to Target CEO Brian Cornell on June 16, urging him to reverse the removals.

Should you keep investing in Big Tech?
While the AGs commended Target's intention to keep staff and customers safe from verbal, and at times physical, attacks, they encouraged the Minneapolis-based big-box retailer to restock the nixed goods. "Against this backdrop, Pride merchandise like Target's helps LGBTQIA+ people see that they enjoy considerable support and that loud and intimidating fringe voices and bullies do not represent the views of society at large," they wrote.
And they instilled some judicial credence in their argument. All the 14 states that signed off on the letter—Massachusetts, Minnesota, Arizona, California, Connecticut, Delaware, Illinois, Maine, Nevada, New Jersey, New York, Rhode Island, Vermont, Washington, plus the District of Columbia—"have laws protecting against discrimination on the basis of sexual orientation and gender identity in places of public accommodation like Target stores," the signatories affirmed.
The legal vote of confident is crucial at a time when the tides are turning against the queer community in the US. State laws imposing restrictions such as banning public schools from discussing LGBTQIA+ identity, prohibiting children's participation at drag shows, ending gender-affirming care for children as well as limiting transgender sports participation, are all creating a hostile environmental for the community.
Quotable: Target should double down on inclusivity
"We urge Target to double down on inclusivity, reject hate in all its forms, and stand firm in the face of intimidation and discrimination. We hope that we can work together with Target to create a welcoming space where members of this community, including Target staff and customers, can express themselves in the joyful spirit of Pride." —Attorney Generals in the June 16 open letter
Target's retreat after anti-LGBTQIA+ attacks
In the past, Target has faced ample right-wing backlash for removing gender labels from kids clothing, not separating "boy" and "girl" toys, and installing gender neutral bathrooms. But the company has stood by its inclusive moves.
The attorney generals echoed activists' clarion calls in the aftermath of Target pulling products. Human Rights Campaign president Kelley Robinson urged Target to "put the products back on the shelves and ensure their Pride displays are visible on the floors, not pushed into the proverbial closet."
Sarah Kate Ellis, president and CEO of advocacy group GLAAD, warned that the only way anti-LGBTQ violence and hate won't win in America is if corporate leaders "do not cave to fringe activists calling for censorship."
Pulling products sets a dangerous precedent that bigoted backlash can force brands into submission. Just look at what happened after Bud Light mishandled the fallout from conservative customers' rage at the beer brand partnering with transgender influencer Dylan Mulvaney. But there's an alternative, like the Nike way. The sportswear brand, which also partnered with Mulvaney, did not seek to distance itself from the trans activist when it faced backlash in the form of the "Burn Bra Challenge" on TikTok. Instead, it doubled down on its support for the trans influencer, urging people to "Be kind, be inclusive … Encourage each other."
A brief timeline of Target's pride merch walkback
May 10: A misleading post by Gays Against Groomers, which the Anti-Defamation League has labeled a group that "peddles dangerous and misleading narratives about the LGBTQ+ community," falsely claims that Target's "tuck-friendly" adult swimsuits, for trans people who have not had gender-affirming operations, were also available in the kids' section.
May 23: Target pulls some Pride collection merch from its June Pride Month catalog after a number of customers had violent confrontations with store staff. The axed designs are three products by London-based company Abprallen's with three queer and trans-positive captions: "We belong everywhere," "Too queer for here," and "Cure transphobia, not trans people."
Even where products aren't entirely removed from the shop floor, products are moved to the back and big displays shrunk to a third of their size.
Target CEO Cornell ends the day by penning a letter to employees, in which he calls the violence in the aisles"gut-wrenching" and expresses commitment to the LGBT community—albeit in talk and not action.
May 24: Erik Carnell, the trans designer behind Abprallen, whose products were taken off shelves, urges people to disengage with the Target fiasco and instead support local business and organize to show up for the community on his Instagram stories.
June 16: The various attorney generals show support and ask Target to refrain from pulling Pride line products.
Related stories
🫣 Target's Pride collection is the latest casualty of increasing intolerance
💗 Pride month collections represent a moment of truth for companies courting the pink dollar
🏳️‍🌈 A Florida restaurant is suing DeSantis to keep hosting family-friendly drag shows