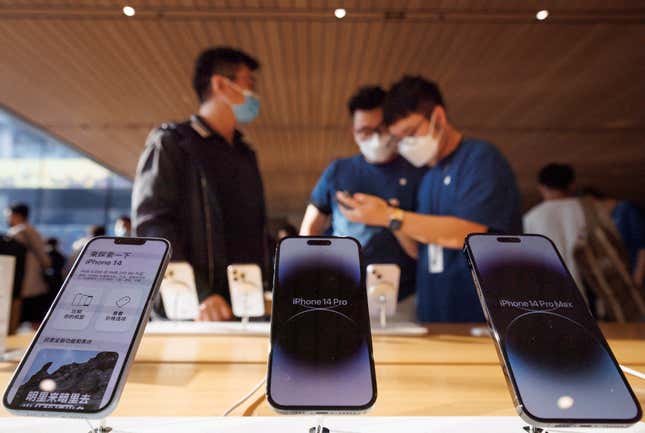 Good morning, Quartz readers!
---
Here's what you need to know
Apple is facing more iPhone bans in China. Currently the devices can't be used in sensitive departments, but that rule may soon extend to state firms and government-backed agencies.

Why a tightening of credit conditions could lead to a weak economy
The G20 summit starts this weekend in New Delhi. The US will use the event to set itself up as a more reliable partner than China, while India will take on a huge global branding initiative.

UK housing prices fell at their sharpest rate since 2009. New figures indicate that the slump will only worsen, with the market likely only halfway through a forecasted 10% drop.

Tencent's ChatGPT clone has a linguistic edge over ChatGPT. Hunyuan, the AI model that Tencent released for enterprise use, beats humans as well as ChatGPT in its understanding of Chinese.
---
Invasion of the species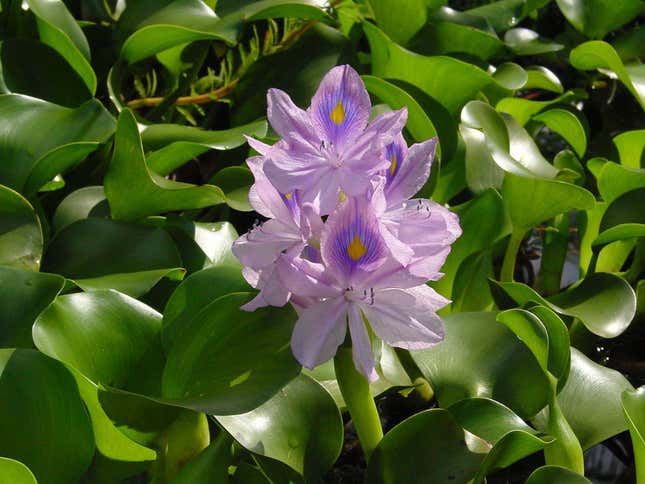 A water hyacinth—the lovely, innocuous-looking aquatic plant above—is a real pain in the pond in at least 74 countries, islands, and territories around the world.
That's because the water hyacinth, a killer of phytoplankton and fish, is one of the top 10 most widespread invasive species on the planet. In its native South America, insects keep the plant at bay, but elsewhere, it grows rampant.
UN leaders just put an eye-boggling price tag on what invasive species cost the world annually: half a trillion dollars. Here's that catch—that's probably an underestimate.
---
One big number: 84%
Car brands that say they can share personal data with service providers, data brokers, and other businesses.

Modern, connected cars are "the official worst category of products for privacy that we have ever reviewed," Mozilla concluded in a new report that looked at how secure driver data is among two dozen brands.

It's not just mileage and geolocation data that cars are collecting. They're also storing and sharing information about passengers, pedestrians in the vicinity, and more. But one smart car brand was especially egregious, thanks to its "untrustworthy AI"—you can probably guess which one.

---
Bill and Melinda Gates still want Bud Light
For someone who, in 2018, claimed that he's "not a big beer drinker," Bill Gates definitely seems very into companies that make the stuff.
The foundation he created with his now ex-wife Melinda just gave Bud Light a nearly $100 million stamp of approval. The Bill and Melinda Gates Foundation Trust bought 1.7 million shares in the beer's parent company, AB InBev, despite slumping sales and sinking stock. The bet hasn't paid off yet—quite the opposite, in fact, as AB InBev has yet to get its buzz back. But, there are reasons to believe that things could turn around.
---
Quartz's most popular
🏉 ​​The streaming wars have made it more expensive than ever to be a sports fan
🏠 Nearly half of Americans age 18 to 29 are living with their parents
🛫 American Airlines demonstrated what could be the world's cheapest way to fight global warming
🏆 A new Huawei phone has defeated US chip sanctions against China
🍻 Employees are crowdfunding the rescue of America's oldest craft brewer
🧯 Canada has more than doubled its annual record for land burned by wildfire
---
Surprising discoveries
A man tried to run across the Atlantic ocean in a homemade hamster wheel. He was arrested about 70 miles (110 km) off the US coast.
In other water vessel news: Cookie-cutter sharks took down an inflatable catamaran off the Australian coast. Three men had to be rescued after the fish punched perfectly round bites into the watercraft.
Tennis balls have a serious recycling problem. Nearly all 330 million of them that are made each year end up in landfills.
The living descendants of a skull stolen from an African colony during the colonial era were identified. A German DNA study helped locate them in Tanzania.
"Shower orange" now has its own Dictionary.com entry. We had to look it up too—don't worry, it's SFW.
---
Our best wishes for a productive day. Send any news, comments, Atlantic running shoes, and cookie cutters to talk@qz.com. Reader support makes Quartz available to all—become a member. Today's Daily Brief was brought to you by Morgan Haefner.