Good morning, Quartz readers!
Protests around the world are bringing increased attention to the continuing gaps in economic status between white and black Americans. Data show that blacks in the US have 10 times less wealth, are 20% more likely to be unemployed, and make 78% as much in weekly wages as whites. Due to the way that government statistical agencies collect data, these numbers actually underestimate the difference.
Most official US economic statistics come from the US Census Bureau and Bureau of Labor Statistics (BLS). Their major surveys all exclude the more than two million Americans who are incarcerated. Since black Americans are six times more likely to be incarcerated than whites, and twice as likely as Hispanics, this has the effect of making it appear that African Americans are better off financially than they really are.
Moreover, 90% of inmates are men. "Whenever you see an employment rate for black men you know it's BS," says University of Chicago economist Derek Neal. "On any given day, 7-8% of young black men are incarcerated and those people are not counted."
Sociologist Becky Pettit has examined how ignoring the prison population distorts a variety of commonly cited statistics. For example, while conventional government stats show that the employment rate for young, low-skilled black men fell from 62% in 1980 to 42% in 2008, including incarcerated men brings the rate closer to 30%. Government statistics also show that the income gap between mid-career black and white men narrowed to 25% in 2014, compared with 35% in 1970. But that difference entirely disappears after accounting for the increase in incarceration.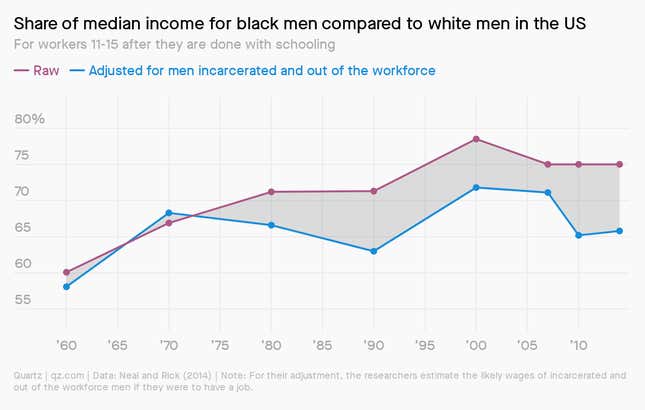 Why would a government agency choose not to survey those in prison? Partly for convenience. It's difficult to get a random sample of incarcerated people on the phone. It may also have to do with what the survey is aiming to measure. "We're trying to get at people who are actively seeking and available for work, and a prisoner's situation is very different from that," a BLS economist told The Outline in 2017.
Still, many Americans look to government data to understand racial inequality, and this data is telling a more optimistic story than it should. —Dan Kopf, data editor
Five things on Quartz we especially liked
When pushing racial equality, actions speak louder than words. It's great that George Floyd's death and the subsequent protests have finally pushed CEOs to speak out against racism, because their words hold power. But as Sarah Todd writes, companies that don't back up those words with action may be perpetuating inequality behind the scenes. She offers tangible steps business leaders can take to move beyond woke-washing and start effecting real change. —Liz Webber, senior news curator
Violent protests shouldn't delegitimize the cause. Last year in Hong Kong, protesters' acts of vandalism gave the Chinese government a way to discredit the movement. Now, US officials are doing the same to those demonstrating in the wake of Floyd's killing. As Mary Hui deftly points out, violent protests are sometimes productive, even when it's not the protestors instigating it. —Alex Ossola, special projects editor
African startups and the pandemic. 2020 was going to be a golden year for Africa's rising startup scene—then coronavirus happened. In this week's field guide Yomi Kazeem looks at the startup response across the continent (✦ Quartz member exclusive). Companies aren't just cutting costs but instead expanding their offerings or rethinking their business. It's an insight not just into the current circumstances, but into the necessary adaptive fabric of African startups. —Annalisa Merelli, reporter
A sign of the times. Public health signs will most likely be prominent in our lives for the foreseeable future—and prominent is exactly what they should be. Anne Quito breaks down the careful thought that goes into signs that could actually change people's behavior—and how it's necessary for companies to get off their branding high horse and do what works best. —Susan Howson, news editor
To binge-watch or to page-turn? Most people across the globe are saving lots of travel time as they work from home—and with all these extra minutes in a day, bookworms should've ideally cleared their shelves by now. But that's not happening. Manavi Kapur explains why reading is on a decline and video streaming subscriptions are through the roof. It's just hard to focus on the latest novel when you're stressed. —Itika Sharma Punit, Quartz India co-editor
---
Did you know?
Hong Kong's legislature voted to criminalize mocking China's national anthem this week. Last year, Hong Kong protesters crowdsourced their own. Learn more about national anthems and the way they unite—and divide—us in the latest Quartz Weekly Obsession.
Next week, we'll be taking a hard look at tear gas. Want to get the Weekly Obsession delivered straight to your inbox for free every Wednesday? Hit the button below, and we'll get it to you.
---
Five things from elsewhere that made us smarter
America's protests, viewed from the outside in. US media (present company included) has plenty of blind spots. In this incisive editorial for The Washington Post, Karen Attiah covers the Minneapolis riots as if she were writing about events in a foreign country. She shows that what separates the US from the rest of the world aren't the incidents inside its borders—but rather the ways in which it frames them. —Annabelle Timsit, reporter
Social justice or social distance? On Sunday, a group of infectious disease experts published an open letter in support of the protests sweeping the US.  By Tuesday, more than 1,000 health experts had signed on. After months of extreme caution being urged by public health officials, this about-face has led me to wonder whether sporting events or concerts that just two weeks ago felt impossible might return sooner than I thought. —Max Lockie, deputy news editor
English football may be in crisis now, but it's back from an abyss. The Heysel stadium disaster in 1985—39 Italians died under attack from English hooligans—was one of the sport's darkest days, but forced a change in culture that eventually made the English game the world's wealthiest and most popular. This excellent Guardian report by Simon Burnton reminded me how far the sport and country have come. —Hasit Shah, deputy editor, global finance and economics
China's singing, dancing Uyghurs. The severe cultural and religious oppression of the Muslim ethnic group native to China's far west is well documented. Less well known, perhaps, is how this Turkic people have long used music as a way of pushing back against that oppression and keeping their culture alive. For the Los Angeles Review of Books, Elise Anderson looks at the politics of Uyghur music—and how some of the biggest names ended up in internment. —Isabella Steger, deputy Asia editor
Europe's sad staycation. Summer holidays are "the lungs" of Europe, Danish politician Margrethe Vestager says in this insightful piece about what the continent is losing with summer vacations on hold. At first glance, it may seem trivial to lament that hordes of people won't be traipsing through the European locale du jour, but Yasmeen Serhan thoughtfully unpacks not just the economic losses involved, but the cultural ones as well. —Jackie Bischof, deputy membership editor
---
For Quartz members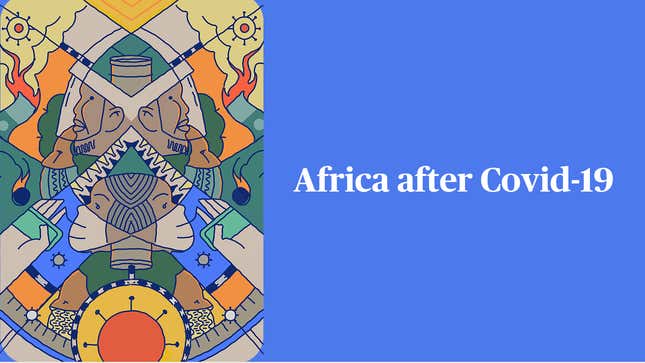 The coronavirus pandemic is forcing a reset in China-Africa relations, from issues of race to diplomacy through aid. But the most pressing issue will be complex negotiations around debt relief. It's estimated that up to 20% of Africa's debt is owed to China, making talks on easing terms critical.
But as Deborah Brautigam, director of the Johns Hopkins China Africa Research Initiative, points out, China's economic challenges post-Covid, and the fact that it has $1.9 trillion of its own debt, "make it unlikely that we will see Beijing agree to real and wide-ranging debt relief." Read more in our field guide on Africa after Covid-19.
✦Becoming a member gets you access to our field guides and a whole lot more, all while supporting quality journalism. Sign up for a seven-day free trial to check it out.✦
---
Before we go…
We'd like to wish Quartz Africa a happy birthday! 🎂
Five years ago this week, we started Quartz Africa with the hope of playing a small role in improving the coverage of Africa's economies and businesses. There is no single African story, but we've always been determined to tell as many of the most interesting ones as we can through our lens of innovation and new ideas.
The best place to find those ideas is in the Africa Weekly Brief, which gives you the most important and interesting news from around the continent.
Sign up for free by tapping the button below.
---
Our best wishes for a relaxing but thought-filled weekend. Please send any news, comments, excellent hand-washing signs, and Uyghur jams  to hi@qz.com. Get the most out of Quartz by downloading our app and becoming a member. Today's Weekend Brief was brought to you by Dan Kopf, Kira Bindrim, Max Lockie, and Susan Howson.