Good morning, Quartz readers!
Was this newsletter forwarded to you? Sign up here. Unsure what to talk about in a post-pandemic world? Here's a tip—forward this email for some guaranteed conversation starters.
---
Here's what you need to know
The Olympics will allow up to 10,000 spectators at events. Organizers made the decision today, following Tokyo's lifting of its state of emergency a day earlier.
The US extended the closure of its land borders with Canada and Mexico. Non-essential travel is now banned through July 21.
American Airlines is cutting flights. The carrier is canceling 1% of its July schedule because it can't cope with a surge in demand.
Hong Kong is reportedly set to relax travel restrictions. Travelers from some countries—like the US, UK, and Singapore—face a seven-day quarantine, down from the current 14 days, the South China Morning Post reports.
While a pro-democracy Hong Kong newspaper could shut down this week. The Apple Daily, owned by jailed protester and tycoon Jimmy Lai, will suspend operations by the weekend if its accounts remain frozen.
China administered its one billionth vaccine dose. After a slow start, its pace of vaccination has picked up significantly.
Tropical storm Claudette claimed at least 13 lives in the US. Among them are eight children who were killed in a bus crash in Alabama.
---
What to watch for
Ethiopia holds a general election today during one of the most precarious times in the nation's history. Prime minister Abiy Ahmed, who took office three years ago, is likely to lead his Prosperity Party to victory.
However, the credibility of the vote has already been dented by the fact that some opposition members have either withdrawn or been jailed, Mohammed Girma writes, and it's hard to imagine any election taking place in Tigray because of the ongoing conflict there.
Here's a brief history of Abiy's time in power:
April 2018: Abiy becomes prime minister.
October 2019: He wins the Nobel Peace Prize for bringing the two-decade conflict with Eritrea to an end.
June 2020: Ethiopia announces it's postponing elections due to Covid-19—opposition parties say the ruling party is exploiting the pandemic.
July 2020: At least 239 are killed in ethnic clashes following the murder of singer and activist Hachalu Hundessa.
September 2020: The Tigray People Liberation Front is declared the winner in a regional election a week after the Ethiopian House of Federation declared the vote "null and void."
November 2020: Abiy orders an attack against the forces of the ruling party of Tigray. Later that month, government forces take control of Mekelle, the region's capital city.
If Abiy wins, this election is a huge opportunity for him to correct his past missteps—or he could use the mandate to turn Ethiopia towards authoritarianism.
---
Charting Amazon Prime Day deals
Today marks the start of Amazon Prime Day, the e-commerce giant's made-up shopping holiday, with concurrent sales hosted by other major retailers like Walmart. Toys, electronics, computers, and televisions saw the biggest discounts across US e-commerce during Prime Day in 2020, according to Adobe's digital research arm, and the company expects sales to follow similar patterns this year.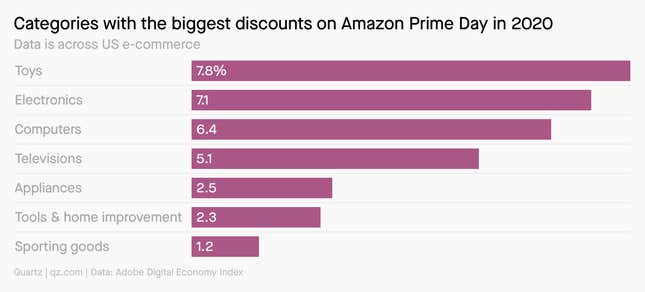 Adobe estimates online spending in the US during the two days of Prime Day last year reached $10.4 billion—just shy of Cyber Monday's total of $10.9 billion, and more than Black Friday's $9 billion. Of course, those figures pale in comparison to China's 618 festival, a weeks-long summer shopping event started by JD.com: In 2020, 618 sales across all e-commerce platforms topped $136.5 billion, and this year JD.com's sales neared $50 billion.
---
Welcome to the hybrid workplace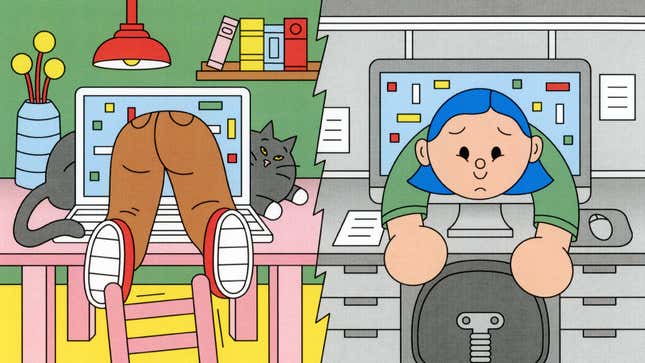 As the pandemic abates in some parts of the world, companies are figuring out the best way to give employees what they want: the flexibility to come into the office when they want with the option to work remotely.
Making hybrid work function at your company won't happen without a few thorny issues. Quartz contacted leading firms and collected ideas from experts to ask about their best tips:
✍️  Get used to writing things down
📝  Ask employees what they want
🔭  Train managers to recognize proximity bias
🤔  Experiment like you would with a new product
🤯  Embrace the complexity
✦ Find more tips for navigating the hybrid workplace in our latest field guide. One bonus piece of advice: become a Quartz member. Try it free for a week.
---
Handpicked Quartz
(Psst. 👇 We took the first story out from behind our paywall because it's that important.)
🦠  Mumbai could see a brutal third wave in two weeks
🧾  How much to tip in a post-pandemic world
🏠  We will never really know if the Covid-19 lockdowns were worth it
🇨🇳  A niche Chinese Gen Z meme is ringing alarm bells for Beijing
😷  Should Americans still wear masks?
🧂  Why investors should take India's internet IPO frenzy with a pinch of salt
---
Surprising discoveries
A network of bots is trying to boost climate coverage by clicking on the ads. The tactic helps improve the articles' performance on Google search pages.
The Milky Way's spin is slowing down. It still rotates at 130 miles (210 km) per second.
Lego has a new set for building a workable typewriter. The 2,079-piece model is for adults—would their kids even recognize what it was?
Officials won't be giving out condoms in Tokyo's Olympic Village. As part of Covid-19 precautions, participants also will only be allowed to drink alcohol in their own rooms.
A trove of stones in a South African village turned out to be quartz. Better than diamonds, we think.
---
---
Our best wishes for a productive day. Please send any news, comments, a benign bot network, and surprising quartz discoveries to hi@qz.com. Get the most out of Quartz by downloading our iOS app and becoming a member. Today's Daily Brief was brought to you by Hasit Shah, Marc Bain, and Liz Webber.