Good morning, Quartz readers!
Was this newsletter forwarded to you? Sign up here. Forward to a friend who has seen every movie starring Matt Damon.
---
Here's what you need to know
Novak Djokovic won a legal battle in Australia. A judge ordered the release of the tennis player from immigration detention in Melbourne, but his visa could still be canceled over a vaccine controversy.
The IMF warned emerging economies about sudden Fed moves. If the US central bank raises interest rates faster than expected, the International Monetary Fund said, it could create "economic turbulence" elsewhere.
Nineteen people died in a New York apartment building fire. The death toll includes nine children, with dozens more people hospitalized after the blaze at a residential property in the Bronx.
Meanwhile, the UK government told developers to pay billions for fire safety. Building inspectors found flammable construction materials in hundreds of blocks after 72 people died in a London fire in 2017.
Mukesh Ambani bought a New York hotel for nearly $100 million. Asia's richest person has been on a real-estate spree recently, adding the Mandarin Oriental to his growing overseas portfolio.
---
What to watch for
US and Russian diplomats meet today for talks that could shape the next phases of war and peace in Europe and central Asia. Or, they could fall apart as soon as they begin. Russia's massing of troops on Ukraine's border will likely dominate the summit; other items include NATO exercises and bases in the region, cybersecurity, and the deadly crackdown on protestors in Kazakhstan.
The Ukrainian conflict dates back decades—here's some reading to help you quickly catch up.
And here are some items from Quartz's archive:
---
The last fossil fuel gold rush
A deterrent strategy the US could use against Russia is oil and gas sanctions. But that would mean finding alternative fuel sources for the EU and other allies that depend on supplies from Russia.
The US is increasingly dominating the international liquified natural gas market. Newly-built US terminals and record-high prices in Europe have made the US the world's top exporter of the fuel for the first time, in what is likely the last growth market for global trade in fossil fuels.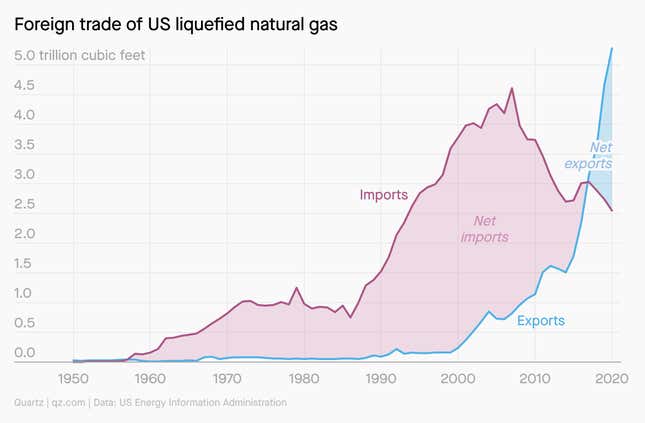 The US is expected to maintain its leading position into 2022 as still more export facilities begin operating. But the growth is forcing more domestic coal use, complicating its goal to cut carbon emissions.
---
Best companies for remote workers
The US is adapting to ever-changing geo-political tensions, and your company is adapting to the pandemic's forced shift to remote work. Submit your company for Quartz's 2022 ranking of the Best Companies for Remote Workers.
---
Handpicked Quartz
🧪  Deltacron is probably a lab mistake, not a new variant
🤩  Celebrities push cryptocurrencies, but their fans carry all the risk
📚  Five great books from Africa to read this year
🤑  India is making sure foreign investors can get in on the country's biggest IPO yet
☕️  Coffee chains are doing away with oat milk surcharges at the exact wrong time
🎮  GameStop wants to sell you NFTs
---
Surprising discoveries
A Broadway actor broke a seven-year hiatus to save Wicked. Covid-19 cases had caused a cast shortage.
Nearly 30 people were rescued from an ice chunk in Wisconsin. After the ice broke off from the shore, it floated a mile into Lake Michigan before everyone was rescued.
That USB stick in the mail probably isn't a gift. Hackers are using Amazon- and government-branded packages to trick people into using malware-filled flash drives.
A UK grocery chain is ditching expiration dates on milk. The retailer said sniff tests are sufficient and could cut back on waste.
Leonardo DiCaprio is the namesake of a newly discovered tree. Uvariopsis dicaprio is found in Cameroon's Ebo Forest, where the celebrity has opposed logging.
---
---
Our best wishes for a productive day. Send any news, comments, a giant piece of ice to float away on, and supermarket sniffs to hi@qz.com. Get the most out of Quartz by downloading our iOS app and becoming a member. Today's Daily Brief was brought to you by Hasit Shah, Tim McDonnell, Tripti Lahiri, Morgan Haefner, and David Yanofsky.