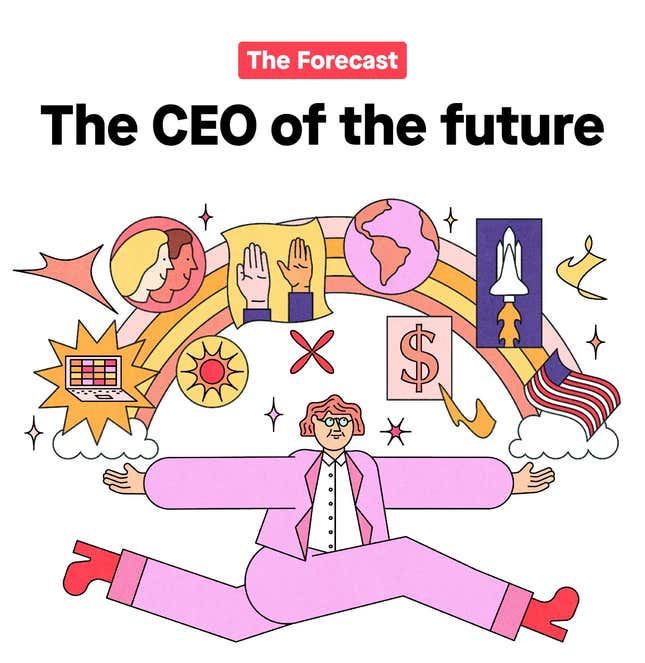 Hi Quartz members,
The past 10 years have brought about huge shifts in corner offices around the world, in what we might think of as the de-Jack-Welch-ification of the CEO suite. Consider the passing of the torch from Steve Ballmer to Satya Nadella at Microsoft, and from Steve Jobs to Tim Cook at Apple. Imperial rule was no longer the goal; a more collaborative, consultative approach began to take hold.
But the next 10 years of change for global business leaders will be less about style than substance. A humane demeanor will still matter, as will the ability to set a vision, communicate the strategy, and hire or develop a team of strong lieutenants—but this won't be nearly enough. More CEOs will be expected to understand and nimbly respond to a range of internal pressures and external threats building around them.
Here are just a few of the challenges that will become more important parts of the top corporate job in the next few years:
These are not new issues, but in the gathering urgency to find solutions, accountability for them is moving up the org chart.
Are CEOs prepared for the shift? Bolder companies might force them to be, say by tying their pay to diversity goals or emission reductions. Business schools might help lay the groundwork with forward-thinking courses that contextualize the private sector's role in society. But even if none of that comes to pass, the role of the CEO could still very well change in the ways we're suggesting, simply because the market demands it.
---
JOB DESCRIPTION
In 2019, nearly a fifth of the CEOs in the Fortune 500 had previously been a CFO, according to executive search firm Spencer Stuart. This path makes perfect sense in a world where shareholder value rules. But when you acknowledge the existence of other stakeholders—or when business is so complicated that your company no longer wants to even try to provide earnings guidance—it suggests there's a different kind of expertise needed at the CEO level.
Research by Heidrick & Struggles suggests companies are already casting a wider net when filling top roles. CEOs appointed in the first six months of 2021 were more likely than those appointed in the six months prior to come from outside the typical CFO and COO ranks. "C-suite roles that are moving up in paving the way to CEO include chief risk officer, chief strategy officer, and chief technology officer," the search firm noted.
Raffaella Sadun, a professor at Harvard Business School, found something similar in a recent study. She and her co-authors analyzed job descriptions for C-suite jobs written by headhunters and coded the skills that were required in them. They found that social skills were becoming more important and financial skills less so—and this was especially true in the most high-tech companies.
"The more technologically advanced the company becomes, the more important the ability to coordinate the knowledge of others," Sadun told Quartz. "You're basically managing a group of people who know much more than you," which effectively requires empathy and emotional intelligence.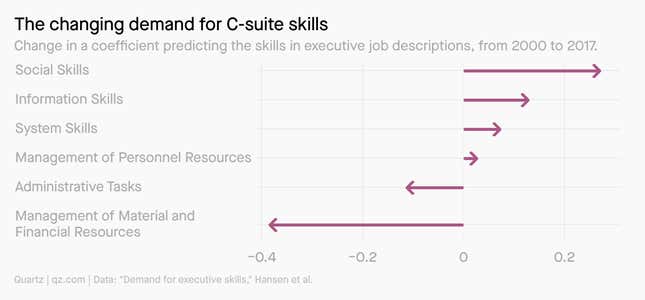 ---
DAY IN THE LIFE
What do CEOs actually do all day? In a separate study (pdf), Sadun and co-authors conducted daily surveys with the administrative assistants of more than 1,000 CEOs of manufacturing firms in six countries. They asked how the CEOs spent their time and recorded any activity that took more than 15 minutes. They found that CEOs spend the vast majority of their day—you guessed it—in meetings.

---
POST-CEO
Imagine a company owned and run by its shareholders, without a CEO. Imagine its rules, governing structure, and even its basic functions are locked in and automated by immutable code—specifically by blockchain technology. That's the idea behind decentralized autonomous organizations (DAOs), which have become increasingly popular in the crypto world. Proponents say that the rise of DAOs will transform how people run communities, eventually overhauling companies, the internet, and society at large.
Typically, people participate in DAOs by staking cryptocurrency in exchange for tokens, which grant them voting power in community decisions. "It's like a board meeting every day with 1,000 people that don't know each other—[and] might not like each other—across Discord channels, Telegram, etc.," Lorien Gabel, CEO of blockchain infrastructure company Figment, said at Mainnet, a crypto conference held in October in New York City. "It's kind of amazing to watch, but it requires a lot of time and effort, so it's difficult."
DAO pros
Cutting out the middleman. No matter their function, DAOs are typically run by their members.
Corporate transparency. Users are supposed to have full access to and influence over organizational processes and decisions.
DAO cons 
Inefficiency. Each decision has to be voted on by the community, though there are some systems that allow people to elect representatives.
The value of the token can be volatile. If people lose faith in the organization, the value of its token can plummet, rendering its pool of capital worthless.
Potential centralization. Initial fundraises can centralize governance tokens among those who invested early, arguably defeating the purpose of a community-run project.
But even as DAOs proliferate, CEOs aren't going away anytime soon—for the same reason that shareholders don't vote 10 times a day on what a company should do. Questions of tactics and day-to-day management are too frequent and specialized to be handled solely by voting. While DAOs may inspire new decision-making structures along the way, most organizations will still have plenty of work for senior management to do.
Read more in our guide to DAOs.
---
🔮 Prediction
The briefly popular idea of one person being CEO of two major companies is ending. In 2018, Barron's published an article about this phenomenon, citing Amazon, Renault, Tesla, and Twitter as companies with CEOs pulling double duty. Today, only Tesla remains:
Jack Dorsey left Twitter to focus on his CEO role at Square Block
Jeff Bezos is no longer Amazon CEO
Carlos Ghosn no longer runs Renault, Nissan, or Mitsubishi—and is an international fugitive
Musk, meanwhile, still holds the CEO job at both Tesla and SpaceX but looks less and less like a manager to admire
CEOs will still have passion projects, and some of those will become companies. But expect fewer major public and VC-backed companies to accept a CEO wanting to run two firms at once.
---
KEEP LEARNING
---
SOUND OFF
The CEO of the future will be…
Laser-focused on diversity & inclusion
Stuck in meetings while the real work gets done elsewhere
Focused on securing memestock status
In last week's poll about living with covid, 65% of you said you're slowly learning to live with the virus.
---
Have a great week,
—Heather Landy, executive editor (some of my best interview subjects are CEOs)
—Walter Frick, executive editor, membership (favorite TV CEOs: Jack Donaghy & Cameron Howe)
—Jasmine Teng, associate editor, membership (CEO of being too online)
---
One ⚖️ thing
More CEOs are being tasked with inclusivity—and occasionally even paid based on their progress—but it's still overwhelmingly white men doing the job. In 2020, researchers at Stanford broke down the demographics (pdf) of Fortune 100 CEOs: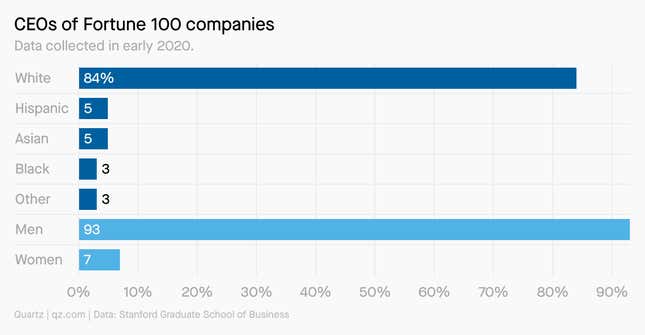 True inclusion will be hard to achieve without widening access to the top job.