Hi Quartz members!

When the virus struck, the movie industry was devastated. But that's not the whole covid story for AMC Entertainment.
The pandemic economy, awash in stimulus cash, turned AMC from a movie theater business into a meme stock. While GameStop may have started the meme stock phenomenon during its 2021 short squeeze, the video game retailer hasn't particularly been interested in acknowledging its peculiar status in the financial world. AMC, though, fully embraced its legion of retail investors and enthusiastically catered to them.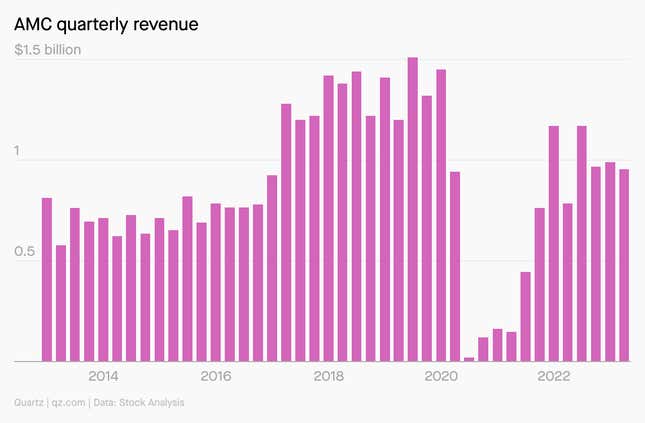 A strange era unfolded. AMC opened up its earnings calls to questions from retail investors, started selling its popcorn in grocery stores, and showing live Ultimate Fighting Championship bouts at the insistence of its Reddit fanbase. It created a controversial new class of stock on the New York Stock Exchange, with the ticker symbol APE, as a nod to its fanboys, who call themselves apes. AMC even bought a defunct silver and gold mine… for no discernible reason, except perhaps because it would appeal to these same devoted investors.
But this summer, with covid's worst moments receding, Americans have flocked back to the movies, and AMC has gone back to being a movie theater business. There have been blockbusters this season—The Super Mario Bros. Movie grossed $574 million at the box office and Spider-Man: Across the Spider-Verse made $380 million—but two movies in particular have combined to create a cultural phenomenon that's truly lining AMC's pockets.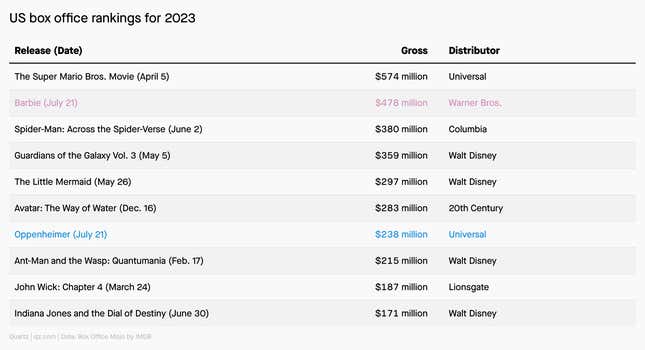 Enter Barbenheimer: the double whammy of Greta Gerwig's Barbie and Christopher Nolan's Oppenheimer, two very different films whose hype has been inextricably linked by their shared July 21 release date. Many moviegoers have not only seen both movies, but viewed them as a double feature, as if bubblegum comedy and nuclear drama were as natural a pair as Fred and Ginger or Hepburn and Tracy.
Barbenheimer has indisputably become a meme, and AMC could not be more pleased. On July 31, the company wrote in a press release that it posted its "highest single-week admissions revenue" in its 103-year history. Barbie has already grossed $478 million at the US box office, well on its way to becoming the year's number one movie, while Oppenheimer has pulled in $278 million. One thing seems certain: Neither would have made as much money without the other.
Barbenheimer, in other words, proved to be the kind of meme that AMC could never have manufactured. It was born from a spontaneous rush of internet culture—not the kind that wants to manipulate markets but the kind that simply wants to mess around with cultural objects. And it was also just the kind of meme that AMC—and indeed the entire movie business needed—at a pivotal moment of turmoil.
---
BY THE DIGITS

87,000: Number of people who saw Barbenheimer as a double feature at an AMC theater
72%: Proportion of AMC stock owned by retail investors
$3 billion: Financial impact of the Hollywood strike on California's economy

65,000: Number of actors striking against Hollywood studios
15.6%: AMC's quarterly revenue growth since last year
---
STRIKE THAT

AMC and other movie theaters may be reveling in the extended flush of the Barbenheimer moment, but it's a precarious time for the movie business. For the first time in 63 years, the film industry's writers and actors are simultaneously striking against Hollywood studios. (Disclosure: Quartz's editorial staff in the US is unionized with the Writers Guild of America, which also represents Hollywood writers.) Even the cast of Barbie and Oppenheimer joined the picket lines, refusing to publicize their films as soon as the strikes began.

The writers and actors have a range of demands, including better "residuals" from streaming services and protections against the use of artificial intelligence. While the two sides spar, movie theaters are on the outside looking in, hedging their rosy financial forecasts in case the strike starts to really mess with business.

Studios are still releasing their completed films, but eventually they'll run out—at which point the bonanza will dry up. Adam Aron, the CEO of AMC, acknowledged this dire prospect during an earnings call on Aug. 9. The domestic box office will continue to thrive this year, he said, "barring complications to the timing of film releases due to the uncertainties of the writers and actors strikes currently well underway."
In a few days, this twin strike will hit its 100th day, steaming on towards the record for a Hollywood strike: 154 days, set by the writers in 1988. The writers guild today shows no signs as yet of approaching a compromise. If, by mid-October, they pass the 1988 record and keep holding firm, AMC's glorious summer will only serve as a warm memory in the cold, movie-less winter.

---
ONE 🐵 THING
The Barbenheimer phenomenon may prove that AMC is more than the sum of its meme stocks. But meme stock investors still dominate headlines about the company.
After AMC created a preferred class of shares, called APEs, in December 2022, investors sued the company, arguing that it had orchestrated a financial sleight of hand to diminish the voting power of common stockholders and raise capital by issuing new shares. Then, when AMC reached a settlement that would allow simpler conversions between the two share classes, a Delaware judge blocked the deal after receiving nearly 3,000 complaints from individual investors.
"AMC's stockholder base is extraordinary," Morgan Zurn, the Delaware chancery judge, wrote while blocking the settlement on July 21. "It includes a great number of human owners who care passionately about their stock ownership and the company." AMC married its mob of meme investors. Now it has to live with them.
---
Thanks for reading! And don't hesitate to reach out with comments, questions, or topics you want to know more about.
Have a blockbuster weekend,
—Scott Nover, tech reporter