Dear readers,
Welcome to Quartz's newsletter on the economic possibilities of the extraterrestrial sphere. Please forward widely, and let me know what you think.
Why a tightening of credit conditions could lead to a weak economy
This week: Checking in on the Artemis timeline, Kuiper shows a little leg, and Virgin Orbit sends home staff as it hunts for new capital.
🚀 🚀 🚀
NASA and Axiom Space unveiled the space suit that future astronauts will wear to visit the surface of the Moon.
Or, because most of the suit was obscured by a stylish covering that hid its "proprietary" features, NASA and Axiom veiled a spacesuit that was worn on stage by one of its designers.
These suits aren't easy to design—balancing mobility, protection, and life support require careful trade-offs—but the advances over outfits worn by Apollo astronauts are clear. The new suit offers more range of motion, particularly in the gloves, and it is worn by entering through a rear hatch rather than assembling multiple different layers and components. It's also designed to better accommodate female astronauts, a problem that has deviled the space agency in the past.

It's not clear what stage of design the suit revealed Wednesday represents: NASA and Axiom say they will not finalize the design until 2025, which is also when the suits are expected to be required. Problems developing new space suits were one reason that a pie-in-the-sky plan to land on the Moon in 2024 didn't come together, and why the agency handed over development of the initial suits to Axiom Space in a public-private partnership, akin to those that produced SpaceX's Falcon 9 rocket and Dragon spacecraft.
It's also budget season in Washington, when we get a sense of how the White House, at least, envisions the future of NASA's Artemis program. The initiative that will carry the first woman, the first person of color, and first person from outside the US to the Moon remains expansive. Well over a quarter of the agency's budget (pdf), some $8.1 billion, is dedicated to Artemis, part of a 7% increase in NASA spending over 2023. Whether that is all approved by Congress is anyone's guess. Support for lunar exploration has been bipartisan, but we are coming up on the most difficult budget negotiations in recent years thanks to a divided Congress and concerns about the path of the economy.
Still, after the successful Artemis 1 mission sent the uncrewed Orion spacecraft to orbit the Moon, NASA is planning to send a crew of astronauts to do the same in 2024, and to land them there in 2025. This week's budget documents revealed that later Artemis missions have been pushed back an extra year until 2028—the ones embracing the sustainable long-term exploration goals originally articulated for the lunar return, as opposed to the flags-and-footprints emphasis that has emerged as the program's guiding force.
Besides cash, what will it take NASA to re-plant a flag on the Moon? A few things: A successful Artemis II mission in 2024 that proves astronauts can safely make it to the Moon and back, finished Axiom space suits, and some kind of vehicle that can bring those astronauts from the orbiting Orion spacecraft down to the Moon and back up again. In other words, how is SpaceX's Starship doing?
At the moment, we're all waiting for the company to announce its long-awaited orbital flight test. On March 7, Musk predicted it would occur in the next month, with a 50% chance of success. (The same odds he gave to the debut flight of the Falcon Heavy.) But even if everything goes perfectly on this first flight test, there is a lot left to do before the envisioned departure of the next generation of moonwalkers in December 2025. That includes building out the crew cabin onboard Starship and testing it with real people onboard, perfecting the in-space refueling techniques required to get the vehicle to the Moon, and demonstrating a successful lunar landing in 2024.

These are not small tasks. Consider, as one example, that SpaceX's crew Dragon went more than a year between its first uncrewed test flight and its first crewed flight, a period which, to be fair, included a significant anomaly investigation. But every step of SpaceX's design and test program will require analysis by NASA engineers, particularly as the vehicle is finalized.
It's been a blessed few years of peace for NASA and SpaceX since the crew Dragon began its regular service to the International Space Station. Now, though, SpaceX will once again find itself standing between NASA and its most important goal, just as it did while attempting to return human spaceflight to the US. That's a privilege the company has earned by delivering for the space agency, but last time it led to some harsh words (and reconciliation) between Elon Musk and NASA. With more ambitious goals, a much bigger rocket, and a large amount of money on the line, the Artemis fun is just beginning.
🌕🌖🌗
IMAGERY INTERLUDE
If you're wondering how the newest Moon suits compare to the classic edition worn by the Apollo astronauts, wonder no more: On the left, Apollo 15 commander David Scott suiting up before flight, and on the right, the Axiom Extravehicular Mobility Unit (AxEMU).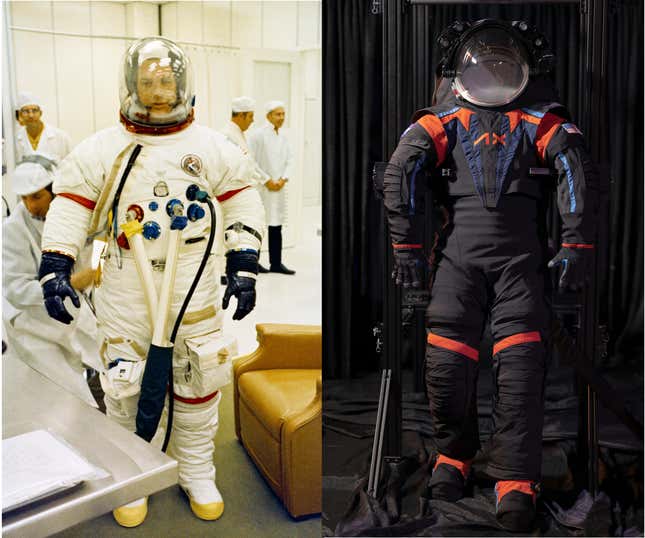 SPACE DEBRIS
Virgin Orbit furloughs staff. The company is pausing operations and sending the bulk of its employees home without pay as it looks to raise new capital. A failed launch attempt from the UK forced the delay of revenue-generating flights even as cash at the publicly-traded company (NASDAQ:VORB) ran low.
Amazon shows off satellite terminals. The e-commerce giant is building a massive satellite network called Kuiper that aims to compete with SpaceX's Starlink and OneWeb, and the company unveiled the cost-competitive terminals users will connect to starting in 2024.
Waiting for Relativity. The fledgling rocket maker had to scrub its second attempt to launch its Terran 1 rocket after running into technical issues; it hopes the third time will be the charm during an attempt expected on March 17.

Firefly has a second Moon mission. The rocket-making start-up won another contract through NASA's Commercial Lunar Payload Services (CLPS) program that will see the company's Blue Ghost lander head for the Moon in 2026 and also deploy a lunar orbiting satellite.
Listen to me. This week on Quartz's Obsession podcast, you can hear me try to convince a skeptical colleague that earth observation from space is actually good and useful.
Meet Dr. Rendezvous. Space Biz readers may enjoy my essay about the legendary Buzz Aldrin for a lovely new magazine called Still Alive.
Your pal,

Tim
This was issue 172 of our newsletter. Hope your week is out of this world! Please send Starship launch cadence predictions, complaints about the NASA budget, tips, and informed opinions to tim@qz.com.