Dear readers,
Welcome to Quartz's newsletter on the economic possibilities of the extraterrestrial sphere. Please forward widely, and let me know what you think. This week: Space politics hits a fever pitch, China crews its space station, and inside SpaceX's fight with the FAA.
🚀 🚀 🚀
In recent days, we've seen new diplomatic commitments around the world concerning activity in space that promise to complicate, and potentially enrich, business in orbit. Here's a brief breakdown:
📍 A meeting of the G7—effectively the seven largest democratic economies—resulted in a novel recognition by its members that new standards for space traffic management and safety should be on the international agenda. While it didn't come with any concrete commitments, it is at least a start that the issue merited a mention on the global to-do list.
The space biz angle: Companies (and their lobbyists) will be watching closely to ensure any rules cost them as little as possible to follow, while providing as much certainty as they can get about operating in the orbital environment. But given a lack of real leadership from the US, any proposals will move slowly through the international system.
📍 A confab between US president Joe Biden and Russian president Vladimir Putin came next. The two countries have managed the International Space Station together, but geopolitical disputes around Russia's annexation of Crimea and its hacking and disinformation campaigns have continued to raise tensions. Notably, the two leaders agreed to embark on new arms control talks, even as NATO confirmed that the alliance would respond to any attacks in space.
The space biz angle: Progress on arms control might be bearish for space businesses hoping to build, launch, and support new early-warning satellites and other military infrastructure.
📍Earlier this month, the first telephone call between NASA administrator Bill Nelson and Roscosmos chief Dmitry Rogozin went smoothly, but Rogozin highlighted two issues that are blocking any new commitment to continuing to work together on the ISS: Sanctions on parts of Russia's space program, and US lawmakers who have yet to decide if they want to keep the International Space Station around after 2024.
The space biz angle: Powerful senators want the ISS to remain in orbit until at least 2028, but NASA (and Russia) want to see that made official. An early end to the ISS would be bad news for companies that have built businesses around servicing it, but might open up opportunities for private space habitats in low-earth orbit.
📍As Russia and China are increasingly drawn together on the global stage, so too are their space programs: Trial efforts at joint exploration programs have been expanded, and now the two nations are plotting moon missions and a trip to an asteroid. Russia lacks the cash for ambitious missions, but it can still add valuable expertise as China attempts to eclipse American extra-terrestrial accomplishments. This week, China flew the first crew to the Tiangong space station in low-earth orbit, the first module of which was launched in April. China now operates one of two habitats in orbit, and a speedy cadence of flights will continue to expand its station.
The space biz angle: China's fast-moving space program worries US officials, but also gives them a reason to invest in American capabilities, as Nelson told senators this week while asking for more money to fund a lunar landing in 2024 with big roles for private companies.
📍The coalitions of space diplomacy reach around the world. This week, Brazil signed onto the Artemis Accords, a legal framework for human activity on the moon promoted by NASA as the starting point for rules of the road there. Naturally, China and Russia aren't hugely impressed, but the US has been adding signatures, and South America's largest economy is an important one to have. Meanwhile, Japan, another Artemis Accord signee, became the fourth country to pass a law allowing private organizations to own space resources they obtain.
The space biz angle: The US exploration paradigm where private actors play a larger role is becoming confirmed in international law as more countries buy into a vision of space as an economic zone as well as a venue to demonstrate technological supremacy. China, meanwhile, is working to boost its private space sector, but much of its current activity in orbit is state-controlled.
Incoming Transmissions
I value your feedback! Last week's note about the value of private rocket start-ups versus legacy giant ULA prompted a number of comments:
🗣"I'd argue both SpaceX's and Relativity's valuations are because of their 'satellite internet' business and  '3D printing' businesses respectively. Astra is probably heading towards becoming a one-stop solution for manufacturing and launching satellites (after their recent acquisition of Apollo Fusion). So, in the end, these should probably not be called launch companies, rather companies who can do 'X' while also having the capability to launch." — Aravind Ravichandran
🗣"Your discussion regarding ULA reminds me of Fairchild Semiconductor in the 60's. Fairchild was the leading semiconductor company. Management didn't understand the business enough to grow, so the top scientists and engineers left to form their own companies and their top people left those companies until we now have 'Silicon Valley.' Almost every company there has roots in Fairchild."— Dave Rutkowski
🌘 🌘 🌘
IMAGERY INTERLUDE
China's first citizen in space was Yang Liwei, who orbited the earth 14 times during a 21 hour flight in 2003. Afterward, just like Russia's Yuri Gagarin and US astronaut Alan Shepard, he was hailed as a national hero in a celebratory tour that included a performance with Jackie Chan in Hong Kong: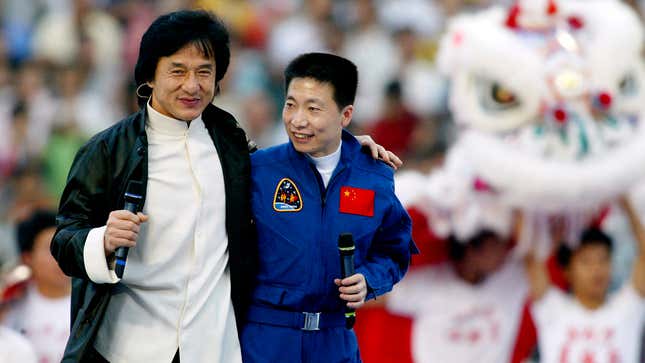 In total, eleven Chinese citizens have flown to space, but this week's expected flight will be the first in five years. Once the new space station is up and operating, observers expect more frequent flights will grow that exclusive list.
👀 Read this 👀
Satellite operators of all stripes are eager to use their spacecraft to bring more connectivity to African countries, where internet penetration is comparatively low. By the time space internet is in full swing, there may be more content coming out of these nations than going in: African creators and media properties are starting to gather more investment and make a bigger impact on the global stage. Check out Quartz's guide to the new African entertainment economy, including the backstory behind the global hit Jerusalema and our playlist of hits that are defining the continent's music scene.
🛰🛰🛰
SPACE DEBRIS
Inside SpaceX's decision to ignore the FAA. With minutes to go before a test launch in late 2020, a Federal Aviation Administration safety inspector told SpaceX not to light up a prototype rocket. Instead, the launch director ignored the warning, kicking off a fight between the FAA and SpaceX that raised questions, not for the first time, about how seriously the company takes safety. The Verge obtained confidential documents outlining what exactly happened that day and the changes the FAA demanded in how SpaceX operates.
Lion of the Azores. LeoLabs, the space situational awareness firm, has announced plans to  build its fifth radar station on the Azores, an Atlantic archipelago that is part of Portugal. Fresh off raising $65 million, the company is continuing to expand its sensor network to improve its accuracy, but also hoping to win contracts in Europe.
Will Rocket Lab beat SpaceX to Mars? The company best known for its Electron rocket has been hired by scientists at the University of California, Berkeley to build twin space probes that will ferry sensors to Mars on a NASA mission planned for 2024. Rocket Lab has touted its Photon platform as generic spacecraft that can be adapted to many purposes; they are also scheduled to participate in missions to the moon and Venus.
The asteroid hunt is real. NASA has (finally) approved plans to launch an infrared space telescope that will hunt for near-earth objects, mainly asteroids, in order to identify any that might cause destruction here on Earth. Though one of the public's top priorities for NASA (and a search that Congress has required by law), the space agency delayed the project for several years until this approval arrived.
Your pal,
Tim
This was issue 97 of our newsletter. Hope your week is out of this world! Please send your predictions for the future of space safety regulation, questions about China's space program, tips, and informed opinions to tim@qz.com.