African cultures have long inspired the world through mediums such as film and music. But now, investors, international companies, and social media platforms are showing a huge appetite for the space, prompting growth in startup funding, investment in original content, and attracting global audiences.
This is opening up new pathways for African creatives to share their work, and manage their careers, in ways that were previously unimaginable.
Driven by a youthful demographic, expanded internet connectivity, and a growing array of connected devices, African film and music is flourishing. Recipients of its dividends include video and music streaming services, scriptwriters and showrunners.
Local companies are receiving record amounts of funding and using new models, particularly streaming, to entertain the continent of more than 1 billion people. Artists are seeing more opportunities to reach beyond local audiences via social media. And foreign entertainment companies are increasingly seeking to get a slice of the African market—Spotify, Netflix, and Apple Music are all customizing content for local users and growing their presence in Africa.
The attention on Africa's entertainment space extends beyond service providers, as the world's major record labels take notice and are strategically positioning themselves for a share of Africa's growing music earnings. They are signing top African artists, hiring personnel for their operations in the continent, and entering deals with local labels and music streaming companies.
The traction of African music genres globally has the most powerful people in entertainment trying to figure out how to discover the next big artist. That's a big shift from how things were done in the past, when record labels would take artists out of their local context and try to make them popular abroad.
Traditionally, entertainment companies like international record labels were "more of like outsider[s] looking in," says Beth Achitsa, label relations manager for east Africa at The Orchard, a US-based music distribution company. "They now want to become part of the story."
The next great funding opportunity for Africa is here.
—Carlos Mureithi

Table of contents
Curtain raiser | Case study: Mdundo | The race to sign African artists |  Social media changes the game | Case study: Jerusalema | Streaming giants script their entrance

Curtain raiser: What's new in African entertainment
Africa's entertainment sector is growing, based on an increase in investment and the number of players.
African entertainment startups had their best funding year on record last year, raising a total of $13.9 million in 2020, almost 19 times what the sector had raised the previous year and nearly 116 times what it had secured in 2018, according to a report by Disrupt Africa, a website for news on African tech startups. The money came mostly from local and foreign venture capital firms.
Disrupt Africa attributes this growth in part to Africans having more money to spend than in decades past. "Spending power is growing, entertainment startups are increasingly succeeding where others failed, and investors are looking for opportunities beyond busy spaces like fintech, health, and e-commerce," Tom Jackson, the website's co-founder, told Quartz. "There was always going to be a drip-down effect, and we are starting to see it."
To bring music, movies, and TV to more than 1 billion people in the continent, local companies have started their own distribution platforms.
Mdundo, a music streaming and downloading platform that raised $6.4 million through an oversubscribed IPO last year, was the main funding recipient in the African entertainment sector, according to the Disrupt Africa report. Ryosuke Yamawaki, a general partner at Kepple Africa Ventures, a Japanese VC firm that participated in Mdundo's pre-IPO bridge funding round, says one factor that influenced its investment is that it sees a larger trend: As GDP per capita for African countries increases, Africans will want more original and authentic African content.
Yamawaki says his firm is confident that different layers of opportunities will emerge as the sector grows, including in production, distribution, payment, and fan communities.
But homegrown music streaming services such as Mdundo, Boomplay, and MusicTime are increasingly facing competition from international companies that want to get a slice of the huge market. Apple Music and Spotify, for example, recently announced plans to expand further in the continent. Global interest in African music has been spurred by platforms including YouTube, SoundCloud, and Twitter. Continental sounds such as west Africa's afrobeats and South Africa's kwaito have become beloved worldwide.
The continent offers massive opportunities for brands if they can figure out how to crack the audience. Cheaper smartphones, expanding internet connectivity, faster internet speeds, an increasing array of connected devices, and an expected population boom mean revenue from music streaming in Africa is expected to grow to $493 million by 2025.
Streaming has also opened up a new battleground in film and TV, which for decades has been dominated by local stations that have acted as the main distributors of content. Local broadcasters and mobile phone networks are now pumping money into platforms that are buying, funding, and distributing visual content. US companies, seeing a saturated market at home, are eyeing this market too, with Netflix and Disney investing in original material from the continent.
A longstanding problem for African entertainers is that many countries have weak copyright laws and poor enforcement of these laws. Piracy is rife, getting in the way of artists and filmmakers trying to monetize their work. The presence of more distribution platforms, which are compensating artists, is helping to address this challenge.
Toni Kamau, a Kenyan documentary producer, also feels that many narratives outside Africa have been exhausted, citing Hollywood's tendency to recycle material. With most African countries a few decades into independence, and with generations of people interested in revisiting the continent's history, Africa has an exciting wealth of stories to tell, she says. "We have a lot to say about who we are," she says.
Appie Matere, a Kenyan TV producer who has shows on Showmax, a South African streaming service, says western countries have realized that they've only really shown Africa from their perspective, leaving most of Africa's stories untold. Africa's biggest prospect, she adds, is the many narratives and perspectives it has to offer. "That will be the main selling point," she says.
—Carlos Mureithi

Case study: Mdundo
After Martin Nielsen moved to Kenya in 2012 to work with a venture capital firm, he soon noticed that most locals consumed music by downloading tracks illegally.
Despite the rise of streaming as the primary mode of music consumption globally, illegal music download sites are still a main way people listen to music across Africa. As a result, local African artists have missed out on major potential earnings from music sales or royalties, instead relying on live shows and advertising endorsements for income.
Having seen the evolution of Sweden's Spotify into a global giant, Nielsen, a Danish native, set out to create a music service that worked for both African users and artists. "Our starting point in search of the solution was to provide a good alternative that's completely better than the illegal services out there," Nielsen tells Quartz Africa. "What was important for us was finding a solution that fit the customer behavior—that's the key argument for moving users from an illegal website to a legal one."
One year after moving to Kenya, Nielsen launched Mdundo, a music download site that mirrored the user experience of illegal platforms by allowing locals to find and download songs to their devices for free. But unlike illegal platforms, Mdundo got musicians to list their catalogs legally on its platform, and generated revenues by selling up to 10 seconds of ads that play before songs. Artists receive half of the ad revenues from Mdundo's platform, depending on their download counts.
Since its launch in 2013, Mdundo has signed up more than 160,000 artists, creating a catalog of 1.9 million songs. The platform generated $300,000 in ad sales in 2019, Nielsen says.
As it doubled down on scaling across Africa, Mdundo went public in 2019. With only 5 million active users, Mdundo still only reaches a sliver of the potential market in Africa and will face competition from other players on the continent. One of those is Boomplay, the music streaming service owned by Transsion, Africa's top phone maker.
Still, its IPO funding made it a dominant reason that African entertainment startups had their best funding year on record last year, accounting for 46% of all recorded investments to African entertainment startups. "Spending power is growing, entertainment startups are increasingly succeeding where others failed, and investors are looking for opportunities beyond busy spaces like fintech, health, and e-commerce," Tom Jackson, co-founder of Disrupt Africa, told Quartz. "There was always going to be a drip-down effect, and we are starting to see it."
—Yomi Kazeem, excerpted from An Africa-focused music download service raised $6 million from its IPO to help pay artists, published Sept. 2020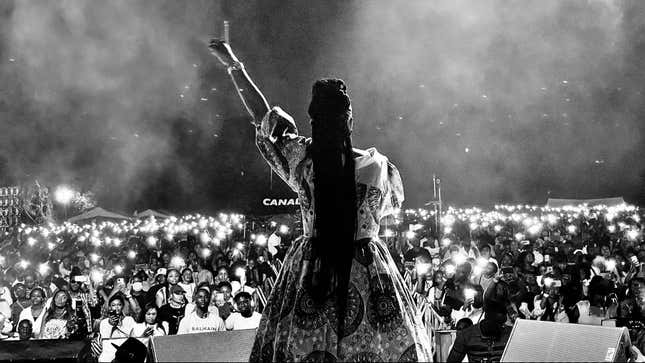 The race to sign African artists
As more music streaming startups try to attract paying consumers, Africa's music industry is booming, and the world's major record labels are taking notice.
Universal Music Group and Warner Music Group, two of the world's biggest record labels, have their sights on the continent. In the past few years, they have been signing top African artists, hiring personnel for their operations in the continent, and entering deals with local labels and music streaming companies as they strategically position themselves for a share of Africa's growing music earnings.
In March, Universal's African division, Universal Music Africa, announced that it had signed the South African Gospel choir MTN Joyous Celebration. That same month, Warner Music Group said it had appointed music executive Temi Adeniji to the combined role of managing director of its African affiliate, Warner Music South Africa, and senior vice president for strategy for sub-Saharan Africa.
Africa's music industry is shaping up against a healthy outlook for music sales globally—good news after a year without performances and gigs due to the coronavirus pandemic. Recorded music revenues grew in every world region last year, including Africa and Middle East, according to the most recent Global Music Report (pdf) by the International Federation of the Phonographic Industry, which featured Africa and the Middle East as regions for the first time.
Revenue from recorded music in Africa and the Middle East increased by 8.4% in 2020 from 2019. Streaming revenues in the region went up 36.4% from the previous year, and were the main revenue source for the music industry as a whole for the region.
"K-Pop continues to make great strides, of course, but I would argue the most exciting development this year has been how African music and African artists have been embraced by fans worldwide," Simon Robson of Warner Music Group said in the report.
—Carlos Mureithi, adapted from The world's biggest music companies are scrambling to sign African artists, published April 2021

Case study: "Jerusalema"
In an interview for the Global Music Report, Robson cited global megahit "Jerusalema" by South Africa's Master KG and Nomcebo as an example of how African entertainment is reaching new consumers. (The label purchased the rights to Master KG's Jerusalema album after its release.)
The route "Jerusalema" took to worldwide acclaim after its release in December 2019 is an example of the new pathways to success for African artists.
The song first played on South African radio stations and quickly took off as a local hit. But then in February, Fenomenos do Semba, an Angolan dance studio, posted a video of members line dancing to the track while carrying their plates of food and eating. The video gave the song a whole new lease of life as a pan-African African pop anthem.
The Angolan clip kicked off the #JerusalemaDanceChallenge worldwide, as nuns and monks in France, a bridal party in Zimbabwe, and a flash mob in Germany, joined in on the fun.
While there have been many variations of the song, such as an acoustic duet by an Italian band, an African remix collaboration with award-winning Nigerian Afrobeats star, Burna Boy in June catapulted "Jerusalema" even higher. Leveraging Burna Boy's fast-growing international acclaim as he promoted his Twice as Tall album, the collaboration helped enter the song into global charts and reach number 1 in 10 countries.
On Spotify, "Jerusalema" has been streamed more than millions of times, while on YouTube it has topped 400 million views. That doesn't include the scores of #JerusalemaDanceChallenge YouTube clips. It also reached No. 11 on iTunes worldwide charts.
—Norma Young, adapted from How South Africa's "Jerusalema" became a pan-African hit, then a global dance favorite, published Sept 2020.

Social media changes the game
"Jerusalema" is just one example of how social media platforms are changing the stakes for Africa's artists. Before he became one of Nigeria's hottest new music stars, Joeboy was an aspiring singer posting covers of popular songs onto his Instagram account. It was after he posted a version of Ed Sheeran's Shape of You in 2017 that self-made music mogul Mr Eazi—who'd started an initiative called emPawa Africa to help budding musicians—slid into Joeboy's direct messages (DMs).
"He sent his number, and he was, like, 'I like your sound, hit me up,'" Joeboy recalls. Eazi encouraged the singer to sign up for his emPawa Africa talent incubator. It set the then-20-year-old singer on track to becoming one of the continent's most exciting young artists. Soon after, Joeboy signed to Eazi's Banku Music, which has a licensing deal with Universal Music Africa, and, earlier this year, released his full-length debut album, titled Somewhere Between Beauty & Magic.
DMs are making collaborations across countries and continents "seamless," Joeboy says. As a result, they are a big part of how social media platforms like Instagram, TikTok, Triller, and WhatsApp are changing the ways African artists shape their careers. These platforms are increasingly allowing artists to bypass traditional avenues of needing radio airplay and a formal record deal to build audiences, set up features, and land lucrative partnerships.
By connecting African artists across generations and countries, DMs are also influencing the kinds of songs being made. Eazi says an Instagram DM to four-time Grammy winner Angelique Kidjo resulted in the track "Africa, One of a Kind," which will appear on her forthcoming album, Mother Nature. After seeing Sampa the Great perform on NPR's Tiny Desk, Kidjo told Quartz she DMed the Zambian-born, Botswana-raised rapper. The two musicians created tracks together that feature on both their albums.
Deals are still being struck through formal meetings, but DMs are proving to be powerful ways to create and make rapid connections, as is already happening in the African tech space.
—Nadia Neophytou, adapted from Africa's entertainment deals are going down in the DMs, June 2021.

Streaming giants script their entrance
In March, Kenyans were treated to a new original streaming series: a police procedural and legal drama called Crime and Justice, inspired by real-life local crime stories. The show has revived debate and discussion around controversies that might have otherwise faded from the news.
Crime and Justice is a co-production of Showmax, a South African streaming service targeting Anglophone Africa, and the French studio and distributor CANAL+, which is seeking to reach French-speaking African markets. Candice Fangueiro, Showmax's head of content, says the partnership is aimed at creating a pan-African audience. A focus on African content for African audiences, Fanguiero says, "is very different from trying to make African content primarily for a global market."
Last year, Digital TV research estimated that streaming video is expected to attract around 13 million subscribers in the next few years, led by Netflix, Disney+, and Showmax. The biggest audiences will be found in South Africa and Nigeria. Revenue from subscription video-on-demand on the continent is expected to reach $1.5 billion by 2026.
Crime and Justice builds on Showmax's strategy to provide viewers with productions featuring local stars in a bid to take on other streaming services. The platform has more than a dozen original African productions, including Nigeria's I am LAYCON and South Africa's Tali's Baby Diary. Last year, competitor Netflix released two African original series, South Africa's Queen Sono and Blood and Water, and has a third in the works, in addition to a few films.
At the heart of these moves is increased agency by African artists, producers, and entrepreneurs, to tell their own stories on their own terms, and a confidence on the part of investors and backers that those creative outputs will do sufficiently well both inside and outside the continent.
"What's most personal tends to be most universal," Fangueiro says. "Hyperlocal content can still travel, but there's a freedom in telling stories without trying to second-guess a foreign gaze."
—Carlos Mureithi, adapted from Kenya's first Showmax original is keeping real-life crimes from being buried, published March 2021
Sign up to the Quartz Africa Weekly Brief here for news and analysis on African business, tech, and innovation in your inbox.