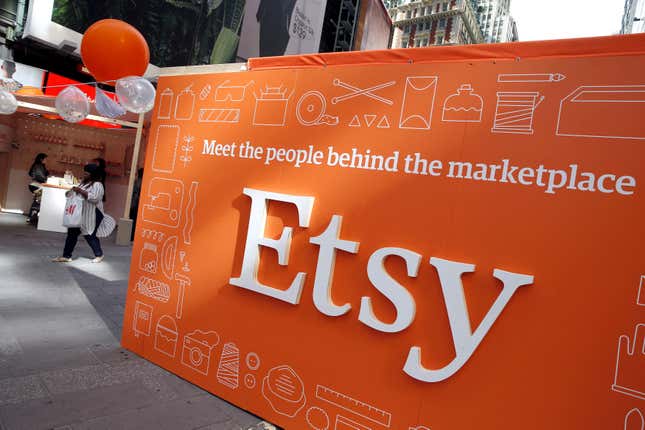 An Etsy boycott initiated by UK-based sellers over its payment system has gotten the American company's attention. Etsy addressed criticism of its policy in a blog post on Aug. 1, and promised to "substantially" decrease the amount of funds held in reserve. Vendors have complained that the platform's policy, which can freeze up to 75% of earnings in reserve for as long as 45 to 90 days, is destroying businesses and placing sellers in dire financial straits. Etsy also takes fees out of the remaining 25% of funds, stripping shops of even more earnings.

Don't expect the Fed to help your investment in Amazon
"I have been on etsy since they really got going, around 2007. You would think the reserve plague wouldn't hurt sellers like me but I had it done to my shop a few months ago. I can't buy supplies (ceramic) or pay bills now," wrote one seller on the Etsy Sellers Support Community Facebook group. Similar stories have been circulating on other social media forums, including the Etsy Reserve Strike group on Facebook.
Vendors have begun switching their shops into "holiday mode" in protest of the payments policy and are leaving for rival sites like Shopify. The UK's Office of the Small Business Commissioner (OSBC), which has been flooded with complaints, has already contacted Etsy about its reserves system, as has the UK's Minister for Enterprise, Markets and Small Businesses.
"It is critical that Etsy's approach does not jeopardise the livelihood of reputable and otherwise viable small businesses," minister Kevin Hollinrake wrote in a letter to Etsy CEO Josh Silverman yesterday (Aug. 2), as seen by the BBC.
Etsy explains on its website that "the point of a reserve is to ensure refunds and chargebacks can be easily managed if any issues arise." The last update to Etsy's payments policy was made on May 25, the website shows.
Etsy sellers are not satisfied with the platform's response
In the blog post published Aug. 1, Etsy's head of payments Chirag Patel addressed the concerns about its reserves system. He said that the system has been a successful fraud deterrent, but acknowledged it may have "led to disruptions" for some sellers' businesses.
"For the vast majority of sellers, we are substantially decreasing the percentage of funds we currently hold in reserve," he wrote.
The vagueness of the statement has not appeared to convince Etsy vendors. "This announcement is nothing more than that—words. They've ruined thousands of lives and made interest for themselves on other people's money they've been holding on to. Its all unethical and evil," wrote one Etsy seller in response to Patel's statement.
Etsy sellers have claimed that their shops have been put on reserve without any kind of warning or cited reason. The company has also apparently been difficult to contact, with many only able to reach a bot on the website when seeking answers.
"While that all sounds good in theory, right off the bat Etsy has failed the 'transparency' test by providing zero details or actionable information in this announcement," wrote Liz Morton, founder of Value Added Resource, a news site focused on the ecommerce marketplace.
Patel promised Etsy is working on "improving communications," which he recognized as one of the "pain points" with the platform. An Etsy spokesperson said to Quartz in an email that the company has directly contacted sellers to give an update on the state of their reserve funds.
"For the vast majority of sellers with a reserve, the percentage of funds held in reserve will be reduced by at least half. Based on the sellers who currently have a reserve on their account, we expect the most common level of reserve to be 30%," the spokesperson said, adding that the change is due to take effect next week. 
Etsy's marketplace, by the digits
7.5 million: Active sellers on Etsy
100 million+: Items for sale
95.1 million: Active buyers
1,200+: Members of the Etsy Reserve Strike group on Facebook, at time of writing
378: Etsy shops that are part of the Indie Sellers Guild, a nonprofit modeled "after a union" that formed last year during another Etsy boycott 
Etsy reported a drop in profit in the second quarter
Etsy released its second quarter earnings report yesterday (Aug. 2). It made $61.9 million (pdf) in profit, down by about 15% compared to the same period last year. The platform also reported that its gross merchandise sales were "largely flat," down 0.6% year-over-year.
Revenue was $628.9 million in the second quarter, up 7.5% compared to the same period last year, beating Wall Street predictions. Chief financial officer Rachel Glaser attributed the rise in revenue to "strength from Etsy Ads and growth in payments revenue."
Related stories
🏬 California enlisted the likes of Amazon, eBay, and Etsy to fight organized retail theft
🏥 Airbnb and Etsy are now part of the "hidden infrastructure" for global humanitarian aid
The story has been updated with a comment from an Etsy spokesperson.