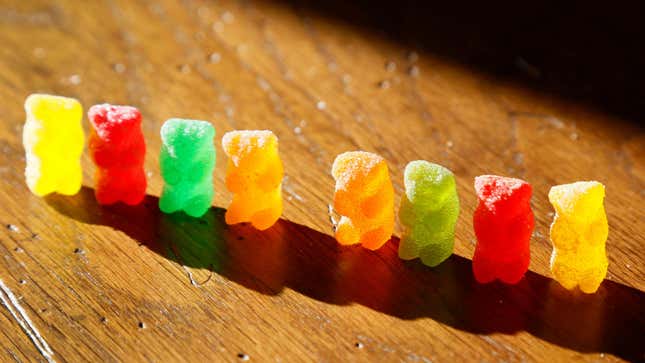 US regulators made clear they do not approve of companies selling edible products containing Delta-8 tetrahydrocannabinol (THC)—a psychoactive cannabinoid found in the cannabis plant—in packaging that mimics chips and candy bags, as they post a risk to children.

Should you keep investing in Big Tech?
The Federal Trade Commission (FTC), together with the Food and Drug Administration (FDA), issued cease and desist letters to six companies currently marketing edibles "in packaging that is almost identical to many snacks and candy children eat, including Doritos tortilla chips, Cheetos cheese-flavored snacks, and Nerds candy," the agencies said in a press release yesterday (July 5).
After reviewing online marketing for Delta-8 THC products sold by the six companies, the FTC determined their advertising may violate Section 5 of the FTC Act, which prohibits unfair or deceptive acts in or affecting commerce, including practices that present unwarranted health or safety risks.
"Marketing edible THC products that can be easily mistaken by children for regular foods is reckless and illegal," Samuel Levine, director of the FTC's Bureau of Consumer Protection, said.
As more US states legalise cannabis, Delta-8 THC products have gained immense popularity, raking in $2 billion in revenues in two years. Edibles are also available in states that do not have clear regulation, and their THC content is sometimes higher than in states where regulation exists. Its health effects are still relatively unknown, even for adults.
A brief overview of the delta-8 THC edible sellers and their adulterated products
The FTC and FDA have warned the following companies to stop selling their products in problematic packaging, and respond with details of what they plan to do to remedy the confusion within 15 days:
🌿 In Los-Angeles, California-based Delta Munchies LLC's catalogue, the authorities took issue with a bunch of candy-esque goods including Sour Worms, Gummy Bears, Strawberry Sour Belts in four flavours—strawberry, berry blue, green apple—Peach Rings, Watermelon Gummies, and Sour Bites.
🌿 Exclusive Hemp Farms, which operates out of Gilroy, California, and Etienne-DuBois from Henrico, Virginia, were warned against using misleading product packaging emulating Oreo and Chops Ahoy cookies, Pop Tarts, Sour Patch candy, and Cheddar Snack Crackers.
🌿 North Carolina Hemp Exchange was accused of selling delta-8 THC products in deceptive packaging imitating bags of Sour Patch, Oreo cookies, and Hot Cheetos.
🌿 Dr. Smoke in Kansas City, Missouri, makes "Cheetos Crunchy Flamin' Hot THC Infused Chips" and "Doritos Nacho Cheese THC Infused Chips" packaging look almost indistinguishable from actual Cheetos and Doritos bags, with the use of the Chester Cheetah mascot in the format and the trademark red background and Doritos name and triangle logo in the latter.
🌿 Albuquerque, New Mexico's Nikte's Wholesale was warned against copying packaging for Gushers, Jolly Rancher Gummies, Hot Cheetos, Lemonade, and more.
🌿 The Haunted Vapor Room, based out of Franklin, New Jersey, sold products in packaging that looked identical to bags of Nerds Candy and the company's Rope Bites, as well as other chocolate bars.
Quotable: Kids are more vulnerable to THC than adults
Children are more vulnerable than adults to the effects of THC, with many who have been sickened and even hospitalized after eating 'edibles' containing it. —Janet Woodcock, principal deputy commissioner at the FDA
One big number: More and more young kids are accidentally eating cannabis edibles
3,054: Children under the age of 6 that were unintentionally exposed to toxicity by cannabis edibles in 2021, up manifold from 207 in 2017, according to a study published in the journal Pediatrics in February 2023, based on data of over 7,000 pediatric cases in the National Poison Data System. Almost all cases occurred at home, and half of those affected were two- to three-year-olds.
Drowsiness, lethargy, breathing problems, fast heart rate and vomiting were common symptoms. More rarely, in around 2% of the cases, children developed more severe central nervous system symptoms, including coma.
Related stories
🇨🇭 Switzerland is giving weed a try as cannabis legalization gains steam in Europe
😮 A rapper known as BigRigBaby was accused of running a $60 million weed scam