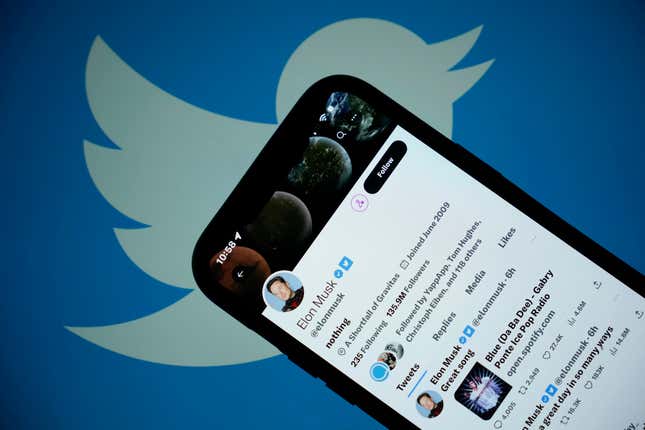 If you paid for Twitter Blue and now regret it because of the blue badge that adorns your profile, Twitter built a nifty new feature for you. The $8-a-month premium subscription service now lets you hide the blue checkmark you get when you subscribe. So if anyone on Twitter is making fun of you for paying for Twitter, or blocking you because you're clogging their feed, you may just be able to avert humiliation.

What inspired Elon Musk's design for Tesla's Cybertruck?
The new option for Twitter Blue subscribers was revealed when Twitter recently updated a help page on its website. "As a subscriber, you can choose to hide your checkmark on your account," the page now reads. "The checkmark will be hidden on your profile and posts. The checkmark may still appear in some places and some features could still reveal you have an active subscription. Some features may not be available while your checkmark is hidden."
The blue checkmark—which once showed that high-profile Twitter users were who they said they were—has lost its former meaning. It no longer confers authenticity or even online social clout, but merely that someone paid $8 a month for it as part of Twitter Blue, the company's subscription service. Now that users can obscure whether or not they're paying, it's become even more confusing.
The changing meaning of Twitter's blue checkmark
The meaning of Twitter's blue checkmark has changed drastically since Musk took over.
Originally, Twitter used blue checkmarks to authenticate celebrities on the app. When there are 300 different accounts claiming to be Elon Musk, for example, it's difficult to figure out who the real one is. The system was put in place in 2009 after a legal squabble with then-St. Louis Cardinals manager Tony La Russa, who sued Twitter over a parody account mocking his drunk-driving charges.
But during the 2010s, Twitter began verifying more and more accounts, and the meaning of the blue checkmark shifted—at least among company outsiders—to have more to do with online social status than authenticity. By the time Musk began trying to buy Twitter, a deal he ultimately closed in October 2022 for $44 billion, the verification system had become an object of disdain among right-wing critics—including Musk.
The term "blue check" (adjective, derogatory) became a smear for journalists, celebrities, and Twitter elites—as if a dual-class system governed the website (it didn't.) One of his first moves as Twitter's new owner and steward was thus to overhaul the verification system, dismantling the old guard and giving blue checkmarks to anyone willing to pay $8 a month. (Twitter still certifies the accounts of some A-listers, but has removed most of the checkmarks that previously riddled the site.)
Musk's verification overhaul failed because he never fully understood that Twitter was the ultimate beneficiary of the existing system. It let run-of-the-mill users easily find their favorite celebrities and internet personalities, and bolstered the platform's reputation as a reliable place for breaking news. Yes, misinformation and hate spread on Twitter like they did on any social platform, but Twitter was—and perhaps still is—many people's first destination when big news is breaking.
Musk, who only saw the blue checkmarks as a status symbol, made them a perk of the larger Twitter Blue subscription service. Finally, people could buy social status. But in removing most of the so-called legacy checkmarks—the old users that were verified—he changed the symbol's meaning entirely.
Now it's something much more embarrassing, with site-wide mockery of those paying for Twitter Blue and a campaign to block users who pay—in no small part because they get additional visibility in tweet replies.
It's not a stretch to say that Twitter Blue subscribers have become the most annoying part of Musk's Twitter. At least he's offering them a way to hide their shame.