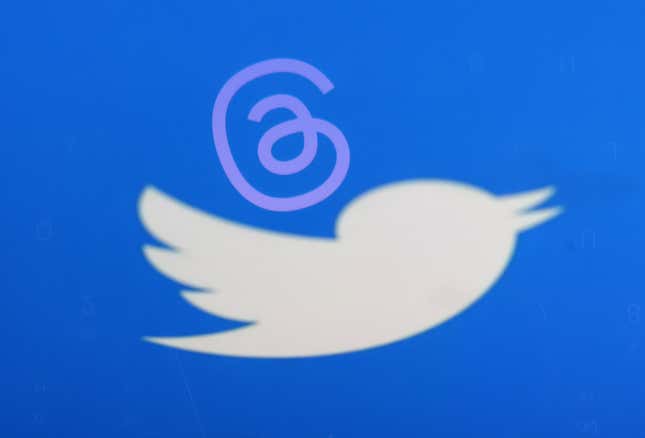 Threads had a triumphant debut. Meta's new text-based social media platform may be a carbon copy of Twitter, but unlike previous rivals it quickly racked up 100 million registered users just five days after launching on July 5.

What inspired Elon Musk's design for Tesla's Cybertruck?
Meta—the parent company of Facebook, Instagram, and WhatsApp—is the latest in a series of companies to challenge Twitter with a lookalike app, but the company's sheer size and wealth make it the most formidable attempt yet. With 3.88 billion monthly users, Meta counts about half of the world's population as users of its services, so the tech giant's network effects—the idea that a product is improved by the more people who use it—is particularly powerful in attracting users to its new app—and making it easy to do so by starting a Threads account through existing Instagram credentials.
But after only a few weeks, initial excitement is starting to flag.
Among Android users, Threads counted 49 million active users on its most popular day, July 7, according to the analytics firm SimilarWeb. (By contrast, Twitter had more than 100 million Android users that day.) But that figure halved to fewer than 24 million active Android users on July 14.
So, if you've already lost interest in Threads, you're certainly not alone.
Another day, another Twitter copycat
I signed up for Threads immediately. Like many journalists and chronic Twitter users, I have tried out most of the copycat apps that have tried to replicate the experience of Twitter and draw users away from the platform. Amid turmoil surrounding Elon Musk's takeover of the platform, once-devoted users have flocked to Mastodon (which first launched in 2016 but didn't receive much traction until after Musk bought Twitter), BlueSky (a decentralized app originally funded and built by Twitter under its previous management), and others like Post, T2, Spill, and Hive Social.
Like Mastodon and BlueSky before it—two apps that, at least initially, broke through and enticed me to sign up—I at first thought Threads was fun. I found friends and colleagues on the new service who had also migrated from Twitter, but I also saw droves of personal acquaintances who more likely came from Instagram, which pairs directly with the new app, and not from Twitter.
For a few days, I posted articles, made jokes, took snipes at both Twitter and Threads, and tried to build a following. But after a few days, I started forgetting about Threads—and noticed I was back to solely scrolling and posting on Twitter.
For at least the third time, on the third Twitter copycat I used, I learned it wasn't so easy to port my online habits over to a new app.
Twitter is more than an easily replicable app
Meta has copied its competitors' features before, and it was particularly successful cloning Snapchat's Stories—posts that disappear after a day—and integrating it primarily on Instagram. It found similar success replicating TikTok's vertically scrolling video feed with Reels, also chiefly integrated into Instagram, but failed to really draw users away from TikTok. But in both of those cases, Meta chose to integrate these copycats as features within their existing apps rather than build a new one. As a standalone app, Threads faces more challenges.
Jessica Maddox, an assistant professor at University of Alabama's journalism and creative media department, said that she thinks Threads has the strongest chance of any app to compete with Twitter because of its similar interface, simplicity, and Meta's sizable reach. Still, she says it's hardest to replicate the intangible cultural dynamics that Twitter has offered for more than a decade.
"It's actually a lot easier to emulate physical infrastructure than cultural infrastructure," Maddox told Quartz. "Many habitually online users stay on Twitter for the jokes, the drama, the stories, and the information. In other words, people may follow new app features in the short term, but they'll follow culture and community in the long term."
Joseph Bayer, an assistant professor at Ohio State University's school of communication, says that Twitter and Instagram are culturally very different spaces, but also not necessarily overlapping networks. Instagram is more centered around shopping, influencers, and visuals, while Twitter is centered more around news, sports, and its Black community. "It depends how much overlap people have in their Twitter and Instagram," he said. "These are very different networks."
Why it's so difficult to ditch a Twitter habit
Bayer wasn't surprised that I keep forgetting about Threads. In order to switch fully from Twitter to Threads, I would need to reap social rewards from Threads. And he's noticed that engagement on the app—such as likes, reposts, and replies—still seem paltry as compared to Twitter.
But he also said that I'm not just talking about building a new habit with Threads, but also ditching an old one with Twitter. "Even if you remove some of the rewards—which, for many people, it's become much more of a mixture of positive, negative, and neutral rewards—you're still driven to that because you have hard-wired that automatic behavior," Bayer said. "There are certain cues you've developed, whether it's boredom or anxiety or just fear of missing out on some new idea or informational lens that triggers you automatically without any deliberation."
There's one other big reason that Maddox, on the other hand, thinks users might be struggling with when they use Threads: app fatigue, which happens when users get tired from using too many apps—and too many new apps.
"Facebook, Snapchat, Twitter, Instagram, YouTube, and TikTok have become the 'Big Six' of sorts when it comes to social media," Maddox said. "Their platforms form the basis of our modern communication, and they are so ingrained in our lives that it does feel natural at times."
Breaking through is possible—take TikTok's mammoth success in recent years; but new apps, she said, will always run head-first into incumbents and the ways they've grown roots in our online lives.