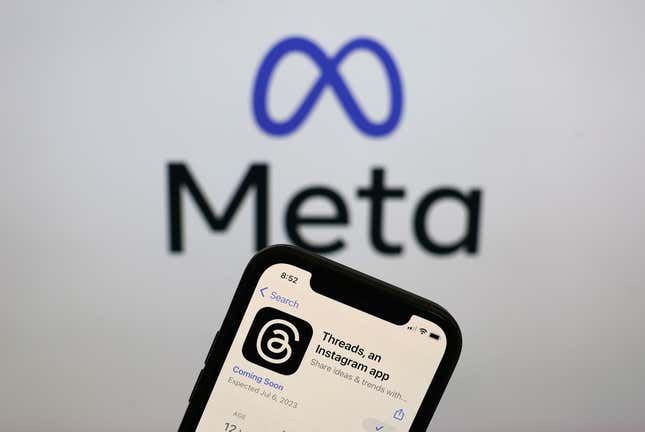 Threads, the new Twitter lookalike app from Meta, hit 100 million users on Monday (July 10), becoming the fastest-growing social media ever. With a post on the site, CEO Mark Zuckerberg confirmed it reached that milestone in only five days.

What inspired Elon Musk's design for Tesla's Cybertruck?
This news shows the power of the Meta ecosystem, with Instagram-backed Threads immediately eclipsing Mastodon, Post and other text-based social media services looking to compete with Twitter. Meta is currently limiting access to Threads to the roughly two billion users who already have an account on the photo-sharing app.
Threads' accomplishment beats the previous record for fastest-growing online service, set by ChatGPT earlier this year. The popular AI tool took only two months to hit 100 million global users. Before that, Chinese video social media TikTok held the record, reaching 100 million users in less than two years.
Twitter is feeling the pressure
After Threads' debut, Twitter CEO Elon Musk threatened to sue Meta for allegedly using former Twitter employees and intellectual property to build the app.
Musk lawyer Alex Spiro sent a letter to Zuckerberg expressing "serious concerns that Meta has engaged in systematic, willful, and unlawful misappropriation of Twitter's trade secrets and other intellectual property."

And it sure seems like Threads is quickly becoming a potential Twitter killer, attracting the equivalent of more than a third of Twitter's user base in under a week.
Twitter has seen its reputation damaged during Musk's tenure, partly thanks to the CEO's decisions to charge for verification, limit how many tweets someone can access each day, and roll back hate speech protections for transgender users.
Twitter didn't respond to a request for comment.
What are the most popular social media services?
Facebook: Some 2.9 billion people, or a third of all humans on Earth, use Meta's flagship service.
YouTube: Although it's not a traditional social media, the video-sharing site has a whopping 2.5 billion users, who stream more than 5 billion videos a day.
Instagram: About two billion people use Meta's photo-sharing app. Its massive user base has given Threads a serious head start.

TikTok: Frequented by more than a billion people worldwide, the Chinese-owned video-sharing service is the most popular app among US teenagers, 16% of whom say they use it "almost constantly."
Twitter: One of the only major social media platforms not in the billions, Twitter had 238 million users this past summer, the last time it reported earnings. While Musk claims the number of users has grown since then, an exact number is impossible to verify.
Related stories:
🤦 Mark Zuckerberg and Elon Musk promised a "cage match." Instead, they're squabbling online
🚩All the red flags in the Threads privacy policy
💰Meta's new record-setting EU fine is nearly as big as its last six combined