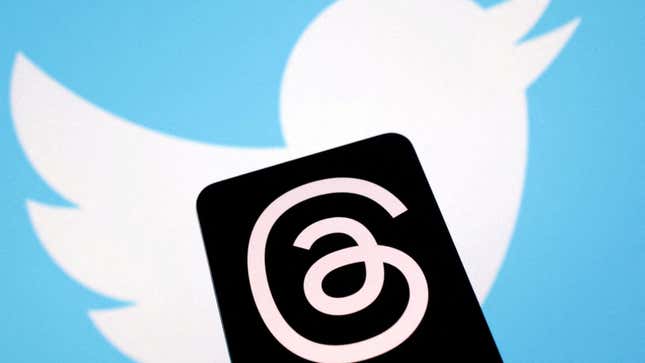 Elon Musk's X Corp—the rebranded Twitter with superapp ambitions—has warned Meta that it is initiating legal action against copycat app Threads for stealing people and intellectual property (IP) from Twitter.
What inspired Elon Musk's design for Tesla's Cybertruck?
Alex Spiro, Musk's go-to attorney and thus Twitter's lawyer, sent a letter to Meta CEO Mark Zuckerberg the day before Threads launched on July 6. The letter expressed "serious concerns that Meta has engaged in systematic, will, and unlawful misappropriation of Twitter's trade secrets and other intellectual property." Semafor first posted the scoop on Threads yesterday (July 6).
Twitter lost favor among users and advertisers ever since Musk bought the platform for $44 billion last year and proceeded to enforce mass layoffs, subscription service upsets, and diminishing moderation efforts. That's made room for several rivals like Mastodon, Hive Social, and others to rise. But none have been sued. Then again, none of them represent as big a challenger as Threads, which accumulated millions users in less than 24 hours of being live.
Claiming Meta used "dozens of former Twitter employees" who "improperly retained Twitter documents and electronic devices" to build the Threads app, the cease-and-desist letter instructs Meta to preserve all documents pertaining to "recruitment, hiring, and onboarding" of former Twitter exployees and the development of the Threads app. Also, the company has been "prohibited from crawling or scraping of Twitter's followers or following data."
Meta denies any poaching of people or IP.
"No one on the Threads engineering team is a former Twitter employee—that's just not a thing," Meta's communications director Andy Stone stated in a post on Threads.
Quotable: Musk says Zuck cheated with Threads
"Competition is fine, cheating is not." —Musk's tweet on July 6 in response to a tweet about Spiro's cease-and-desist letter
One big number: Threads user base
30 million: The number of people who'd signed up within 18 hours of launch, Zuckerberg said on Thursday (July 6), a number that some observers claim has grown to 50 million at the time of writing. Threads is on track to beat OpenAI's ChatGPT, the fastest-growing consumer app ever which reached 100 million users in two months earlier this year. Allowing users to bring their Instagram profiles over to Thread helped fuel the rapid growth, especially since the two platforms are then tied to one another. There is no going back from Threads without also deleting one's Instagram profile.
One more thing: Musk is going after Meta's apps
Musk is going all out to make sure the public notices Meta's privacy pitfalls. When Threads was announced, Musk agreed with Twitter founder Jack Dorsey's criticism of Meta collecting hoards of data. (Warranted, considering Meta didn't launch in the European Union, a region where data privacy and protections laws are among the strictest in the world.)

Again, yesterday (July 6), Musk tweeted "Any social media monopoly is despair," in response to a tweet by Alex Valaitis, author of AI newsletter BigBrainValaitis' tweet, which highlighted how Zuckerberg already owns the largest messaging app (WhatsApp), photo-sharing app (Instagram), and friends and family app (Facebook); and reminded the public that "this is the same guy who has regularly censored people, sold off our data to random 3rd parties (Cambridge Analytica), and copied the hard work of others."
Twitter CEO Linda Yaccarino tried a different approach, appealing directly to Twitter users: "On Twitter, everyone's voice matters. Whether you're here to watch history unfold, discover REAL-TIME information all over the world, share your opinions, or learn about others — on Twitter YOU can be real," she wrote in a July 6 tweet clearly aimed at Threads, adding: "YOU built the Twitter community. 🙏👏 And that's irreplaceable. This is your public square. We're often imitated—but the Twitter community can never be duplicated."
Musk's attacks go beyond Threads. Responding to a tweet recalling how Musk said he deleted his Instagram in August 2018, calling it "weak sauce," Musk replied, "It is infinitely preferable to be attacked by strangers on Twitter, than indulge in the false happiness of hide-the-pain Instagram."
Whether they fight in a cage or even in court, the two billionaires are already sparring online—at least Musk is. Your move, Zuck.
Related stories
📲 Meta's Twitter-killer app has an Instagram advantage that smaller rivals lack
🚩 All the red flags in the Threads privacy policy
👀 A list of the social media sites trying to compete with Twitter