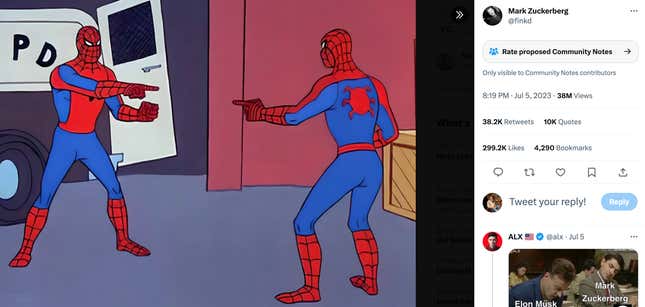 In one corner: Mark Zuckerberg, the founder and CEO of Meta, which owns Facebook, Instagram, and WhatsApp. In the other: Elon Musk, who bought Twitter last year. For a fleeting moment, the two billionaires seemed to be squaring off for actual combat, but now they've returned to being keyboard warriors.

What inspired Elon Musk's design for Tesla's Cybertruck?
On June 20, Musk responded to a tweet about Threads, Meta's then-forthcoming (and since launched) app that's virtually a replica of Twitter, challenging him to a fight. "I'm sure Earth can't wait to be exclusively under Zuck's thumb with no other options," he wrote. "Better be careful," one user replied, "I heard he does [jiu-jitsu] now."
The tough-talking Musk responded, "I'm up for a cage match if he is lol." Zuckerberg responded on his own turf, Instagram, writing "Send me location." A fight was ordained.
Zuckerberg, for one, was serious. He texted Dana White, president of the Ultimate Fighting Championship (UFC), to set up the fight.
But Musk, it appears, is tired of the joke. After Threads launched on Wednesday (July 5) and, thanks to Meta's massive global reach, amassed 100 million users in its first week, Musk threatened not fisticuffs but litigation, before launching into a war of words.
Twitter is threatening to sue Meta
On Thursday (July 6), a day after Threads was released, X Corp., Twitter's parent company, warned Meta about legal action against its perceived violations of Twitter's intellectual property and trade secrets. Twitter, which has not yet sued, claims that Meta hired its former employees and pumped them for confidential information as part of its development of Threads. "Competition is fine, cheating is not," Musk tweeted about the notice.
Andy Stone, a Meta spokesperson, wrote in a statement on Threads: "No one on the Threads engineering team is a former Twitter employee—that's just not a thing."
Musk and Zuckerberg are trading barbs
The light ribbing turned feistier over the past weekend. Zuckerberg had jeeringly posted a Spider-Man meme on Twitter just days earlier—his first tweet in more than a decade—tacitly acknowledging the copycat maneuver. But on Sunday (July 9), he resorted to mocking one of Musk's most common Twitter sayings. After Musk advisor Jason Calacanis joined Threads and posted, "Zuck is such a little copycat" before abandoning his account, Zuckerberg replied "Concerning" with a laughing emoji—aping one of Musk's most common replies to critics and conspiracy theorists on Twitter. (Musk often accompanies that with: "Looking into this.")
Musk, however, doesn't seem to be playing anymore. After a user posted a screenshot of Zuckerberg replying to the Wendy's brand account on Threads, asserting that he only protects the "free speech" of companies and not users, Musk tweeted: "Zuck is a cuck." Eight hours later, struck by a clever new barb, he tweeted a follow-up. "I propose a literal dick measuring contest," he wrote, adding a ruler emoji.
Chances for a cage match now look slim. But an online flame war, for which these particular combatants seem better equipped, has already begun.