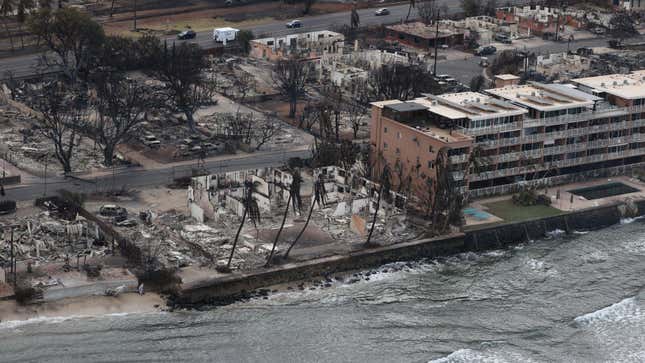 Hawaiian Electric Industries, the largest supplier of electricity in the US island state which supplies power to 95% of the residents, is engaging in restructuring talks in the aftermath of devastating wildfires in Maui—the country's deadliest in over a century.

Should you keep investing in Big Tech?
The utility firm is looking at avenues to address financial and legal challenges over the its potential liabilities, the Wall Street Journal reported yesterday (Aug. 16), citing people familiar with the matter. The move comes days after the utility firm was hit with multiple class action lawsuits for continuing to supply power to its electrical lines despite knowing increased winds or falling trees due to Hurricane Dora could knock down utility poles and start a fire.
Violent winds from Hurricane Dora, a category 4 storm hundreds of miles offshore in the Pacific Ocean, in part fuelled the wildfire in a state that was already facing drought conditions and extremely high temperature. While officials are still not sure what exactly sparked the fires in Maui, a string of lawsuits allege that reckless handling of power lines may have played a part.
Hawaiian Electric, established in 1891, operates on Maui through its subsidiary, Maui Electric, serving the island's 1.4 million residents. The utility giant's stock price has halved to 2009 lows since the deadly wildfires broke out.
Charted: Hawaiian Electric's stock plunge
Hawaiian Electric knew its power lines weren't fire-safe
At a news conference on Monday (Aug. 14), Hawaiian Electric CEO Shelee Kimura admitted the company did not have a formal shut-off program, while labeling such initiatives "controversial" and "not universally accepted." Kimura made a case for not cutting the power, saying "the electricity powers the pumps that provide the water" that firefighters needed as well as medical equipment.
While a complete shut down seems was pretty much off the table, there was a lot more Hawaiian Electric could have done to mitigate the risks—the company itself thought so back in 2019.
Four years ago, the power company issued a press release about wildfire risk, where it detailed plans to...
⚡ install heavier, insulated conductors on Maui and Oʻahu to stop lines from slapping and sparking in areas prone to high winds;
✨ install smart switches and smart fuses to minimize sparks created when lines come into contact with each other, and with vegetation;
🧯 apply fire retardants on poles identified in fire hazard areas;
🌡️ and look into using weather sensors, cameras and thermal imagers to give more precise locations on localized wind gusts, relative humidity and temperatures.
In 2022, a company regulatory filing detailed measures aimed at reducing the risk of its equipment causing fires, including "hardening" poles to withstand high winds and cutting back vegetation, noting that Lahaina was a priority area.
"Unfortunately for the residents of Lahaina, these proposed grid hardening expenditures were deferred" until as far out as 2027, according to a lawsuit against Hawaiian Electric brought by Mikal Watts, a lawyer for an owner of several destroyed homes.
Company of interest: Pacific Gas and Electric (PG&E) in California
Utility companies in California have for years resorted to cutting off power to combat wildfires. And when they've failed to do so, they've had to pay billions of dollars in damages. Case in point being Pacific Gas and Electric (PG&E), which provides power and natural gas to 16 million people in northern and central California—nearly 40% of the Golden State's population.
The company was held accountable for lax oversight of safety measures prior to the 2017 North Bay and 2018 Camp fires, where PG&E equipment started fires that killed 44 and 85 people respectively. Former executives and directors agreed to pay $117 million. That's in addition to the billions of dollars the company paid to settle with victims, insurance companies, and local governments. It also had to pay the price—a $150 million settlement—for the 2020 Zogg Fire, which was caused when a tree fell on energized conductors owned and operated by PG&E, burning 56,338 acres, causing four fatalities and one injury, and destroying 204 structures.
PG&E filed for Chapter 11 bankruptcy to protect itself from fire liabilities and reorganized. Vicariously learning lessons, neighboring states Oregon and Nevada followed in California's footsteps, evoking public safety shutdowns when there's threat of devastating blazes. Hawaii should've used the same playbook, suing residents argue.
Quotable: Holding Hawaiian Electric accountable
"The issue becomes whether they did everything they could that was reasonable to prevent this incident. Was there gross negligence, was there imprudence?"

—Shahriar Pourreza, an analyst who covers Hawaiian Electric's stock for Guggenheim Securities, to the New York Times in August 14.
One big number: Hawaiian Electric's money matters
$4 billion: How much Hawaiian Electric's liability from the fire could exceed, according to Guggenheim Securities analyst Pourreza's note to the New York Times.

$1.1 billion: Hawaiian Electric's market capitalization at the time of writing
Related stories
🔥 Maui's wildfires are the deadliest in the US in over a century
📈 The data on 40 years of California wildfires is alarmingly clear