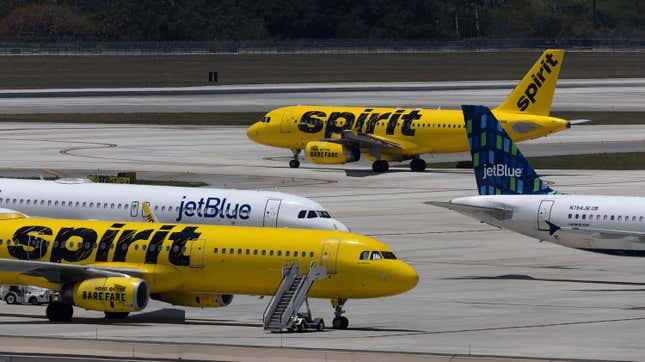 In JetBlue's quest to buy Spirit Airlines, its alliance with American Airlines is the sacrificial lamb. The low-cost New York-based carried announced yesterday (July 5) it will comply to the court-ordered break up of its alliance with American Airlines.

Should you keep investing in Big Tech?
In coming months, JetBlue will wind down operations of the North Eastern Alliance (NEA) with American Airlines, formed in early 2021, to effectively combine the Boston and New York operations of the two carriers. The end of the deal seeks to appease the US Department of Justice's (DOJ), which filed the lawsuit to end the alliance, and also sued to block JetBlue's $3.8 billion offer to buy Spirit airlines.
In the meantime, customers' new and existing bookings won't be effected, and they can continue to earn and redeem points, and receive reciprocal loyalty benefits.
Quotable: JetBlue says American Airlines alliance did more good than harm
As a direct result of the NEA, customers benefitted from more of JetBlue's low-fare, high-quality service than ever. We've increased capacity, added new routes and destinations, brought down fares, provided JetBlue-American flight connections that are a real alternative to Delta and United, and expanded the value of our loyalty program benefits to customers.

For these reasons, we strongly disagree with the court's ruling against the NEA and stand behind the procompetitive impact of the alliance. —JetBlue's July 5 statement
What JetBlue would gain from acquiring Spirit
✈️ More aircrafts at a time when manufacturers, plagued by supply chain issues, are struggling to keep pace with demand.
🧑‍✈️ Hundreds of pilots, who are not only short in supply but also have deteriorating manual handling skills across the industry. Since JetBlue and Spirit both have Airbus-heavy fleets, there won't be much additional, new training required.
🗺️ The opportunity to add more destinations and routes.
🕤 Punctuality and reliability. JetBlue ranked last among 10 airlines in on-time arrivals this year through May, while Spirit ranked seventh. Plus, a higher share of JetBlue's flights were delayed and canceled this year versus Spirit's.
A brief timeline of JetBlue's deals
July 2020: American and JetBlue announced the creation of the NEA in July 2020. It is approved in the last days of the Trump administration.
September 2021: The DOJ, six states and the District of Columbia, sue to dismantle the NEA, arguing that its anti-competitive.
July 2022: JetBlue says it plans to buy Spirit, America's lowest-cost airline. Combined, the two would form the fifth-largest carrier in the country, behind the Big Four—American, Delta, United, and Southwest
October 2022: Spirit shareholders vote to approve the JetBlue offer.
February 2023: Executives from Spirit and JetBlue meet with DOJ officials in an attempt to convince regulators to approve their merger.
March 2023: The justice department and the transport department sue to block the JetBlue-Spirit deal, alleging that JetBlue "plans to abandon Spirit's business model, remove seats from Spirit's planes, and charge Spirit's customers higher prices" if the acquisition goes through.
May 2023: Court rules in favor of the DOJ in the NEA case, giving the two airlines 30 days to terminate their partnership.
June 2023: JetBlue informs American Airlines on June 29 that it's terminating the partnership because of the judge's ruling.
July 2023: JetBlue said the termination will take effect July 29.
October 2023: A Boston judge set an Oct. 16 trial date for the JetBlue-Spirit lawsuit filed by the justice department.