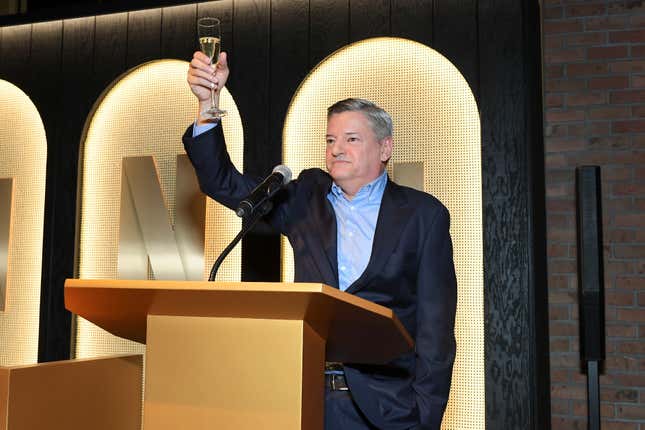 Netflix shareholders rejected a proposed increase in the pay packages of the company executives, in a non-binding vote that took place during the annual shareholder meeting on June 1.

The vote, coming just as the Hollywood writers' strike enters its second month, constituted a rare rebuke of executives, and was seen as a show of support for the writers on strike. The exact tally of the vote is expected to be released in a regulatory filing.
The measure asked shareholders to vote on changes to the compensation packages of top Netflix executives, which were revised after fewer than a third of shareholders approved the 2022 deal.
Under the terms put to shareholder vote on June 1, Ted Sarandos and Greg Peters, co-CEOs of Netflix, would see their salaries capped at $3 million each. But they would also be entitled to a minimum 50% allocation to stock options and an annual performance-based cash bonus program, which raised their total compensation package to around $40 million and $34 million respectively. Other executives would have seen their salaries increase or stay the same, although their stock options would have decreased. Reed Hastings, the founder of Netflix, would have suffered a drastic reduction in salary and stock options.
Netflix v Writers

Union leaders from the Writers Guild of America have written letters to major shareholders at several media and entertainment companies, including Netflix and Comcast, asking them to vote against fatter executive pay packages in light of the writers' battle for fairer compensation.
"Netflix's board needs to spend less time thinking up ways to pay its executive team more money and instead address the writers' strike that is delaying major shows like Stranger Things" the WGA commented in a statement on Twitter following the vote, referring to the top Netflix series that is one of the shows affected by the strike.
Executives at Comcast, which holds its annual general meeting on June 7, might face a similar shareholder rebuke.
Quotable:
"Approval of this compensation package is inappropriate in light of the ongoing WGA writers' strike and the associated risks that Netflix executives are creating for investors." —WGA West president Meredith Stiehm, in a letter to Netflix shareholders dated May 31 and quoted in The Hollywood Reporter
By the digits: Netflix's executive pay packets

$166 million: The total worth of Netflix's compensation packages for top executives in 2022, including $50 million each to co-CEOs Reed Hastings and Ted Sarandos. (Hastings stepped down in January but remains executive chairman.)
$68 million: What the WGA estimates it would cost Netflix to pay writers fairly
27%: Share of Netflix shareholders who approved the executive compensation package in 2022, which spurred Netflix to make changes such as...
$3 million: ...the proposed cap on Netflix executive salary for 2023