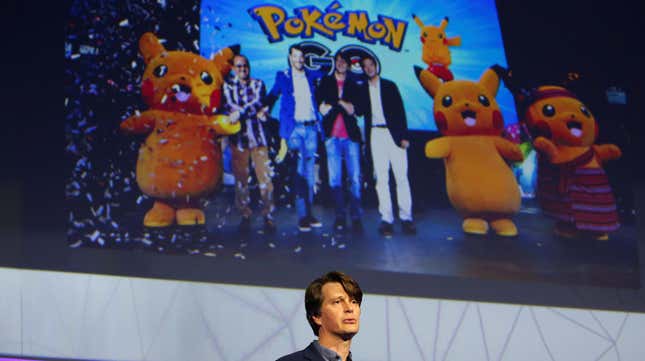 Pokémon Go maker Niantic is closing its Los Angeles studio, letting go off 230 employees—around a quarter of its 1,000-plus workforce—and scrapping at least two games, CEO John Hanke shared in an e-mail with Niantic employees yesterday (June 29).

Should you keep investing in Big Tech?
"The mobile gaming market is very mature and only the best and most differentiated titles have a chance to succeed," Hanke wrote. "We also want to increase our focus on building for the emerging class of MR [mixed reality] devices and future AR [augmented reality] glasses."
As part of streamlining efforts, Niantic is sunsetting NBA All-World, the "Pokémon Go but with basketball" game which launched globally in January 2023. The company is also stopping production on Marvel: World of Heroes, which was meant to release this year.
To explain Niantic's ailing business, Hanke cited global macroeconomic conditions, unfavorable changes to the app store and the mobile advertising landscape, and an AR market that is developing more slowly than anticipated, as entertainment and gaming have come down from their pandemic peaks.
Quotable: Niantic's cost-revenue imbalance post-Covid
"[We have allowed our expenses to grow faster than revenue. In the wake of the revenue surge we saw during Covid, we grew our headcount and related expenses in order to pursue growth more aggressively, expanding existing game teams, our AR platform work, new game projects and roles that support our products and our employees. Post Covid, our revenue returned to pre-Covid levels and new projects in games and platform have not delivered revenues commensurate with those investments." —Niantic CEO John Hanke in his June 29 email
Niantic's AR game hits and misses
Founded in 2010, Niantic experienced its biggest bout of success six years after inception, when it released Pokémon Go, which became a cultural phenomenon. It captured more interest than Facebook, boosted footfall at businesses, made people feel better and fitter, and catapulted Niantic into the coveted unicorn club.
However Niantic's biggest success is also its Achilles heel. For critics, it's a reminder that Niantic is a one-trick pony. It has failed to replicate Pokémon Go's success—and not for lack of trying.
A year ago, the California-based company laid off 8% of its staff and cancelled four projects, including Transformers: Heavy Metal, which was at least a year in the making, and Hamlet, a collaboration between Niantic and Punchdrunk, the theatrical company behind the popular interactive play Sleep No More.
In 2021, it's AR adaptation of the board game Catan was shut after a year of early access play. That year, Harry Potter: Wizards Unite game also reached the end of its life within two years.
Still, Hanke, citing Meta Quest Pro and Apple Vision Pro, doubled down on augmented reality (AR) being " the future form factor for computing." He called the two devices by the two tech behemoths an "intermediate stepping stone" to true outdoor AR devices.
Game of interest: Pokémon Go
Pokémon Go, with more than one billion downloads and revenue of more than $1 billion per year, is no doubt Niantic's golden goose. And the company wants it to lay more eggs.
"The top priority is to keep Pokémon GO healthy and growing as a forever game," Hanke said, adding that the company's investment in the product and team continues to grow.
Niantic needs to tread carefully, though. Recent changes to the game, which scattered Pikachus and Charmanders around the world so people could "catch 'em all" with their phones, have disappointed some users. In March, Niantic raised prices on its Remote Raid passes, which allow players to take on collective boss battles without having to be physically present. Earlier this month, people heralded Niantic doubling the catch radius, only for the company to say it was an accident and roll it back.
Related stories
🚶 Pokémon Go fanatics are determined to play anywhere, including Bosnian minefields and Iraqi war zones
🔍 The ultimate guide to Pokémon Go
🤑 We finally know how much Nintendo made from Pokémon Go
🇷🇺 Russia even used Pokémon Go in its 2016 US election propaganda