The British street artist Banksy is a notorious prankster. He recently executed the (partial) destruction of his own work, framing a print in a hidden shredder that sliced it to ribbons upon sale at auction. So, Banksy might not mind too much that American artist Ron English just bought one of his iconic pieces at an auction only to destroy it and make a statement.
English bought Slave Labour—an image of a child hunched over a sewing machine, stitching Union Jacks—to protest the theft and commodification of street art. He explained his intentions after making the $730,000 purchase in Los Angeles on Nov. 14:
I'm going to paint it white again, I'm done. This is a blow for street art. It shouldn't be bought and sold. I'm going to paint over it and just include it in one of the walls in my house. We're tired of people stealing our stuff off the streets and re-selling it so I'm just going to buy everything I can get my hands on and whitewash it.
That's not really all English plans to do.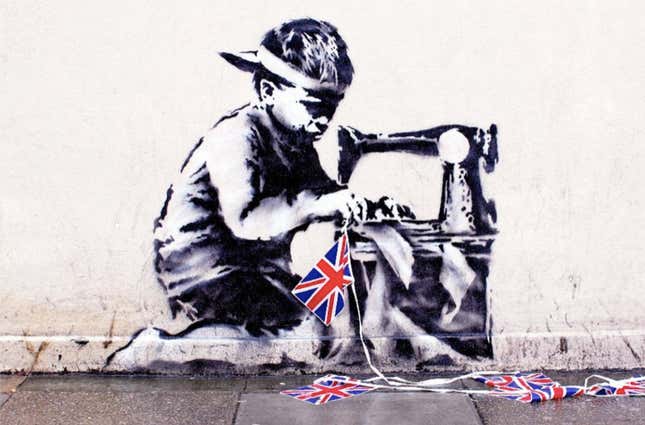 He is also not above turning a profit on street art himself. English plans to sell the whitewashed Banksy, transforming it from protest-piece-turned-high-art into a conceptual work. "Of course I'll sell the whitewash painting for a million dollars. I'm crazy but I'm not stupid," the American said.
A protest, in pieces
What English acquired  is a black-and-white aerosol painting on concrete slab, framed in plain wood, and embellished with plastic flags. It was originally executed by Banksy in May 2012 on the outer wall of a Poundland discount store in Wood Green, London, and was surreptitiously removed and put up for auction in 2013, angering local residents.
The work was first sold for about $1.1 million by the Sincura Group in England, which would not reveal who the owner was, saying only that the work was obtained legally. The sale prompted local Liberal Democrat member of Parliament Lynn Featherstone to call for a return of the mural. "You have deprived a community of an asset that was given to us for free and greatly enhanced an area that needed it. I call on you, and your consciences…and return it to its rightful place," she said.
Six identical imitations of the mural appeared outside the Wood Green store 36 hours before the London auction. It was thought then that perhaps this was the elusive Banksy's statement on the planned sale, his way of saying that he opposed it.
That might justify English's planned protest to some extent. But his intentions certainly raise questions.
License to destroy
Does ownership necessarily confer the right to destroy a work that's become iconic? There's some reason to believe it may not, at least as far as US law is concerned.
The Visual Artists Rights Act (VARA) grants artists "moral rights" to works of prominent stature, allowing them to sue to protect creations or be awarded damages if recognized works are destroyed—even if the art, or the building it's on, are owned by someone else. Last year, in a landmark VARA case, an advisory jury in a federal court in New York and district court judge Frederic Block found for street artists suing over the whitewashing of walls at 5Pointz. The building in Long Island City had been covered in street art and became an international draw for artists and tourists until the building owner and developer whitewashed it all.
Block ordered the developer to compensate the artists. That was the first VARA case to ever go to trial in the US. In his opinion, the judge discussed the evolution of urban graffiti from vandalism to high art, expressing great admiration for the relatively new form.
Previous VARA cases have been settled. In 2009, Katherine Gibbs created "The Illuminated Mural" in Detroit's North End. A few years later, the development company Princeton Enterprises acquired the building she painted on and planned to mar the massive work with new windows. In 2016, Gibbs sued, and the following year, the parties settled amicably without disclosing the terms of their agreement to preserve her work.
Slave Labour may no longer be a public work, yet it did start out that way. And it is fair to say that the original theft doesn't justify its status as private property today. It's unlikely that Banksy would sue for the protection of the piece. And it's unclear that a mural originally executed in England would qualify for the American legal protection. Still, the principle underlying VARA is at least worth contemplating when considering English's plan. Ownership isn't just a privilege, after all, as US lawsuits have proved, it's also a responsibility.
Who is the joke on here?
Because English plans to eventually sell the whitewashed Banksy, it's also fair to question the sincerity of his protest.
If English does sell a piece of wall art with no iconic painting remaining, he may make a statement about the gullibility or ridiculousness of art collectors—and one Banksy might not object to. Yet, he'll also be participating in the very process he claims to decry, the theft and resale of works created for public spaces. It's a protest that's not worth much at all, except maybe the dollars he'll make undermining work he professes to admire and his belief in the need for street art to remain available to all.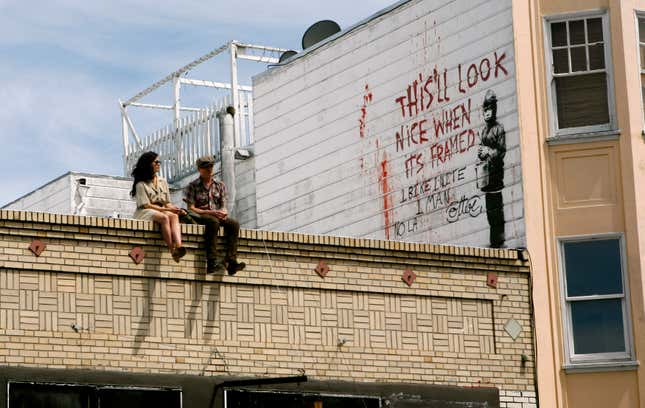 Increasingly, street art has been at the center of a bizarre negotiation. Works created secretly in the dead of night rise to dizzying heights in the estimation of critics and collectors and end up hanging in galleries and museums. Often, they are simply taken off the streets by the most brazen in the art business and sold. Ultimately, the attention collectors give street art is good for the artists and has helped to elevate the form once known as vandalism to its rightful place among traditional masterpieces. Still, it also robs the public of works created for us.
The plan English has advanced adds insult to injury. By destroying an iconic work and selling the destruction he will leave everyone with nothing.