Since it debuted in early 2018, Nike's Air Max 270 sneaker has been a hit. By June, the company was pointing to the sneaker as one of the styles helping its turnaround in the US, and Nike has since continued putting out new color combinations. A huge number are now in the marketplace worldwide.
But an online petition is demanding Nike recall many of the shoes. Stamped in the sole of most versions of the sneaker is "Air Max"—innocuous enough, except that the way it's written out makes part of it resemble the Arabic word for "Allah." Given its placement, the name "will surely be trampled, kicked and become soiled with mud or even filth," the petition notes, adding that it is "offensive" to Muslims. The petition asks Nike to pull sneakers bearing this design from worldwide sales immediately, and requests that Nike scrutinize its products more closely before they enter the market.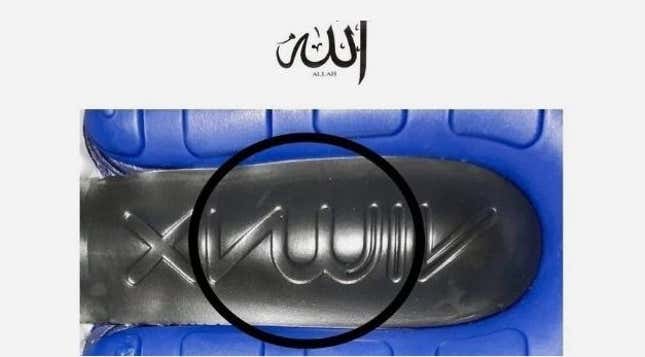 The petition, posted by a person in the UK, went live several days ago on Change.org, and support for it appears to be picking up. On Jan. 27, Footwear News reported that it had collected more than 5,400 signatures. Today (Jan. 29), it surpassed 10,000.
Nike has said that any resemblance to the word for Allah is accidental. "Nike respects all religions and we take concerns of this nature seriously," the company said in a statement. "The AIR MAX logo was designed to be a stylized representation of Nike's AIR MAX trademark. It is intended to reflect the AIR MAX brand only. Any other perceived meaning or representation is unintentional."
But the controversy nonetheless leaves the company in a precarious position that highlights the complexity of serving an array of customers and cultures around the world. Designer Miuccia Prada recently expressed her exasperation over the difficulties of running a global business in a response to accusations that one of Prada's pricey tchotchkes recalled racist imagery. "But how can you know the details of each single culture so well when there can be 100 different cultures in every country?" she said (paywall).
H&M, after its own debacle over racist imagery, pledged to hire people from diverse backgrounds in order to spot potential issues before they become problems. Even so, it's practically inevitable that brands will occasionally make mistakes, since they can't realistically have someone of every culture reviewing each product and image before putting it out to the world.
What's increasingly important is that they take action in meaningful ways when these issues do occur. When Dolce & Gabbana was accused of racism in China, designer Stefano Gabbana got into an online dispute that only made matters worse. The brand still appears to be suffering the cost of that response (paywall).
Unintentional as Nike's echoing of the Arabic script for Allah may have been, at least some are demanding action. It recalls a similar scenario in 1997, when Nike came under fire for a design on some sneakers that critics also said resembled the word for Allah. In that case, Nike ended up pulling some 38,000 pairs of sneakers worldwide and donating $50,000 to an Islamic elementary school in the US to build a playground. This current situation may fizzle. If it doesn't, Nike may be forced to take similar steps.