Menswear has traveled a long road to get where it is. Just a few decades ago, most people, perhaps men especially, treated men's fashion as an afterthought. Now sales of menswear are growing faster than sales of womenswear, and none other than Vogue editor and fashion doyenne Anna Wintour said recently that menswear is "leading creativity" in the industry (paywall).
At WWD's men's style summit on March 28, Josh Peskowitz, men's fashion director at the high-end retailer Moda Operandi, explained the cultural forces that have been driving menswear's rise. It's a topic Peskowitz knows well, given that he's been tracking that rise from the frontlines for more than a decade, first as an editor in fashion media and more recently on the retail side. According to him, a "sea change moment" arrived in 1985, with the debut of Michael Jordan's first signature sneaker for Nike.
The Air Jordan 1 foreshadowed one of the defining characteristics of men's fashion today, which is the sneaker as status symbol. It has grown to the point that $900 sneakers can be big money makers for fashion brands, and numerous luxury labels now make their own versions (paywall) of styles that were originally designed for sports. The Air Jordan 1, which remains a coveted sneaker to this day, was really the first athletic shoe to be a status symbol, Peskowitz said, and it marked a shift in how a lot of young men thought about the way they dressed.
It also happened to come along at an opportune moment. Hip-hop was still in its early years, but it was growing quickly. By the 1990s, it had gained a foothold on the radio and on TV. As a musical genre, it put more emphasis on clothing and branding as ways to show status than probably any other. Peskowitz recalled that the first rapper he heard name check a designer was Brand Nubian member Grand Puba, who played a key role in hip-hop flocking to the clothes of designer Tommy Hilfiger.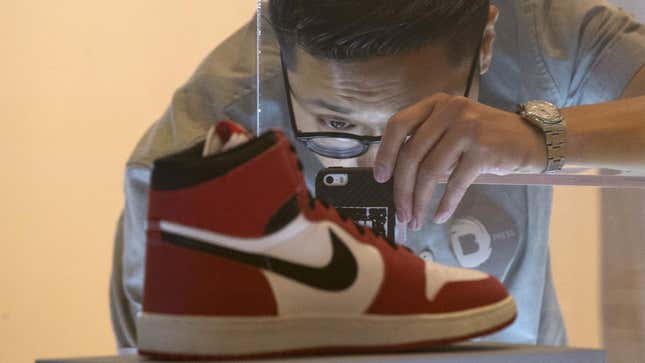 Since then, hip-hop has grown into the dominant musical form in the US, and a powerful force in clothing that goes beyond the impact of rappers' collaborations or fashion collections. "It really has influenced the mentality—not necessarily how every man dresses—but the mentality behind the way men think about clothing," Peskowitz noted.
A generation of men who came of age during this era are now in what Peskowitz called "the most powerful spending period of any man's life," between 35 and 55. These same men also watched dress codes breaking down as casual Fridays became every day, and they were there for the advent of the internet, which gave men a whole new level of access to information about clothes. "A lot of men have just spent so much more time looking at clothing, and it's become such a bigger part of their lives," he said.
All these forces together have helped breed a new type of menswear consumer—one who sees sneakers as status symbols, who owns more hoodies than suits, and who cares more about fashion than his grandfather ever did. The attention men pay to fashion now is the biggest shift Peskowitz said he's seen. If sales of menswear are any indication, it won't fade anytime soon.
Looking for more in-depth coverage of the fashion industry? Sign up for a free trial of Quartz membership, and read our premium field guide on how fashion and luxury are getting redesigned.