As the world's largest sneaker company, Nike appreciates how complicated it can be to know your correct shoe size.
"Every year we're getting more than half a million complaints about size and fit from our consumers," says Michael Martin, the company's vice president of direct product, growth, and innovation. In Nike stores, its sales associates—"athletes" in company parlance—usually have to pull at least two pairs of shoes for every person who tries on a style. Size and fit issues, Martin adds, are the top reason people return shoes purchased online, which makes customers unhappy and costs Nike time and money, particularly as its direct-to-consumer sales keep growing.
To solve this problem, Nike is introducing a new technology called Nike Fit, which aims to provide customers with the right fit, the first and every time. Nike Fit uses machine-learning algorithms to analyze a photo you snap of your foot, and then determines the correct size in any style of shoe Nike offers.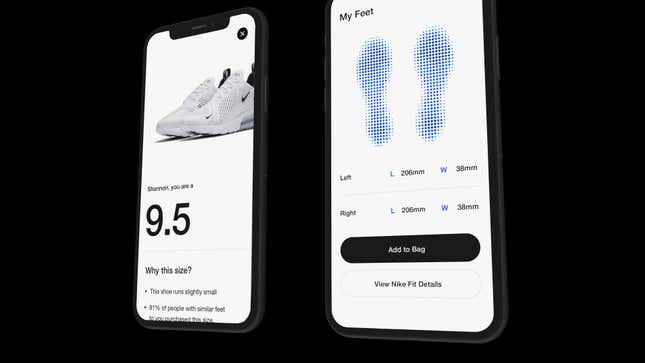 It sounds straightforward, but to make Nike Fit possible required more than a year of development, including testing and algorithmic training that Nike quietly conducted using thousands of shoppers coming through three of its US stores, as well as thousands of its own employees. The technology relies on the work of an Israeli computer-vision startup that Nike acquired last year. Nike will begin rolling Nike Fit out on its app and to select US stores in July, with a further expansion to stores in Europe planned for August.
There does seem to be some need for such a solution: A surprisingly large share of people wear shoes that don't fit. Last year, researchers at Melbourne's La Trobe University conducted an extensive search and review of published findings on incorrectly fitted footwear and the problems it causes. Across the studies they examined, they found that between 63% and 72% of participants wore shoes that didn't adequately accommodate the length or width of their feet. Specific groups, notably children with Down syndrome, older people, and people with diabetes, were especially likely to have shoes that were too narrow.
It's not a benign issue. "There was also evidence that incorrect footwear fitting was associated with foot pain and foot disorders such as lesser toe deformity, corns and calluses," the researchers wrote. These problems aren't welcome to anyone, but perhaps even less so to athletes whose footwear can affect their performance.
Not exactly known for humility, Nike isn't being coy about how important it thinks Nike Fit will be. "I say this with no hesitation," Martin prefaces. "This is the most significant advance in footwear fit ever."
How Nike Fit works
Nike Fit is an attempt to bring sizing into this century. The current sizing standard is the Brannock device: that metal plate with the sliding notches that an associate at the local shoe store may have used to measure your foot as a child. Its inventor, Charles Brannock, built a prototype in 1926, and despite all the changes that have taken place since, the Brannock device is still how most people figure out their shoe size—if they even bother.
Parents often measure their kids' feet, but as adults, people tend to assume that they know their size. Martin says one serious runner who got measured during Nike's stealth testing in stores insisted he was a size 10, only to learn after measurement with Nike Fit that he should be wearing a nine.
Nike Fit will be available to shoppers in two ways. In Nike stores, customers remove their shoes and stand on a mat, with their heels all the way to the back. One of Nike's store associates snaps a picture of their feet. That's it.
To try it at home requires a bit more work. The app uses augmented reality, explained Shannon Slocum, director of product for direct product, growth, and innovation at Nike, at an April demo of the technology in New York. That means the first thing it needs to do is understand the room you're in. The app asks you to move your phone camera around to orient itself; when it's ready, it has you drag a blue line to the spot on your screen where the wall meets the floor so that it can differentiate between the two. Your feet also need to contrast with the floor, so no white socks on a white rug for instance. You stand against a wall with your heels pressed up to it, and hold your phone over your feet, aligning two circles that pop up on your screen to ensure your phone is parallel to the ground. Snap the picture and you're done.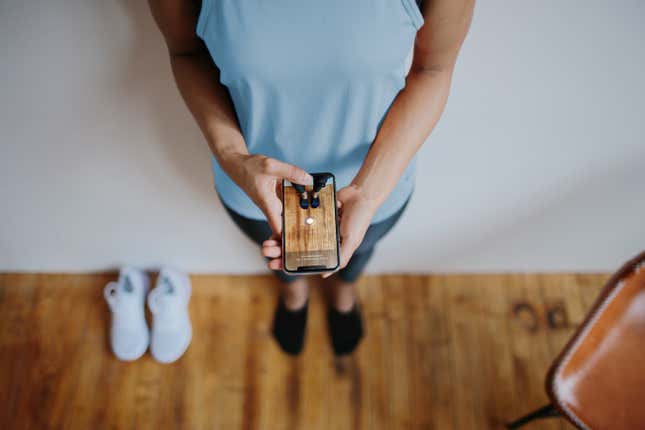 The app takes 13 points of measurement, and looks at the shape of each foot individually. With that information, it can assess how each foot would fit in any Nike shoe. That's because to make its shoes, Nike has to create lasts for all of them. A last is a three-dimensional mold used in footwear production that gives every shoe its shape. Nike consequently knows the exact interior volume for each of its shoes, which don't all fit the same.
Size isn't all that Nike Fit considers. "Fit is a factor of a bunch of different things," Martin explains. There's the material the shoe is made of: A leather shoe will fit differently than a shoe with a knit upper, not just due to leather having different stretch characteristics, but also because of the stitching. There's the purpose of the shoe: People generally want a little extra room in casual lifestyle shoes, but someone buying soccer cleats needs a snug fit. Martin says the lacing of a shoe is itself a big factor in fit.
Not least of all, personal preference matters. Nike recommends a size, but some shoppers just like their shoes to fit a little bigger or smaller. If you order a half size smaller than Nike suggests, it remembers that preference.
Over time, the app will learn. Nike can look at the fit preferences of other users with similar behavior to yours and use that information to guide its suggestions. As more and more people use the app, it should only get better at recommending the best size.
A better fit is better business
The benefits to shoppers who want to know what size they need in a particular Nike shoe are evident. Nike Fit can minimize the uncertainty people often feel when ordering online, or even when asking for a pair to try on in a store. Sizing varies across brands and styles. I wear a 10.5 in most Nike shoes, but have had to exchange a Nike order for an 11 because that particular shoe fit differently. (Incidentally, when I tried out Nike Fit, it correctly pegged my size as 10.5 in the style of shoe we selected.) Nike also foresees more accurate sizing helping athletes perform better.
Then there are the benefits to Nike itself. "It can cost double…for a product to be returned into the supply chain as it does to deliver it," Iain Prince, supply chain director for auditing, tax, and advisory firm KPMG in the UK said in a 2017 report (pdf). The expense isn't only in the shipping costs—often to and from the buyer—but also in processing the merchandise. Multiplied over millions of pairs of shoes, those costs can quickly add up, and have a real impact on profits. Nike Fit could help reduce the rate of returns, and perhaps make people more confident ordering Nikes online.
The company also intends to use the data it collects to make smarter inventory decisions at its retail stores. Right now, Nike doesn't have great visibility into the sizes each store should be holding for the local population, in part because so many customers don't know what size they should be wearing. "Being able to reconcile that on a global scale is actually a meaningful benefit for the business as a whole," Martin says.
And then there's Nike's plan to use Nike Fit to inform the design of its shoes. "We're already taking the early data from Nike Fit in testing mode, and using that to take a look at all of the lasts that we have and determine which ones are most representative of foot morphology at scale," Martin says. In theory, this will help Nike make shoes that fit better on average.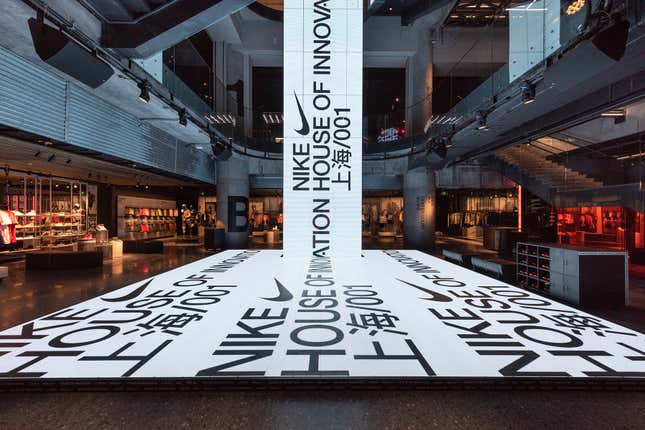 Fit has been a bit of a growing obsession for Nike. In January it debuted the $350 Adapt BB, a self-tightening shoe that the company spent years engineering. The whole advantage, according to Nike, is a better fit than any previous shoe, particularly for athletes, and an unprecedented level of control over that fit. Martin notes that Nike believes the closest any company will get to offering a perfect fit in a non-custom shoe will come from a combination of Nike Fit and the Adapt platform. It's a big ambition.
For now, the company hasn't announced any plans to bring Nike Fit to its major retail partners, such as Foot Locker. Nike has been working to increase the sales it does direct to consumers, and Nike Fit could help that goal if shoppers think the best sizing advice they can get will come from Nike itself.
On its own, Nike Fit won't solve every sizing issue. Sometimes our shoes, even in the correct size, just don't fit our feet the way we'd like them to. But the grand vision is to make it so shoppers don't even have to think of sizing when they order—just go to a Nike store or online channel, pick the style they want, and check out. "Our ultimate goal is you don't have a number, you don't have a gender on that shoe box," Martin says. "You have your name."