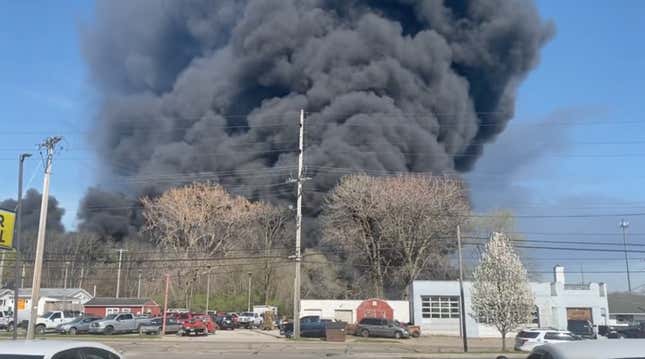 A massive industrial fire continues to rage at a recycling plant in the city of Richmond, Indiana, in what officials say was a preventable disaster, had the business owner heeded orders to clean the property.

Eric Beiley Part II: Where rates are heading
According to public documents, in 2019 the city of Richmond's Unsafe Building Commission ordered the owners of the property, Cornerstone Trading Group and Seth Smith of Union County, to remediate the site after finding it contained numerous plastic materials "constituting a fire hazard."
"The order was ignored," said Richmond mayor Dave Snow to WRTV, an Indianapolis news outlet.
Court records show (pdf) that Cornerstone Trading Group and Seth Smith sued the city of Richmond in 2020, seeking a review of the cleanup orders. The judge, however, ruled in favor of the city's Commission. Following a failure to pay property taxes, the city took over a portion of the site and began remediation efforts in 2021. Richmond mayor Dave Snow, however, still blames the site's owner for the crisis.
"Everything that ensued here—the fire, the damages, the risk our first responders have taken and the risk the citizens are under are the responsibility of that negligent business owner," he said to WRTV.
Richmond residents are at risk of exposure to toxic chemicals
Fires on the 175,000-square-foot property, known as My Way Trading warehouse, broke out on Tuesday afternoon (Apr. 11), forcing thousands of residents to evacuate to avoid potential health hazards. Indiana state fire marshal Steve Jones said at a press conference on Tuesday that the fumes are "definitely toxic," though the exact materials have yet to be identified.
Richmond officials said the fire was contained on three sides on its Facebook page by Tuesday evening, but as of Wednesday (Apr. 12) the Richmond Fire Department and other respondents were still battling the blaze.
The Environmental Protection Agency (EPA) has been dispatched to the site and is conducting 24-hour air quality monitoring, as well as working to prevent water contamination from the fire. The agency has warned that the particulate matter in the air could contain asbestos, a cancer-causing substance.
The Wayne County Emergency Management Agency has told residents not to touch any debris that they find to avoid potential exposure to "unknown chemicals." At time of writing, the half-mile radius around the site of the fire remains an evacuation zone.
Related stories
⚖️ California's lawsuit against "forever chemicals" makes bold demands for contamination compensation
✈️ Leaded aviation fuel is prompting bipartisan outrage among US legislators
🚆 The EPA has ordered Norfolk Southern to pay for all clean up costs at the Ohio derailment site