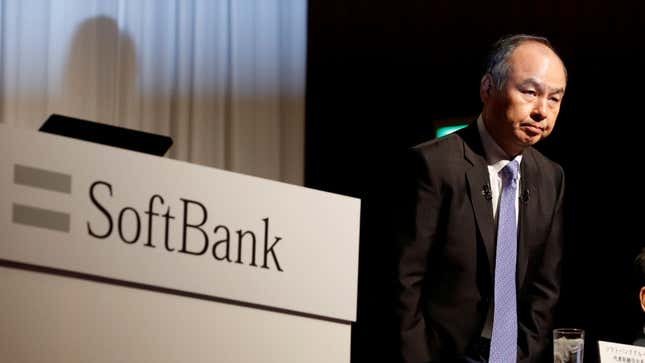 After two years of mostly being in the red, Softbank was expected to turn a profit in the quarter ending June 30. The combination of shedding Alibaba stock and the soaring tech stocks in its Vision Fund portfolio, analysts thought, would tip Softbank into the black. But the chips didn't quite fall that way.

Why a tightening of credit conditions could lead to a weak economy
Softbank posted a surprise net loss of 477.6 billion yen ($3.3 billion) in the second quarter, it said in its earnings release today (Aug. 8). In particular, it lost money on its investments, chalked up mainly to "declines in the share prices of Alibaba, Deutsche Telekom, and T-Mobile."
The flagship Softbank Vision Fund (SVF) did post positive results. After five straight quarters of losses, the world's largest tech-focused investment fund booked gains of 159.8 billion yen ($1.1 billion). The figure includes gains associated with SVF's investments in shares of Softbank's subsidiaries—mainly Arm, the UK chipmaker on the brink of going public.

Investment area of interest: Artificial Intelligence (AI)
In a shareholder meeting in June, Softbank boss Masayoshi Son, who claimed he chats with ChatGPT daily and with OpenAI founder Sam Altman almost daily, said his company's bullish bets on generative AI will help it "rule the world."
Other companies have certainly given Softbank reason to believe that the excitement around AI will boost its tech investments. Arm's listed rival, Nvidia, for instance, saw its valuation briefly breach the $1 trillion mark. Arm's IPO holds immense promise amid the frenzied demand for AI chips.

But not all Softbank's AI startups have been flourishing. SVF's investment in the Chinese AI firm SenseTime haven't borne fruit, as shares plummeted over 57% last year. And if the AI fanfare proves to be all hype and little substance, even Arm's IPO might flounder.

By the digits: Softbank's business
75 billion yen ($525 million): Softbank's estimated net profit, as calculated by Refinitiv analysts, for the April-June quarter

$7.18 billion: Softbank's loss in the January-March quarter, which was nearly double its loss from the April-June quarter

$25.4 billion: The fair value of Softbank's listed portfolio companies, up from $24.9 billion in the prior quarter
$61.3 billion: The fair value of Softbank's private portfolio companies, up from $60.5 billion in the prior quarter
$10 billion: How much Arm—the chipmaker Softbank acquired in 2016 for $32 billion— is looking to raise in its public listing, at a valuation of $60-70 billion. The IPO may happen as soon as September. At target valuation, Softbank can "buy back shares and tender for bonds, while maintaining headroom to invest," according to Sharon Chen, a Bloomberg Intelligence analyst.
Quotable: Softbank's AI bets will pay off, says Son
"I've made many, many mistakes in my AI investments, some of them embarrassing. But among the many failures, there are a number of buds that will blossom very soon."
Related stories

🦄️ SoftBank halved its loss last year, but only because it sold a chunk of its Alibaba stake
🚶 Masayoshi Son is departing the board of Alibaba, SoftBank's most successful investment
🤲 How the massive scale of SoftBank's Vision Fund helps—and hurts—its investments