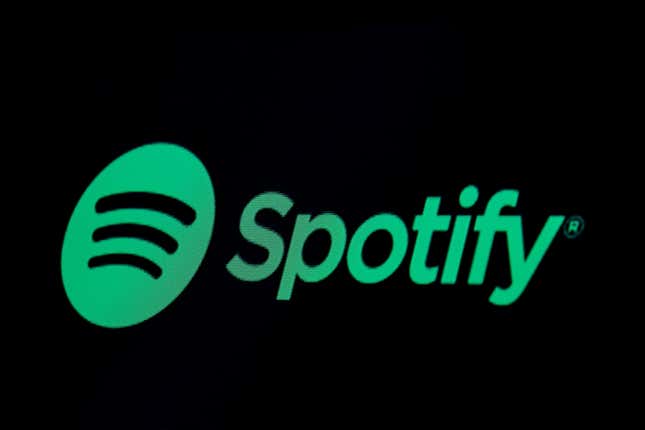 Spotify is raising the price of its premium subscriptions for the first time in 12 years as subscribers numbers surged to a new high of 220 million globally, according to the company's second quarter earnings released today (July 25).

Should you keep investing in Big Tech?
The Swedish company reported $3.5 billion (€3.18 billion) in revenue in the second quarter, in line with expectations, as well as a 27% jump year-on-year in monthly active users to 551 million. Subscriptions grew 17% , leading to a net addition of 10 million users, the highest for a second quarter since premium options launched in 2008. Spotify predicted a slowdown in subscriber growth in the third quarter due to the price increase for ad-free subscribers.
The price change will take effect in one month, allowing a "grace period" in which users can choose to cancel their subscription, Spotify stated on its website. A total of 53 countries and territories will be impacted by the subscription price change. All subscription plan prices will be increased by $1 in the US, except Premium Duo, which will increase from $12.99 to $14.99.
Why is Spotify premium going up?
Streaming services across the board have been increasing subscription costs, with Apple, Amazon, Tidal, and YouTube bumping prices over the past nine months. Spotify CEO Daniel Ek said on an earnings call in April that the company was prepared to follow suit.
"The market landscape has continued to evolve since we launched. So that we can keep innovating, we are changing our Premium prices across a number of markets around the world," Spotify said in a statement.
The company has focused on cutting operating losses since they began climbing at the end of 2021. It attributed the trend to (pdf) an increase in headcount and higher advertising costs. Spotify cut 6% of its staff in January in order to "drive more efficiency, control costs, and speed up decision-making," Ek said in a public letter. Another 200 employees from its podcast division were laid off in June. Following the layoffs, the company reported a sizable reduction in financial losses.
Where is Spotify increasing prices?
Andorra, Albania, Argentina, Austria, Australia, Bosnia and Herzegovina, Belgium, Bulgaria, Brazil, Canada, Chile, Colombia, Costa Rica, Cyprus, Denmark, Ecuador, Estonia, Spain, Finland, France, United Kingdom, Greece, Guatemala, Hong Kong, Croatia, Indonesia, Ireland, Israel, Iceland, Italy, Lithuania, Luxembourg, Latvia, Monaco, Montenegro, North Macedonia, Malta, Mexico, Netherlands, Norway, New Zealand, Peru, Portugal, Serbia, Sweden, Singapore, Slovenia, Slovakia, San Marino, Thailand, Türkiye, United States, Kosovo
The exception: India has been spared a Spotify price hike
Spotify launched its services in India in February 2019. In a matter of years, it has since catapulted to the top spot in India for music streaming, and become one of Spotify's key emerging markets, according to the company—which may explain why the world's second most populous country has avoided this round of price hikes.
"In the last two years we have raced past all competition. We're now the clear number one music streaming service in India, judging by engagement," said Alex Norström, a chief business officer at Spotify, at an investor day (pdf) presentation in 2022. He also mentioned that the streaming service is growing in popularity among podcast-listeners in India.
Spotify has not given its own stats on the number of users in India, but media analytics company Comscore estimates the number to be around 55 million monthly active users, according to a Billboard report.
"India is the single market that has contributed the most to our global growth over the last year," said Gustav Gyllenhammar, Spotify's vice president of markets and subscriber growth, to Billboard in April.
Related stories
📹 Why Spotify is adding video content to an audio-streaming platform
👑 Spotify's strategic podcast realignment didn't include Harry and Meghan
🔇 Spotify and Apple Music removed an AI-generated fake song by Drake and The Weeknd