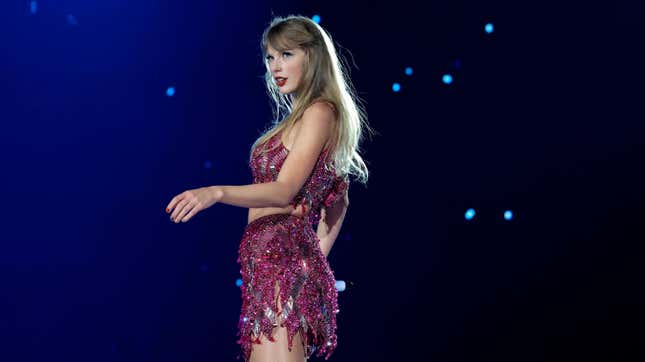 Crew members working with Taylor Swift on her Eras tour got a big surprise as the US leg of the itinerary approached its conclusion on Monday (July 31) in the form of big, six-figure bonus checks.

Why a tightening of credit conditions could lead to a weak economy
According to unnamed sources cited by People magazine, the bonuses Swift doled out totaled about $55 million, and they included dancers, riggers, sound technicians, catering, video, audio and lighting—everyone who played a part in taking the show across the country.
Michael Scherkenbach, founder and CEO of Shomotion, one of the two trucking companies used by the tour told CNN that truck drivers got $100,000 each. Between the two companies, 50 workers got the hefty payout.
According to Scherkenbach, Taylor's father Scott made a speech at a meeting and then handed out personalised handwritten letters of appreciation by Swift herself, tucked in envelopes with wax seals with her monogram.
Taylor Swift's Eras tour, by the digits
$5,000 to $10,000: The bonus truckers typically get, so "this large amount is unbelievable," Scherkenbach said.
24 weeks: Time men and women working with the trucking company have spent on Swift's tour
$1.4 billion: How much the Eras tour is expected to earn by the time it's over, according to Pollstar
131: Total performances Taylor Swift is scheduled to perform on the Eras tour
$780 million: How much Forbes estimates Taylor Swift's net worth will be after the tour. Already, as of June 1, it's $740 million. And in late June, Forbes estimated the tour had grossed nearly $110 million. Even after cutting concert promoter and production costs, Swift would pocket a handsome amount.
Quotable: Opens up opportunities
"The drivers didn't want to be overly rude and look at it. But one looked and thought it said $1,000, another driver saw it as $10,000 and then the third said 'Well this has to be a joke!'" —Shomotion founder and CEO Michael Scherkenbach speaking to CNN about his employees' reaction to Swift's bonus
Person of interest: Eleni Kounalakis
While Taylor Swift is walking the walk with her generosity, elected officials in California appear to just be talking the talk. The Golden state's lieutenant governor Eleni Kounalakis, who alongside dozens of elected leaders urged Swift to postpone her LA dates to show solidarity with striking hotel workers, attended the performer's Santa Clara concert just days before she added her name to pro-union campaign.
A brief timeline of Taylor Swift's generosity
October 2011: The singer donates 6,000 new kids and teens books to a Pennsylvania library
January 2015: College graduate Rebekah, who shared her student loan concerns on Twitter, gets a personalised "Swiftmas" present, including a necklace, a personalised drawing of her nickname "Beks," and $1,989—a hattip to album 1989—to help her kickstart payments.
February 2015: Swift, who decided to donate proceeds from the single "Welcome to New York" to the city's schools gifts the city's education department $50,000.
September 2015: Swift donates all proceeds from the "Wildest Dreams" video to the African Parks Foundation of America.
February 2016: Two days after a judge rules against singer Kesha in a case in which she asked to record music independently of producer Dr. Luke, Swift makes a $250,000 donation to her fellow pop star as a "show of support" during this "difficult time"

Also February 2016: Swift donates $10,000 for five-year-old boy Jacob Hill to get a service dog
August 2017: After winning a countersuit against a former Denver DJ who alleged she falsely accused him of groping her in 2013, Swift makes a "generous" pledge to actress Mariska Hargitay's Joyful Heart Foundation, which helps survivors of sexual assault.
September 2017: Swift makes a "very sizable" donation to the Houston Food Bank to help survivors of Hurricane Harvey

April 2018: The singer makes a "generous donation" to RAINN, America's largest anti-sexual violence organization
July 2018: Swift donates "a significant number of tickets" to her Reputation tour to mourning Massachusetts police departments after Weymouth Sgt. Michael Chesna was shot and killed while investigating a car crash
October 2018: Swift donates $15,500 a 19-year-old fan whose mother has been in a coma for the past three years.
September 2019: Swift donates $10,000 to help a 16-year-old fan fight cancer. On the GoFundMe page, Swift wrote:"Trinity, I saw photos of your album release party that you did in your hospital room and wanted to say thank you for being so kind and supportive! I hope I can give you a hug in person soon, but in the meantime I wanted to send you this and all my love. Your friend, Taylor." Inspired by the singer, several Swifties made small contributions.
March 2020: The Nashville resident donates $1 million for tornado relief efforts to the Middle Tennessee Emergency Response Fund.
Also in2020: Once covid hit, Swift's acts of financial kindness continue: She supported a Nashville Record store to pay and provide healthcare for each of the retailer's employees for three months. She gave $3,000 to a fan who lost their job. She donated a total of $13,000 to two mothers' GoFundMe pages to save them from eviction. She donated to an Ohio food bank after a fan brought the star's "Christmas Tree Farm" to her front yard, setting up an elaborate holiday light display to the song alongside a box for food bank donations.
March 2021: Swift and her mother Andrea make a $50,000 contribution to the GoFundMe of a mother of five whose husband died of covid-19
2023: During her first tour in five years, Swift gives back to cities hosting her with generous donations to various food banks. A food bank in Tampa said Swift donated enough to "place over 125,000 meals" on people's tables.
Related stories
🎙️ Taylor Swift's snub and Coldplay's skim prompted Indonesia to simplify permits for touring
🎤 Beyoncé's bills, bills, bills kept Sweden's inflation surprisingly high