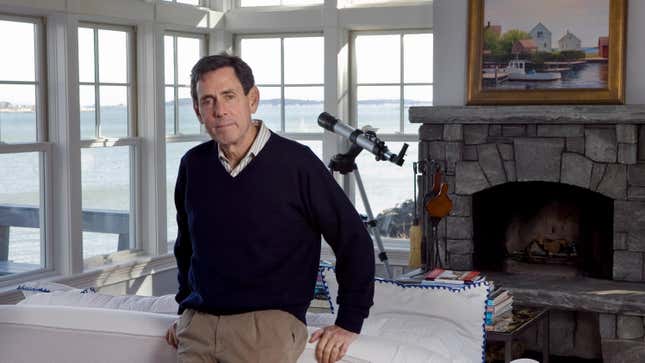 After playing a key role in dismantling affirmative action at US colleges and going after a venture capital grant competition by and for Black women, the conservative activist Edward Blum has zeroed in on his next target: law firms.
Should you keep investing in Big Tech?
Blum's organization, the nonprofit American Alliance for Equal Rights (AAER), has accused two corporate law firms—Perkins Coie and Morrison & Foerster—of racial discrimination against straight white men, because they offer fellowships for diverse candidates of racial discrimination, according to lawsuits filed Tuesday (Aug. 22).
"Excluding students from these esteemed fellowships because they are the wrong race is unfair, polarizing and illegal," Blum, a former stockbroker and failed Republican congressional candidate, told the Washington Post. "Law firms that have racially-exclusive programs should immediately make them available to all applicants, regardless of their race."
AAER's anti-diversity lawsuits against law firms
The lawsuit against Seattle-based Perkins Coie, which employs 1,200 attorneys across the US and Asia, targets two paid fellowships designed for minority first- and second-year law students, including students of color, LGBTQ+ community members, and students with disabilities. The first-year fellowship was created in 1991, and the second-year fellowship in 2020.
In the case of Morrison & Foerster, a San Francisco-headquartered firm employing 1,000 lawyers across the US, Europe, and Asia, Blum's lawsuit targets a decade-old fellowship for "highly motivated first-year law students who are members of an underrepresented group in the legal industry," including African Americans, Latinx, Native Americans, and those who identify as LGBTQ+. The role, a paid summer associate position in a US office, comes with a $50,000 fellowship award.
One small number: The need for diversity at law firms
5.1%: The proportion of black practicing lawyers in the US as of 2022, a number that is practically unchanged from a decade also. It's also far lower than the share of black people in the general population (14.2%).
The growing scrutiny around corporate America's diversity initiatives
In July, 13 attorneys warned CEOs of Fortune 100 companies that the overturning of affirmative action could have ramifications for corporate diversity, equity and inclusion programs. True to that prediction, such efforts have increasingly come under attack. Just this week, a group of former and current journalists sued the newspaper company Gannett Co, alleging the company's diversity bid was actually "reverse race discrimination."
Right-wing organizations are leading the push to dismantle these systems. One of the most prominent among them, aside from Blum's, is the America First Legal Foundation (AFL). The group, set up by two former Donald Trump aides, Stephen Miller and Mark Meadows, to fight the "radical left agenda," has in the recent past gone after Target, Kellogg's, Nordstrom, Alaska Air, Unilever, Mars, BlackRock, AB InBev, Hershey, Amazon, McDonalds, and more.
Quotable: Edward Blum isn't done yet

"Yes."

—Edward Blum, replying to a Bloomberg email asking if he planned to file more lawsuits.
Company of interest: Starbucks
The National Center for Public Policy Research (NCPPR), a conservative think tank, filed a case against Starbucks for "illegal racial discrimination," citing the coffee chain's policy to increase BIPOC (black, indigenous, people of color) representation. The case was tossed out by a US district court earlier this month.
"If the plaintiff doesn't want to be invested in 'woke' corporate America, perhaps it should seek other investment opportunities rather than wasting this court's time," Stanley Bastian, a US district judge in Spokane, Washington, said at the hearing, raising hope that further lawsuits may not lead to the scrapping of diversity policies.
Related stories
☕️ A judge dismissed a conservative lawsuit targeting Starbucks' diversity efforts
👛 Pride month collections represent a moment of truth for companies courting the pink dollar

🕴 Fortune 500 companies delivered a new board diversity record, but it's not enough