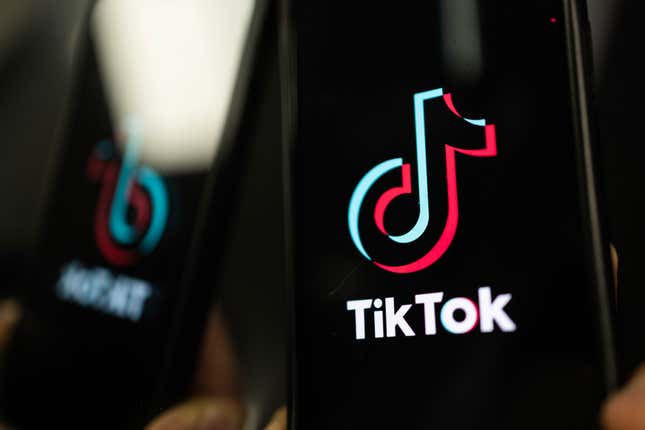 TikTok was fined £12.7 million ($15.9 million) for failing to protect children's data on the social media platform, said the UK's data regulator in a statement released on April 4. The Information Commissioner's Office (ICO) found that in 2020, as many as 1.4 million British children under the age of 13 used TikTok, despite the platform's policy that users must be at least 13 or older to create an account.
Paulina Porizkova on approach to Instagram
The ICO said TikTok breached UK data protection law by providing services to children under 13 and using their data without parental consent.
It also found that TikTok "failed to carry out adequate checks" to ensure that under-13s weren't using the platform. Senior employees at the company were made aware that underage users were an issue, the ICO found, but "did not respond adequately."
According to the BBC, this is one of the ICO's biggest fines ever, though TikTok could have been handed an even heavier penalty. Last September, the data watchdog sent out a provisional notice that the company could face a penalty of £27 million ($33.8 million). The ICO said it decided to reduce the fine after "taking into consideration the representations from TikTok."
A TikTok spokesperson said in a statement emailed to Quartz: "While we disagree with the ICO's decision, which relates to May 2018–July 2020, we are pleased that the fine announced today has been reduced to under half the amount proposed last year. We will continue to review the decision and are considering next steps."
Millions of children in the UK consume TikTok content. In 2022, media regulator Ofcom found that 16% of the nation's three- and four-year-olds and one third of its five- to seven-year-olds use the platform. TikTok was used by an estimated 53% of British children last year.
Quotable: TikTok failed to uphold UK data protection laws
"There are laws in place to make sure our children are as safe in the digital world as they are in the physical world. TikTok did not abide by those laws." –A statement from UK information commissioner John Edwards
TikTok faces growing regulatory scrutiny
The UK fine comes at a time when policymakers around the globe have been raising concerns about the Chinese-owned social media platform's incursions on privacy and its potential threat to national security.
In March, a US House committee put TikTok CEO Shou Zi Chew in the hot seat, grilling him on the platform's data practices and its relationship with Beijing. A group of US lawmakers are now pushing to ban TikTok altogether. Reportedly, the Biden administration told TikTok that it must sell off its Chinese ownership or lose access to its biggest market.
Countries including Canada, New Zealand, the US, and the UK have already banned the app from government phones, citing security concerns.
Related stories
🐢 A US senator is slowing down the process to ban TikTok, citing free speech concerns
🔨 Shou Zi Chew wants to dismantle the idea that TikTok is a Chinese app
😬 TikTok's updated data privacy policy does little to settle nerves