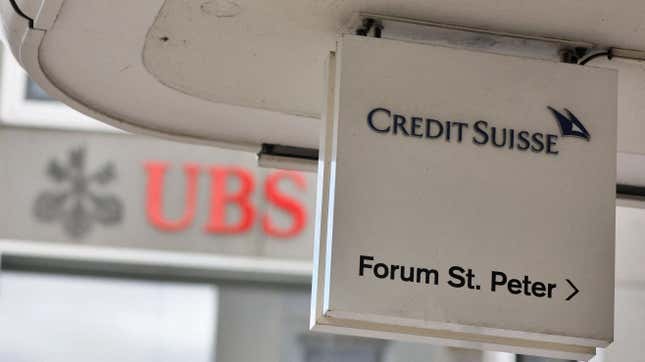 Federal prosecutors in Switzerland are reviewing the government-backed merger between UBS and Credit Suisse. The move comes after Swiss financial authorities issued an emergency ordinance (Notverordnung) that bypassed the need for a shareholder vote to approve the deal.

The office of the attorney general is assessing whether or not any criminal offenses were committed during the deal to ensure a "clean Swiss financial center."
The Swiss financial regulator Finma and the Swiss central bank worked together on the deal, which was announced on March 19, following concerns about the bank's position after the collapse of two American regional banks—Silicon Valley Bank and Signature Bank—earlier in the month.
UBS bought Credit Suisse for more than $3 billion. The Swiss government then provided $9 billion to backstop any UBS losses and the central bank offered $200 billion in liquidity to help facilitate the deal.
In addition to shareholders being unable to vote on the deal, holders of "additional tier 1" bonds that were worth $17 billion in total got wiped out. These bondholders complain that they were unfairly targeted because shareholders are supposed to take losses before they do.
Regardless of whether any irregularity has occurred in the forging of the deal, the merger of Switzerland's two largest banks also raise financial stability concerns as it creates the second-largest wealth manager in the world.
"[T]he track record of shotgun marriages in the banking sector is mixed," wrote Andrew Keningham, the chief Europe economist at research firm Capital Economics. "Some, such as the 1995 purchase of Barings by ING, have proved long lasting. But others, including several during the global financial crisis, soon brought into question the viability of the acquiring bank while others have proven very difficult to implement."